Experience race week in the city!
15-25 Sept. Free entry, no tickets required.
As the world's best cyclists compete in Wollongong for the UCI Road World Championships, our city will come alive with the sights and sounds of Spin Fest, a community celebration with something for everyone.
Head into the heart of the city to watch the race, then re-energise in one of our Spin Fest zones. Take a wander through Crown Street Mall, Globe Lane or the Arts Precinct to grab lunch, sip a sunset cocktail, browse market stalls and enjoy roving circus performers and live music.
What's On
Take a sneak peek at the Spin Fest CBD lineup, and check back soon for the full schedule - available mid August.
Inflatable Sculptures
15-24 Sept, 9am-9pm daily.
A collection of eye-catching inflatable artworks will light up Crown Street Mall during Spin Fest. Renowned design duo The Beautiful and Useful Studio designed these colourful creations through collaborative community workshops, with participants combining bold colours and graphic prints to create truly unique pieces. Hot tip - the pieces light up after dark!
Spin Fest Laneways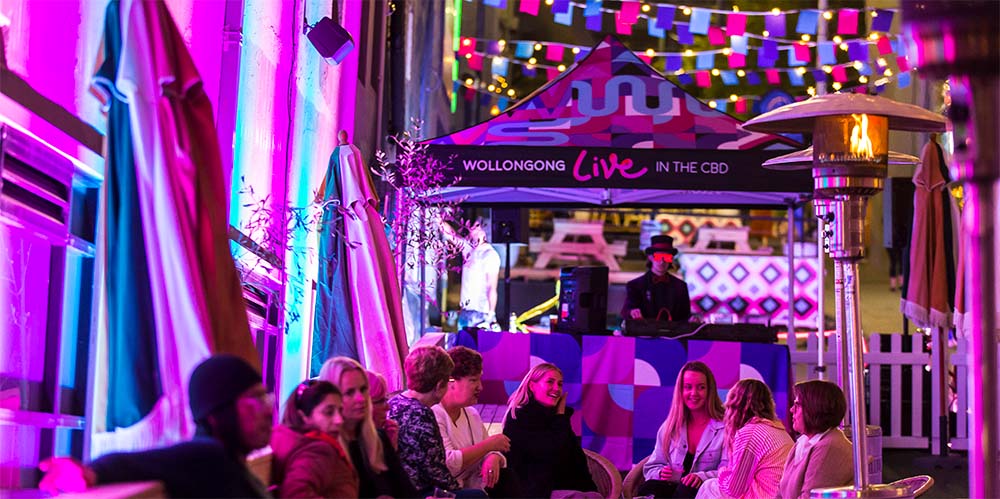 16-18 Sept + 23-25 Sept
As the racing winds down, the fun heats up in Wollongong's colourful laneways. Globe Lane and Crown Lane will come alive on Friday, Saturday and Sunday nights during Spin Fest with an eclectic mix of DJs, circus artists, roving entertainers plus world-class food and small bars.
When? Food + drink in venues all day. Entertainment 5pm-10pm Fri, Sat. 5pm-9pm Sun.
Crown Street Mall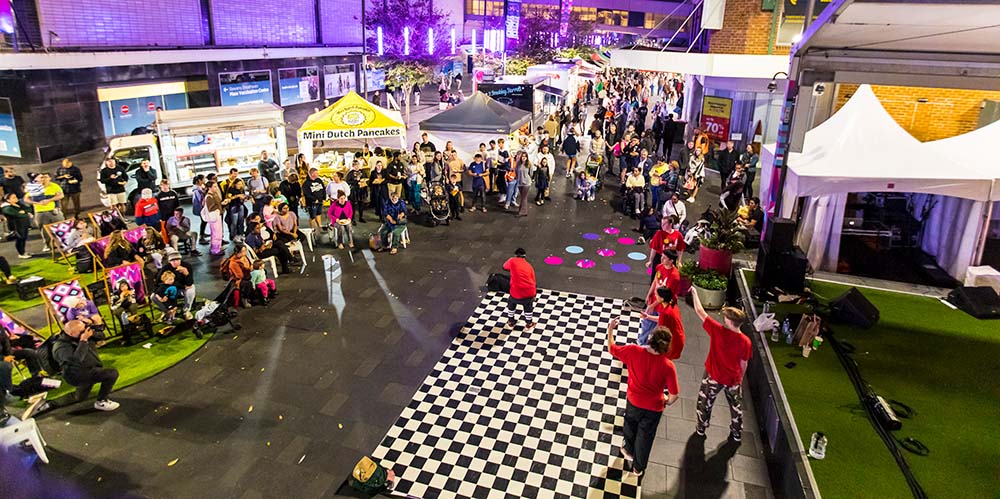 15-25 Sept.
Recharge day and night in the heart of Wollongong's central shopping district, Crown Street Mall. There'll be something new to discover each day, with a program of family-friendly entertainment, markets, live music and more.
Hungry? Grab your favourite street-foods, explore outdoor cafes or hit the shopping centre!
When? Daily, 9am-9pm, Stay tuned... a detailed program will be available mid August.
Markets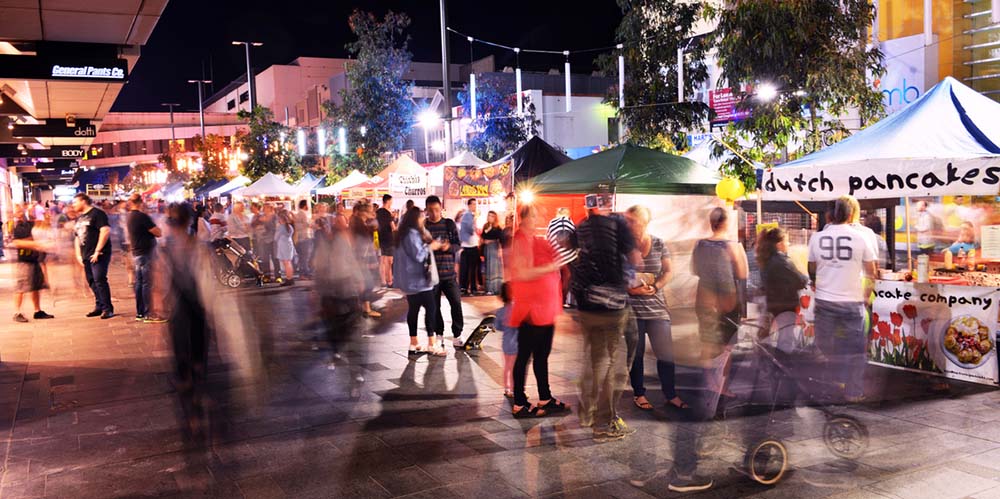 15-16 + 22-25 Sept.
Get more of the markets you love during Spin Fest! Discover the world on a plate with all your favourite street foods, plus local handicrafts at the colourful growers and makers markets in Crown St Mall.
Market times during Spin Fest:
Thurs 15 Sept: 5pm-9pm
Fri 16 Sept: 8am-3pm
Thurs 22 Sept: 5pm-9pm
Fri 23 Sept: 11am-9pm
Sat 24 Sept: 11am-9pm
Sun 25 Sept: 11am-9pm
Book a stall: If you're interested in becoming a stallholder, visit the Crown St Markets website.
Plan your visit
Spin Fest CBD will take place throughout Crown Street Mall, and neighbouring Globe Lane and Crown Lane.
It is recommended that attendees travel to the CBD by public transport during Spin Fest and the UCI Road World Championships.
Road Closures: Some roads in and around the city will be closed daily from Saturday 17th - Sunday 25th September. Visit the Wollongong 2022 website to learn more about race road closures.
Trains: The nearest train station is Wollongong station. Additional train services will be running during this period. For up to date service info download the Opal App, or search train timetables here
Buses: Bus routes and times may vary during this period. For up to date service info, download the Opal App.
Accessible Parking: The closest accessible parking spaces are located in nearby 80 Church Street carpark, and Wollongong Central shopping centre.
Taxis: Book a taxi service from one of our local providers: Wollongong Radio Cabs and Illawarra Taxi Network
If you're a business located in the CBD, it's time to start planning how you can make the most of this exciting time, and get involved in Spin Fest and Wollongong 2022 celebrations.
Gear up for Spin Fest
Let's welcome the world to Wollongong this September! As the world's best cyclists arrive for the UCI Road World Championships, we're rolling out the fun with Spin Fest - a free program of family-friendly celebrations right across our city.