Feast for the senses! Wollongong Festival brings fun to the CBD
Wednesday 26 October 2022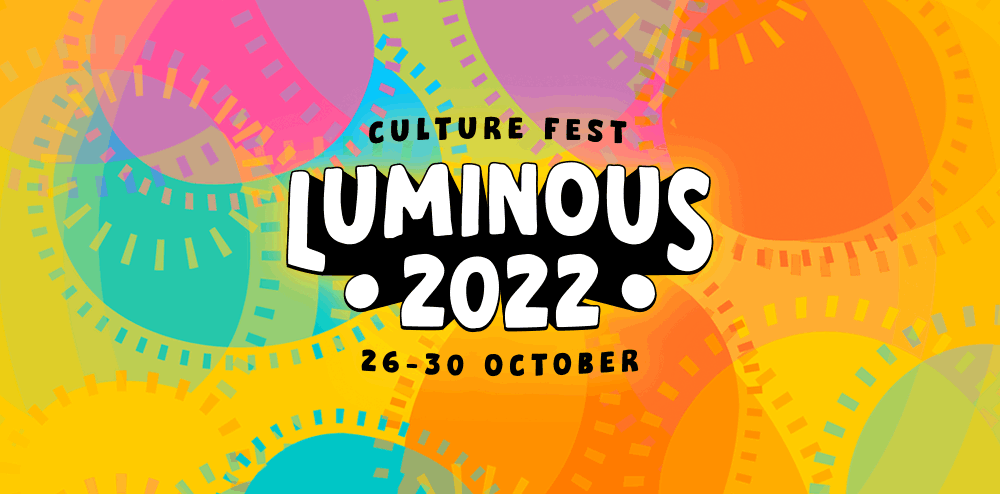 Bollywood dancing classes, an Afro Latino Festival, art installations, live music, twilight markets, and night-time light projections. That's just a taste of what's on offer with Luminous, Wollongong City Council's five-day creative festival.
From Wednesday 26 October to Sunday 30 October, we're taking the Wollongong CBD by storm with a jampacked program of art, music, culture, dance, and fun. There will be so much to see and do over the next five days and we're encouraging people to check out the program, book a workshop and have fun.
Luminous is presented by Wollongong City Council and is proudly funded by the NSW Government as part of the CBDs Revitalisation Program. Special acknowledgement goes to collaborators Yours & Owls, Makeshift, and Spanish and Latinamerican Community Organisation (SALCO).
Image: (Left to right) Karen Yello from Makeshit, Lord Mayor Cr Gordon Bradbery and Hon. Peter Poulos, the Parliamentary Secretary for Wollongong and the Illawarra.
Wollongong City Lord Mayor Councillor Gordon Bradbery AM said that a number of the Luminous workshops were booking out quickly.
"We're pleased to see that some of the Luminous workshops have already booked out! It goes to show the enthusiasm from our community for this creative festival," Cr Bradbery said.
"If you haven't booked your place to attend a workshop or concert, don't worry! There are still plenty of activities that don't require a booking at all. I encourage everyone to check out the Luminous program available on Council's website and start planning your visit to the city.
"For those planning on passing by the CBD for evening drinks or dinner in the city, be sure to wander past the Youth Centre and the Art Gallery. Both buildings will be illuminated with projections each night of the Luminous festival which will be stunning to watch."
Hon. Peter Poulos, the Parliamentary Secretary for Wollongong and the Illawarra said: "The NSW Government's $50-million CBDs Revitalisation Program is reigniting social connection and economic activity in urban centres across Greater Sydney, Newcastle, and Wollongong, through a range of arts, music, food and beverage and cultural events. This is about bringing Wollongong CBD to life, supporting local businesses, and getting jobs back for our creative industries."
Michael Rodrigues, 24-Hour Economy Commissioner said: "This activation will highlight the CBD in Wollongong by creating a vibrant space for community members of all ages, local performers, creatives, and businesses to come together and experience something really unique."
"After a tough time for retail, hospitality and live performance, it's an opportunity to revitalise the Wollongong CBD and fast-track local business recovery."
A taste of what's on offer
Luminous is a free, creative festival for people of all ages. Some workshops require bookings and you will need to book ahead to secure your spot.
For more details and the full program, visit the Luminous webpage.
Luminous: Studio Bliss Sensory Garden
Wander through giant pompom dandelion sculptures, discover the magical restoration tree and find your calm through bubbling water features, playful colour and soothing soundscapes.
Drawn from her personal experience of living with Tourette syndrome, designer Dr Bliss Cavanagh specialises in creating accessible and inclusive experiences for people of all ages and abilities.
Find the all-ages Sensory Garden in the foyer of the Wollongong Library at:
Wednesday 26 Oct: 9am-8:30pm
Thursday 27 Oct: 9am-8:30pm
Friday 28 Oct: 9am-8:30pm
Saturday 29 Oct: 9:30am-8:30pm
Sunday 30 Oct: 12noon-8:30pm
Luminous: Gallery After Dark x Yours + Owls
Wollongong Art Gallery will come to life during Luminous Culture Fest, with four nights of free live music curated by Yours + Owls.
The program:
Entry is free, bookings recommended. Book here via Moshtix.
Luminous: Music for the Mind x Halloween
WHEN: Friday 28 October, 5-9pm
WHERE: Wollongong Youth Centre, 85 Burelli Street
Wollongong Youth Services presents a night of free live music, highlighting Mental Health Month and the importance of music as a tool to support positive mental health for young people.
Local musicians have curated a high-energy line-up, including headline act The Lazy Eyes who recently opened for The Strokes at Hordern Pavilion, and have been shortlisted for the 2023 AMP Music Prize.
Line-up:
This is a free event for people aged 12-24, and their friends and families. No ticket needed!
Luminous: Twilight Markets
WHEN: Saturday 29 October, 3-9pm
WHERE: The Arts Precinct, Burelli Street, Wollongong
The Luminous Twilight Market is a curated 'makers market' lighting up the outdoor Arts Precinct (between the Wollongong Art Gallery and the IPAC Theatre).
Join us to explore a curated market of fifteen local makers showcasing their wares. Stall holders include perfumers, weavers, leather and wood workers, potters, fabric printers, jewellers and more!
Luminous: 'Antidote' Creative Dispensary
WHEN: Wed 26 – Sat 29 October, see website for times
WHERE: The Arts Precinct, in the Creative Container
Feeling uninspired or a little deflated? Pop into the 'Antidote' Creative Dispensary in the Arts Precinct for a 30-minute dose of lively artistic medicine and a prescription of play.
Antidote is the brainchild of Makeshift, the pioneers of creative first aid. Antidote is a free, semi-guided solo creative immersion through a series of 'clinic' stations designed to shift your senses.
Luminous Waterways Light Projections
WHEN: 7 - 11pm each night of Luminous Culture Fest.
WHERE: The exterior of Wollongong Art Gallery.
Don't miss the chance to catch Luminous Waterways - a re-imagined version of the Beyond the Breaking Waves project which lit up Flagstaff Hill lighthouse during the 2022 UCI Road World Championships.
Luminous: Afro-Latino Festival
WHEN: Sunday 30 October
WHERE: The Arts Precinct, Burelli Street, Wollongong
Bring your dancing shoes for a final fiesta on the closing day of Luminous Culture Fest!
Image: Eylem Gur and Michele Antonio Rizzo dance in the Arts Precinct.
The Arts Precinct will transform into a free Afro-Latino Festival filled with food, entertainment, and a taste of African and Latin American culture, including:
Food trucks
Afro Peruvian Dance Group
African Drumming
Cuba-Caribbean Music + Dancing
African Dancing
Brazilian Dance + Capoeira
Hip Hop Dance troupe
Salsa performance
Live bands and more.
Produced by SALCO – Spanish and Latinamerican Community Organisation.