Get ready for Luminous, a five-day Culture Fest this October!
Monday 10 October 2022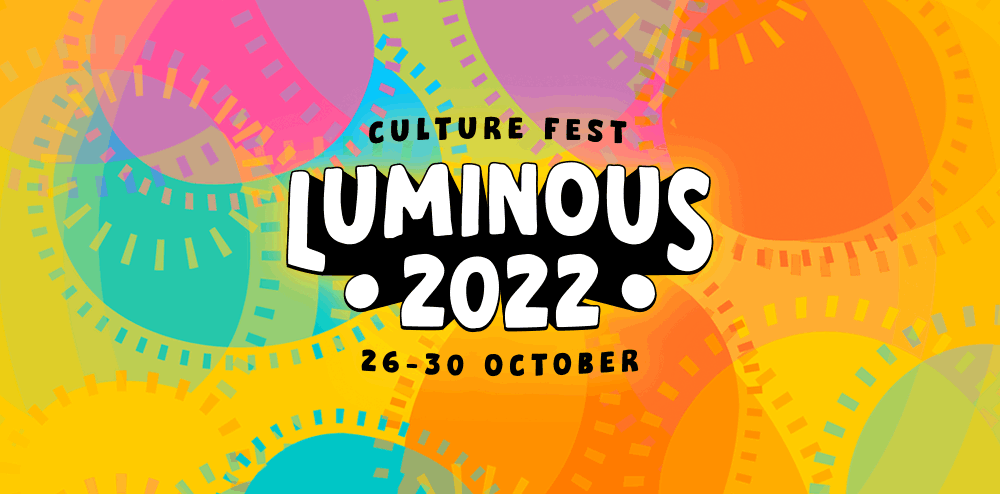 From Wednesday 26 October to Sunday 30 October, we're transforming the heart of the Wollongong CBD into a free creative and cultural festival.
It's all part of Luminous a five-day celebration held across five locations featuring an extensive program of live music, interactive art experiences, lighting installations, creative workshops, short films, performances, and twilight markets. The festival will be held in the Arts Precinct, Wollongong Art Gallery, Wollongong Library, Wollongong Youth Centre and Project Contemporary Art Space.
Luminous is presented by Wollongong City Council and proudly funded by the NSW Government via the CBDs Revitalisation Program.Special acknowledgment goes to collaborators Yours & Owls, Makeshift, Project Contemporary Artspace and Spanish and Latinamerican Community Organisation (SALCO).
"Luminous is all about finding new ways to explore your creative self. The free festival is an opportunity for people of all ages to make something, learn something, see something or feel something in a safe, creative space," Wollongong City Lord Mayor Councillor Gordon Bradbery AM said.
"Council has developed a really exciting program of music, performances, art, culture and more. Here's a taste of what to expect! At the Wollongong Art Gallery, we've partnered with Yours & Owls to put on an incredible program including favourites such as Good Lekker, Donny Benet and Skeleton.
"We're also bringing back the much-loved lighthouse projections that were on display during the 2022 UCI Road World Championships. Except this time, the Luminous Waterways exhibition will be projected onto the Wollongong Art Gallery.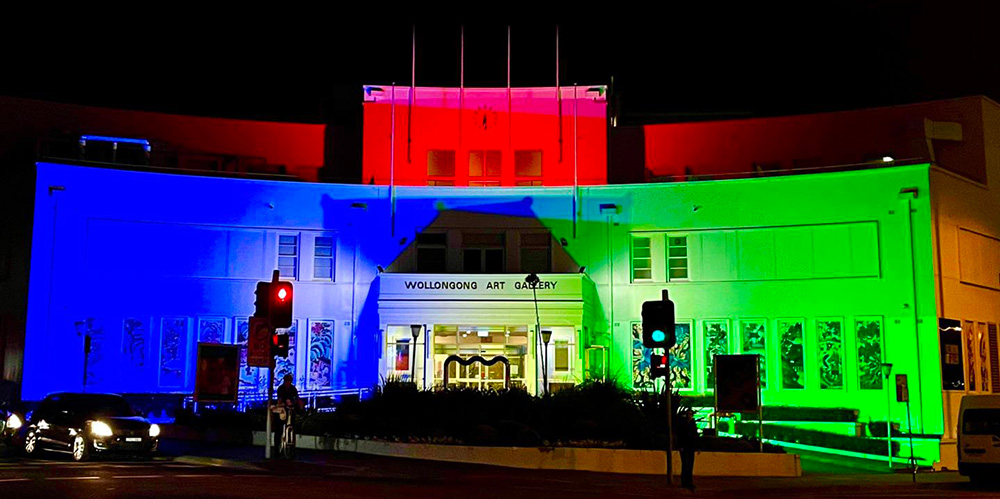 Image: The Wollongong Art Gallery will be illuminated with projections of artworks selected from the Art Gallery collection.
"Over at the Arts Precinct, artists from Makeshift, will be dispensing a 30-minute dose of lively artistic medicine and play from the Creative Dispensary for those whose creative spirit requires a little attention. The free, semi-guided creative immersion is designed to shift your senses into wonder and curiosity.
"Also in the Arts Precinct we are very excited to announce HEXADECA by Pulsing Heart, an amazing installation piece which made its debut at WOMADelaide this year and is heading to Wollongong straight from the Melbourne Fringe Festival.
"At the Wollongong Library, we'll be hosting a collection of workshops including Samba and Bollywood dance classes. Weaving and Didgeridoo workshops will also offer a lot of fun, and there will be a luminous sensory garden for people of all ages and abilities to explore.
"Over at the Youth Centre, we're holding a Short Film Festival featuring films by young local Auteurs as well as live music shows and a Luminous Light Show in the Youth Centre Forecourt and MacCabe Park.
"At the Project Contemporary Art Space there will be an exhibition of a diverse range of artworks. And in the Arts Precinct, there will be a number of activities including twilight markets and an Afro Latino Cultural Festival produced by SALCO."
Parliamentary Secretary for Wollongong and the Illawarra Peter Poulos said: "The NSW Government's $50-million CBDs Revitalisation Program is reigniting social connection and economic activity in urban centres across Greater Sydney, Newcastle and Wollongong, through a range of arts, music, food and beverage and cultural events."
NSW 24-Hour Economy Commissioner Michael Rodrigues said: "The Office of the 24-Hour Economy Commissioner is committed to revitalising our key urban centres. After a tough time for hospitality and the arts and entertainment industries, this investment is helping business collaboration to encourage audience reconnection in urban environments, and in the process accelerating economic recovery. With a five-day program this event is sure to get people off the couch and enjoy the very best of Wollongong."
Luminous is a free, creative festival for people of all ages. Some workshops require bookings and you will need to book ahead to secure your spot.
For more details and the full program, visit the Luminous webpage.