Learning more about Bob Sredersas
Tuesday 4 April 2023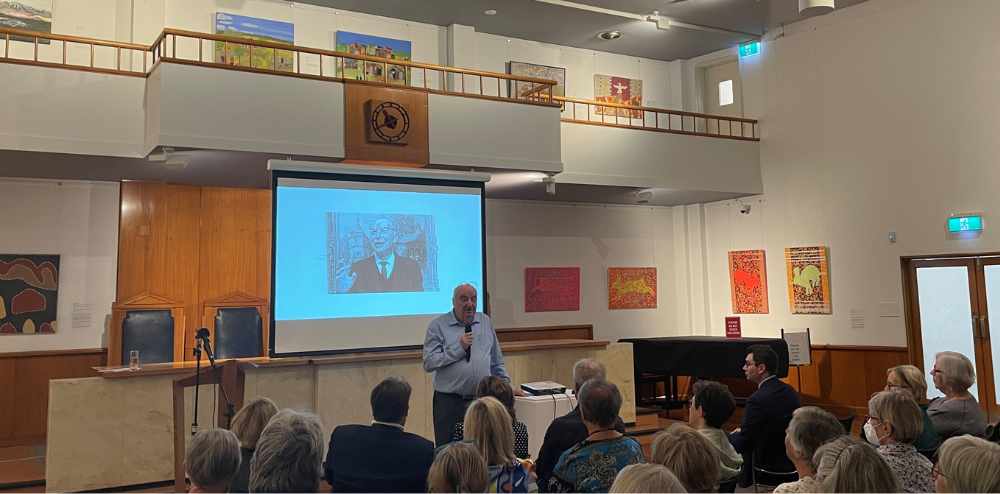 Image: Sydney Jewish Museum's Resident Historian Emeritus Professor Konrad Kwiet delivering his expert lecture about how he used documentation to dig into the background of Wollongong Art Gallery benefactor Bob Sredersas.
As Sydney Jewish Museum's Resident Historian Emeritus Professor Konrad Kwiet delivered his expert lecture about how he used documentation to dig into the background of Wollongong Art Gallery benefactor Bob Sredersas, an uneasy quiet settled over the room.
It was the type of silence that can only accompany a lecture about the lived experiences of those during World War II, and how one man's documented reluctance to talk about his life before he arrived as a Lithuanian migrant to Australia in 1950, was revealed last year to have obscured his past as a Nazi Collaborator.
See: Wollongong City Council Statement on the Sredersas Report and Wollongong Art Gallery Removes Sredersas Plaque
Professor Kwiet delivered the free lecture for our community at the request of Wollongong City Council as a way to present his findings on the life story of Mr Sredersas, including his wartime service. During the presentation Professor Kwiet acknowledged the research of Michael Samaras, whose initial research prompted Council to seek the advice and expertise of the Sydney Jewish Museum and the NSW Jewish Board of Deputies. He spoke of how his research built on Mr Samaras' efforts and how he used documents to uncover more about Sredersas' past, how there are gaps in this history that may never be filled and the challenge of reconstructing history on the basis of fragmented documents.
The lecture continued Council's commitment to build knowledge and awareness in our community about the man whose gift of artworks to the city allowed for the establishment of the Wollongong Art Gallery.
"I feel privileged to have the opportunity to hear from Professor Kwiet about his research into Mr Sredersas, and to understand this information within the broader context of World War II,'' Wollongong City Lord Mayor Councillor Gordon Bradbery AM said.
"Information and stories like this are complex, detailed and nuanced and to have someone like Professor Kwiet in Wollongong to provide his very personal insights into how his research was undertaken and to share his immense knowledge and expertise is a profoundly detailed and nuanced opportunity. I thank him for his time and care in delivering such an engaging, detailed and informative presentation.''
Professor Kwiet is an esteemed historian and scholar of the Holocaust, with a career spanning almost 60 years. He has worked in universities, museums and research centres around the world, including Washington DC, Jerusalem, Heidelberg, Frankfurt and Berlin. He was the Chief Historian of the Specialist Investigations Unit, Australia's Nazi War Crimes, from 1987-1994 and has published 10 books and more than 100 articles on the Holocaust.
His report into Bob Sredersas was commissioned by Council last year, after information came to light that provided previously unknown details about Sredersas' life before he migrated to Australia. It confirmed that Sredersas served as an intelligence officer for the Nazi security service, which was known as the Sicherheitsdienst or SD, while Lithuania was under German occupation. His role within the SD was to implement Nazi policies and rules in German-occupied Lithuania which means he can be classified as a Nazi collaborator. No record has been found, to date, that showed he was directly involved in the Holocaust itself or other acts of genocide.
Wollongong City Council Director Community Services Kerry Hunt said there was a lot of community interest in the lecture, which was attended by more than 80 people.
"We have been on an interesting journey as we learn what we can about Mr Sredersas' past and how we can speak of this in relation to Wollongong Art Gallery now and into the future,'' she said.
"We made a commitment to share the research findings with our community and learn together from the historical evidence we now have available to us. That's why it was important for this session to be open to the public and to hear directly from Professor Kwiet. There's a real opportunity to engage with the information and look at how we will represent this new chapter in our Gallery's history.
"We continue to value the expertise of Professor Kwiet, the Sydney Jewish Museum and the Jewish Board of Deputies whose knowledge has guided us through the past 12 months.''
NSW Jewish Board of Deputies CEO Darren Bark said: "The Bob Sredersas story is a unique opportunity to inform the Wollongong and border community about the horrors of the Holocaust and where racism, hate speech and discrimination can ultimately lead.
"The NSW Jewish Board of Deputies, together with the Sydney Jewish Museum, looks forward to working with Wollongong Council and the Wollongong Art Gallery to ensure the paintings that Mr Sredersas donated are used to educate the community about humanity's darkest chapter so that it is never repeated."
The lecture will be followed later this year by an exhibition titled Courage to Care, which will be held at Wollongong Art Gallery.