Our how-to guide for Australia Day 2023
Tuesday 24 January 2023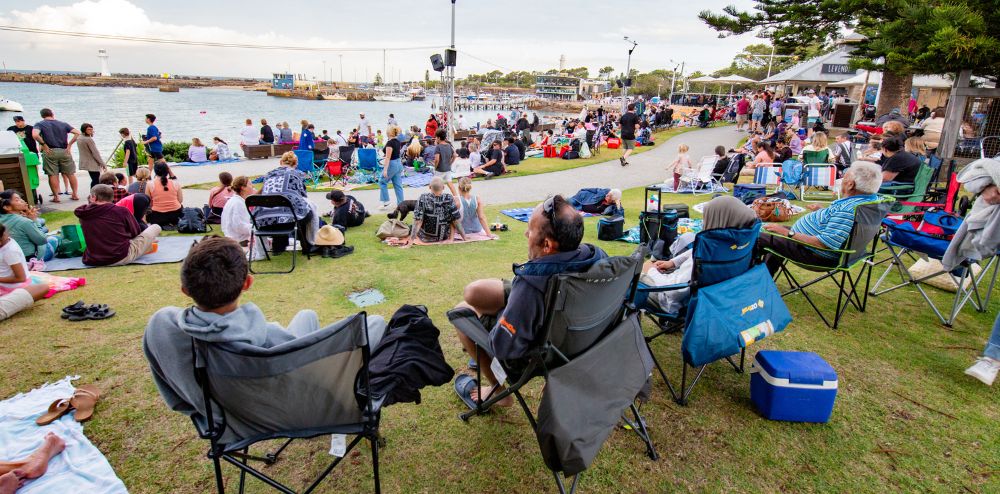 An evening of entertainment, food and fireworks will mark the Australia Day public holiday at Wollongong Harbour.
This year's event will look a little different to what was offered before Covid-19.
While supply issues mean there will be no carnival rides and fewer food vendors, attendees can still enjoy ten different savoury and sweet food offerings, roving performers, a DJ, and an historic aircraft flyover.
To make sure you have a great Australia Day, we've pulled together this how-to guide for the City of Wollongong community event.
WHAT YOU NEED TO KNOW
When and where do I go?
Activities will start at 5pm on Thursday 26 January 2023 across Osborne Park and Wollongong Harbour.
Attendees can enjoy ten different savoury and sweet food offerings, roving performers, a DJ, and, at 5.45pm, an historic aircraft flyover.
If you're coming along, use our site map to know where everything will be.
When will the fireworks start?
Fireworks will start at 9pm. Like on New Year's Eve, the fireworks will be fired up higher into the night sky so that people can spread out along the foreshore.
The fireworks will go ahead if it is raining, but not if there are high winds or a major storm. Keep an eye on Council's Facebook for any weather announcements.
What about road closures?
Some road closures will be in place on Australia Day so the event at Wollongong Harbour can go ahead safely. Please note, details may change at short notice.
The following roads will be closed between 4pm and 10pm:
Cliff Road, between Marine Drive and Georges Place
Harbour Street, between Market Street and Cliff Road
Hector Street
Hinton Street
Campbell Street, from Corrimal Street
Wilson Street, from Smith Street
Smith Street, between Corrimal Street and Harbour Street
The following roads will be closed between 8pm and 9.30pm for the fireworks:
Marine Drive
Endeavour Drive, will operate one-way from 4pm and close fully from 8pm
You can also view the closures in the Australia Day road closure map.
If you are parked within the road closure perimeter (see map above), there may be delays leaving the precinct after the fireworks. Police will be in attendance to assist and may choose to halt or divert traffic at their discretion. We ask you to be patient and follow instructions of police and authorised staff.
Please note, there will be managed access for residents. The affected residents have been notified directly.
How do I get to the event?
If you're planning on driving, plan ahead as parking and roads will be very busy.
We suggest using the Innovation Campus carpark as a park and ride option by hoping on the Free Gong Shuttle Bus.
On Australia Day, the Free Gong Shuttle Bus will continue to operate until 10.50pm. People arriving by train to Wollongong or North Wollongong Station can also hop on shuttle to travel to the event, just look for the green 55A or 55C buses.
Prefer to cycle? We've completed works on the Wollongong CBD pop-up cycleway which links the Wollongong train station and Crown Street Mall to the Blue Mile. Head here for more information.
Will there be food?
Yes! Visit Osborne Park from 5pm to 9pm for lots of great food and drink options.
Or if you'd rather dine in town, visit the Wollongong CBD website for suggestions.
Is this an alcohol-free event?
Yes. Please leave alcohol at home for this event.
Can I bring my dog?
Leave your dogs at home. Fireworks can cause dogs a lot of stress. Unless you're bringing an assistant dog, we ask you leave your four-legged friends at home, preferably with their favourite toys and snacks.
Pets should be secured particularly for the following:
5.30pm-5.45pm – Gun battery march and pyrotechnics, Cliff Road.
9pm-9.15pm – Fireworks display at Wollongong Harbour.
Will there be rides?
Not this year. There will be roving entertainment along the Harbour and in Osborne Park as well as an activity and play area, so head to the event to join in the festivities.
What's the plan for music during the fireworks?
If you're watching from the harbour, you'll get to hear our backing track which has been curated by our sponsor i98FM.
You can also tune into i98FM via your radio wherever you are.
Will there be an accessible viewing area and how do I book a place?
We are partnering with Cram Foundation to provide an Accessible Viewing Area for people with disability or accessibility requirements, and their family, to watch the fireworks.
To book a place in this area, please fill out our online form by 12noon Wednesday 25 January.
Registrations to access the designated Drop Off and Pick Up Point is available for attendees. Bookings are essential and are open until 12noon Wednesday 25 January.
Am I allowed to camp overnight at parks/beaches/foreshore areas?
No. While shade structures or tents are allowed during the day, they must be packed away by 8pm every day of the year.
Head here for more details.
What else is happening on 26 January?
The Australia Day event is brought to you by Wollongong City Council, National Australia Day Council and supported by Novotel, i98FM, the Illawarra Mercury and the Cram Foundation.