Celebrate diversity at Culture Mix
Thursday 25 May 2023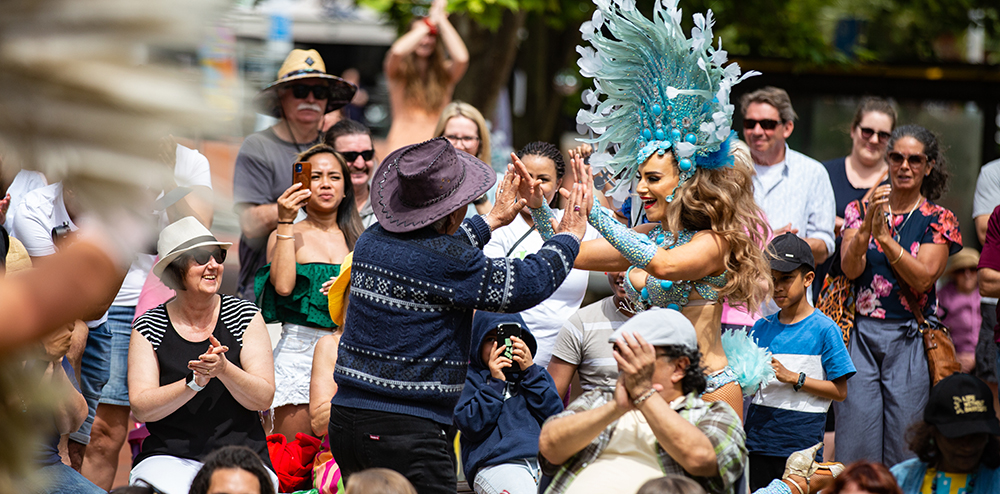 Drum roll please… Wollongong City Council is proud to announce the name of the city's newest festival – Culture Mix.
The naming of this event follows the announcement last month that the city was to have a new, contemporary multicultural festival.
Read more in our article: Apply now to be part of Wollongong's Multicultural Festival
"How exciting to be at the starting point for an exciting new cultural festival for Wollongong,'' Wollongong City Lord Mayor Councillor Gordon Bradbery AM said.
"This festival is going to fill the gap left by Viva la Gong, which was last held in 2019. It builds on the Viva tradition of being a community-focussed event, and will be a celebration of the cultural diversity of our residents that we are so proud of.''
The one-day outdoor free event is being held in the city on Saturday 21 October and promises to be an eight-hour extravaganza of music, dance, workshops, installations and food from around the world. The event will showcase the many cultural and language backgrounds that make up our community.
It'll be held at various locations in the Wollongong CBD including Wollongong Town Hall, the Arts Precinct, Wollongong Library and at Wollongong Art Gallery.
Right now, we have three separate Expression of Interest processes open.
We're seeking an artist and performance facilitator to lead an Intercultural Performance Project for the festival.
This project will celebrate, showcase and empower local multicultural communities and will be performed during the event. We will also be calling out for performance groups and workshop presenters who would like to be involved in the near future.
This Expression of Interest closes at 12am on Tuesday 13 June 2023.
See: Call out for an artist or performance facilitator for Culture Mix
We also have a creative opportunity for an artist to work with children and young people to create three original large sculptural pieces.
See: Develop art with young people for our multicultural festival
This Expression of Interest closes Wednesday 7 June 2023.
Plus, we're inviting Aboriginal and culturally diverse individuals, groups, community organisations and businesses to be involved in Culture Mix by holding their own:
Stalls
Food stalls
Cultural Displays
Mobile Food Vendors (subject to space availability)
This Expression of Interest process, which closes on Friday 30 June 2023, follows an earlier announcement seeking groups to develop new and interesting works for the day.
See: Register to Hold a Stall or display for Wollongong's new multicultural festival, Culture Mix
"It's really important to Council that this event is a true expression of our city's cultural diversity and that's why we're looking for as many different people, groups, community organisations and businesses to be involved,'' Cr Bradbery said.
"In Wollongong, we consider our cultural diversity a badge of honour. We're a proud community who appreciate that people from all over the world have been drawn to our beautiful place between the mountains and the sea.
"It's not every day you get to be a part of something new and cutting-edge for the city, and I encourage those who are interested to get their expressions of interest in as soon as possible.''
NSW Minister for Multiculturalism Steven Kamper said the festival is an opportunity for the region's diverse groups to showcase their culture.
"By bringing together all the multicultural community, Wollongong is set to enjoy the rich benefits of living in one of the world's most successful multicultural states," Minister Kamper said.
"I encourage the local community to get involved in this fantastic event and celebrate all the beautiful cultures that make this region special.
"Festivals such as Culture Mix help us to build a stronger, more cohesive society in which everyone feels welcome."
Cr Bradbery encouraged community members who might be interested in leading workshops or who are local performers, to keep an eye on Council's website and social media channels for their own opportunity to get involved.
"We'll be doing further call outs soon for an Expression of Interest from performers, or groups and for those with a talent they're keen to share with other people,'' he said.
"This is really going to be a wonderful event for everyone.''
For event updates, follow the City of Wollongong on Facebook, Creative Wollongong on Facebook or wollongongcity on Instagram.
Funding for this project has been provided by the NSW Government.