Latest update for the Wongawilli Road and West Dapto Road projects
Tuesday 16 May 2023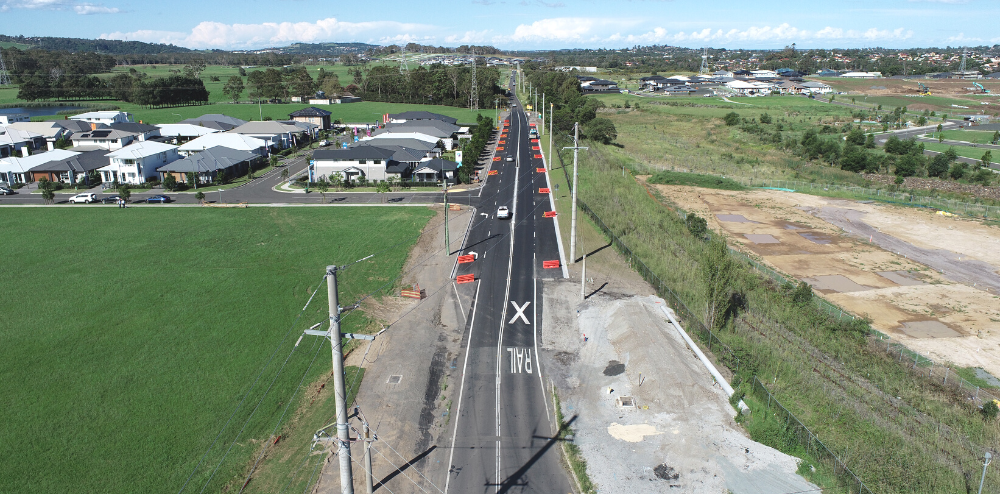 Image: Stage 1B of the West Dapto Road upgrade
West Dapto is Wollongong's fastest-growing residential area. Over the next 50 years, this suburb is expected to become home to an additional 56,500 people.
To support the long-term growth of this area, Wollongong City Council has for many years been working on a number of infrastructure projects to help this growing population.
The most high-profile of these was the Karrara Bridge, which opened in 2020. This bridge was the largest infrastructure project ever undertaken by Wollongong Council and delivers flood-reliable access to the West Dapto community.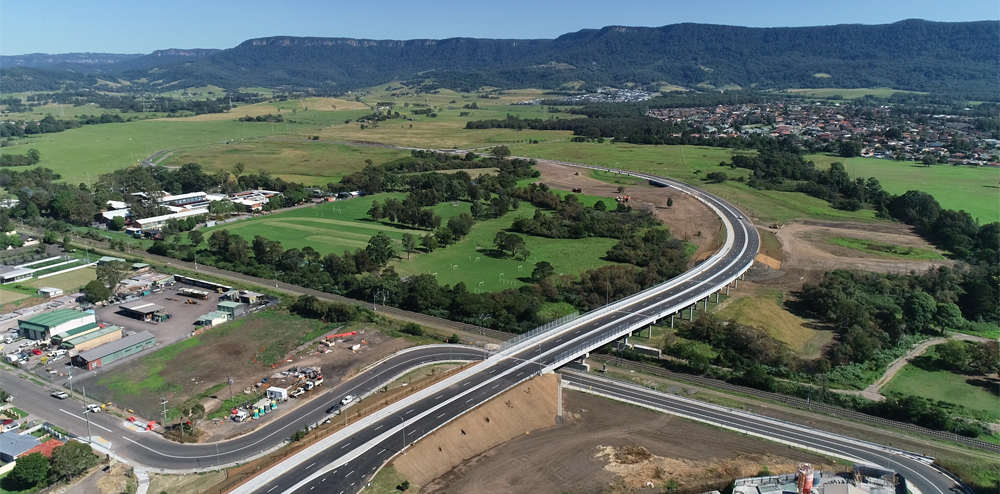 Image: Karrara Bridge, West Dapto
For more, see Council's Media Release: 'Largest Council project – Karrara Bridge and link – open now'.
Council is continuing to focus on road and infrastructure improvements in the West Dapto area. With Wongawilli Road and most of the initial phase of West Dapto Road upgrade works complete, or nearing the finish line, Council is sharing an update on the long-term project.
"There's been a lot of preliminary and supporting infrastructure work completed to improve the West Dapto Road network" Wollongong City Lord Mayor Councillor Gordon Bradbery AM said.
"So far Council has completed the majority of the Wongawilli Road upgrades, including stormwater management, kerb and guttering, road widening and the construction of a new shared path on the northern side of the road.
"Most recently, Council finished works on the stabilisation of basecourse materials at the western end of the road. Now we're getting ready to do an asphalt seal, which is expected to be completed by the end of June 2023, pending favourable weather conditions."
"Over on West Dapto Road, we're nearing completion of the first phase of works located at the western end of the road. This included widening the road including new line marking and signage, stormwater upgrade works, a shared path, and the relocation of various services.
"These upgrades have resulted in approximately 3,300 tonnes of road base and fill material, 1000 tonnes of asphalt, 115m3 of concrete and provided job opportunities to 18 local Illawarra sub-contractors and suppliers."
Council is now planning the next stage of works which includes the upgrade of the intersection at Shone Avenue, Wongawilli Road, and West Dapto Road. At the same time, planning work is underway for upgrades along West Dapto Road through to Rainbird Drive, with works extending through to Yard Street if budget allows.
The next upgrade for West Dapto Road will include:
Road, pavement, and drainage works
Improved access during flooding
New traffic signals at the Shone Avenue, Wongawilli Road, and West Dapto Road intersection
A new shared pathway to connect pedestrians and cyclists from Wongawilli town centre to the planned Darkes town centre
The construction of a new pedestrian bridge adjacent to the existing road bridge
Boom gates and flashing lights at the Shone Avenue rail crossing.
The West Dapto Road upgrade project is proudly funded by the NSW Government in association with Wollongong City Council.
For now, Council is in the design and planning stages. This stage can take time as Council obtains necessary approvals and coordinates with other agencies and stakeholders to develop how these new links will integrate into the existing road network and other projects in the pipeline.
"Running such a long-term project takes time, and that means a lot of the work we're doing happens behind the scenes through seeking funding, planning, researching, designing and adjusting plans based on our community's feedback," Cr Bradbery.
"At the end of the day, we want to get this right so that current and future West Dapto residents can access and enjoy their community. Naturally, some of these projects have and will take many years to develop and deliver.
"Thank you to the West Dapto community for their support and advocacy for Council's investment in this area to date. Your feedback, insights and participation on these projects has been invaluable, and we are committed to continuing these conversations about our plans and designs into the future."
Another project to look out for is the Northcliffe Drive extension to West Dapto Road. Council is currently investigating, designing, and refining this project and will share more with the community once it's ready.
Interested in learning more about these projects? Visit the West Dapto Projects webpage for up-to-date information.
If you're a new resident to West Dapto, Council has recently developed a West Dapto specific New Resident Info Pack which includes all you need to know about your suburb, the library and community centre, Dapto Heated Pool and local community and sporting groups.