Start something great! Applications now open for cadetships and traineeships
Thursday 16 September 2021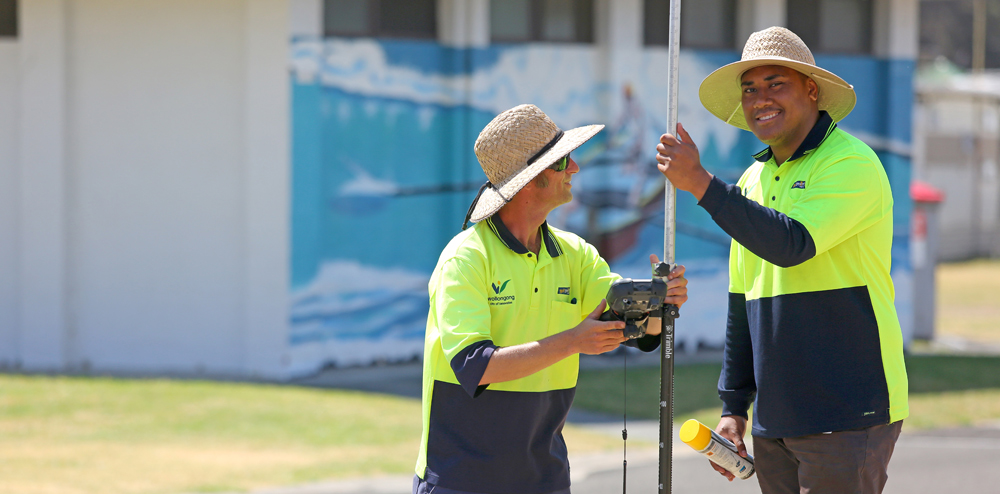 If you've dreamt of starting a career in Aboriginal Art, Civil and Structural Design, Economic Development or Information Management, we encourage you to consider putting your hand up for jobs in Wollongong City Council's next intake of cadets and trainees.
Applications are now open for 15 cadetships and traineeships across the organisation. These positions are specifically designed to provide entry-level employment opportunities for individuals who do not have significant work experience or qualifications.
Wollongong City Lord Mayor Councillor Gordon Bradbery AM said these positions prove to be popular for those looking to enter the workforce, with on-the-job training as well as completing a recognised qualification.
"We're committed in providing a range of employment opportunities for our community and this exciting program is unlike many others. We help guide and mentor our cadets, apprentices and trainees into their prospective career paths with invaluable experience and studies," Cr Bradbery said.
"We currently have close to 60 people in this program across a wide range of teams and they are a valued part of our organisation. We've also seen many individuals come through this program who have gone on to pursue extraordinary careers.
"There is a very diverse range of positions available through the cadets and trainees program this year. We're looking for the next generation of employees who will work for our community in areas such as traffic and transport, environmental health and in library services.
"So, if you are looking to kick-start your career with us next year, take a look at the positions on offer and apply today."
For more information and to apply visit our Cadets, Apprentices and Trainees page.
The roles available are for a February 2022 start. Applications are now open and close 11.59pm Monday 4 October.
Here are the positions on offer for the 2022 intake.
Civil Engineering Cadet – multiple opportunities available targeted at current Civil Engineering students who have completed one year of their degrees
Economic Development Cadet – targeted at current Commerce or Economic students who have completed one year of their degrees
Business Systems Analyst Cadet – targeted at current Information Technology or Business-related degree students who have completed one year of their degrees
Community Facilities Cadet – targeted for a person with disability
Aboriginal Art Curatorial Cadet – targeted for Aboriginal or Torres Strait Islander person
Traffic and Transport Cadet
Planner Cadet
Environmental Health Cadet
Library Services Trainee – targeted for Aboriginal or Torres Strait Islander person
Civil Construction Trainee – multiple opportunities available
Information Management Trainee
Civil and Structural Design Trainee
Concreting Trainee