Parish: Woonona
County: Camden
Bellambi is a beachside suburb north of central Wollongong.
Local communities of Aboriginal people were the original inhabitants and Traditional Custodians of Illawarra Land. Their dialect is a variant of the Dharawal language.
Before European settlement, the Aboriginal people of the region lived in small family groups with complicated social structures and close associations with specific areas.
Suburb boundaries do not reflect the cultural boundaries of the local Aboriginal community.
Traditional Custodians today are descendants of the original inhabitants and have ongoing spiritual and cultural ties to the Land and waterways where their ancestors lived.
The name Bellambi is a corruption of the Aboriginal word Beelambi meaning "no".
Bullambee was also recorded as the name of the 800 acres occupied by Moses Brennan from 1824.
Palamba was another name for Bellambi. It was used in 'The Paulsgrove Diary'. It is not known whether this is due to misspelling or whether the present name of Bellambi is a corruption of 'Palamba'.
Moses Brennan
Moses Brennan received permission to occupy 800 acres in a small tract of land named Bullambee on 23 July 1824. The area was also known as Palamba.
Harriet Spearing (nee Overington)
Miss Harriet Overington held a grant of 2000 acres called Bellambi or Palamba. She later married James Stares Spearing who secured two properties of 1000 acres on the slopes of Mount Keira known as Paulsgrove. The Bellambi grant faced a small bay that was used for many years to ship cedar. It later became an important coal shipping centre.
A village was established on Mrs Spearing's grant in 1842 after its subdivision. The port became a rival coal port to Wollongong in the 1860s and a great deal of timber still remained on the property into the 1870s (Cousins, 1994).
Pat Geraghty
Pat Geraghty arrived in the Illawarra area in 1828 at the age of 25. He settled in the Bellambi - Bulli district. Pat Geraghty was the first man to bring a wheeled vehicle down the mountain. Pat and his brother Jim spent many years hunting down bushrangers who infested the coast.
Pat Geraghty had 14 children and one of his daughters became Mrs Michael Cawley of Bellambi (Long, 1980).
Cawley Family
The Cawley family came to Australia in 1842 from Ireland. They were originally involved in business in Sydney and later engaged in business at Charcoal Creek (Unanderra). In 1846 John Cawley retired from business and took up land at Bellambi.
His five sons also took up land at Bellambi at the same time. The eldest son Michael married Jane Geraghty and they had five sons and five daughters. When Michael and Jane first lived at Bellambi they had a farm and an orange orchard. The land was eventually subdivided and Michael had to pay the full cost of putting a road through. This road was named Keerong Avenue.
After Michael's death the land was divided between his five sons. They retained the land and sold it at various times. Most of Michael's sons left to establish orchards and farms in the Richmond River area.
John Cawley left 64 acres of land to the Catholic Church's Marist Fathers. This became the site of the Holy Cross College for girls and St. Paul's College for boys, which today is the site of Holy Spirit College.
The Cawley family also donated Cawley Park in Russell Vale to Wollongong Council in 1939. The Cawley family once owned all of Bellambi (Illawarra Mercury, 1972, 1940).
Coal Mining
In 1857 Thomas Hale opened a mine at Bellambi. In addition to opening the mine Mr Hale constructed a jetty at Bellambi from which to ship the coal.
The first load of coal from Bellambi was shipped by the cutter 'Trial' which took coal to Sydney to be used by the steamer 'Washington'. "He also arranged for a wooden tramway to be constructed from the mine to the jetty and along the jetty to the loading places." (Cousins, 1994 The Garden of New South Wales p. 166).
By 1858 Mr Hale had two cutters, two schooners and a barque for his coal trade at Bellambi. He started the Illawarra's intercolonial trade with shipments to Adelaide and Launceston. Around 1858 Henry Osborne of 'Marshall Mount' purchased half of Mr Hale's Bellambi property for 7000 pounds.
Later in 1862 the coal mine became insolvent and the mine and leases were sold (Cousins, 1994).
The mine then lay undeveloped until the Bellambi Coal Company Ltd was constituted in 1888. This company had capital of 60,000 pounds to open and develop the Bellambi coal mine.
In 1901 the directors of the company decided to purchase the adjoining South Bulli Colliery. The company developed its own fleet and by 1908 the "Bellambi", a new steamer, was built to its own design. It had a capacity of 1600 tons.
"The company commenced the electricity supply to the Bulli Shire on 3rd June, 1913, so in a matter of 25 years the company had not only developed a colliery but had established a power plant…" (Local Cuttings File).
The company's number 1 shaft was sunk and coal was struck on 12 January 1929. By 1934 the company's locomotive hauled coal to Port Kembla for the first time.
The South Bulli mine is still in operation today and has had a significant influence on the development of Bellambi village and the northern suburbs of Wollongong. "Since a coal mine was first opened, back in the 1850s, Bellambi has bound its destiny tight with the mining industry." (Daily Mercury, 31 July 1968, p.17).
Railways
When Thomas Hale first opened his coal mine the principle of the self acting incline was adopted to lower the loaded coal skips down the steep hillside to the valley floor where they were unloaded. The coal was then transferred to bullock drays and conveyed to the village at Bellambi Point. It was then loaded into rowing boats for transfer to schooners and other small craft anchored under the lee of Bellambi Point.
Thomas Hale had a low, woodpile jetty constructed into six feet of water at low tide on the western side of Bellambi Point. A sharp nosed punt then replaced the rowing boats.
Mr Hale then built a tramway from the foot of the incline to the Bulli - Wollongong Road (now Princes Highway) and the line was later extended to the jetty at Bellambi. Work on the line commenced in 1858 and the course of the tramway followed the bush road used by the bullock teams when hauling coal from the mines. When completed the tramway had a total length of two and a quarter miles.
After the colliery was taken over by the Bellambi Coal Company a new gauge railway was built following the course of the old wooden tramway. The first locomotive to run on the line was a small engine built in 1879 (Clarke, 1968).
Roads
In 1844 a pass up the mountain was discovered by Captain Westmacott. This became known as Westmacott's Pass and later Bulli Pass. It was the main entry to the Illawarra from the north. In 1868 a wheeled vehicle was taken up Bulli Pass (Cousins, 1994).
Mountain View
Address: 14 Jones Place, Bellambi
This house was built in c1887 as the residence of the South Bulli Mine Manager. The condition externally is poor and in need of major restoration. The building is of a rare design and is a significant landmark in the northern Illawarra. The residence is of uncommon style and size in the area and has a strong association with the coal mining industry (City of Wollongong Heritage Study, 1991).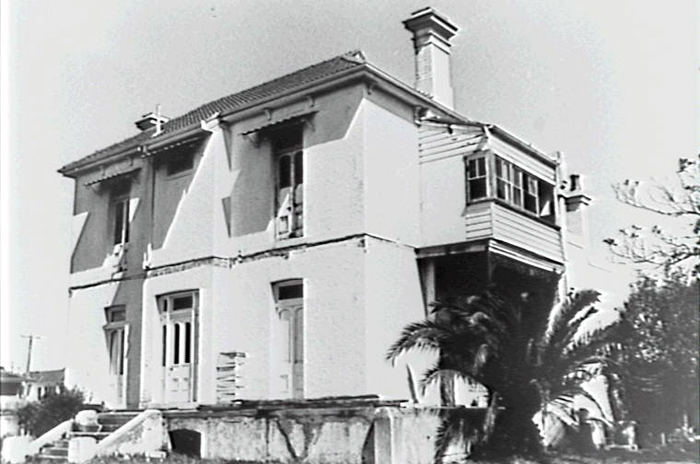 Image: Mountain View, image number P03397
Bellambi Hotel
Address: Cnr Brompton Road and Bellambi Lane, Bellambi
The Bellambi Hotel, originally named the South Bulli and Bellambi Hotel, was built in 1889. William Wilson, the manager of South Bulli Colliery, opened the hotel to cater for the miners and their families. Victorian architects Kenwood and Kerle were engaged to design the 21 room hotel which was opened for a cost of 2000 pounds.
"The Wollongong Argus newspaper described the hotel in great detail stating it had stables, billiard rooms and a fine balcony. The building contractor was Alex McDonald and the interior fittings and furniture were supplied by Wollongong iron monger Walter Vogan." (Northern Leader, 1999, p.17).
The hotel was remodelled in the 1950s and lost its ornate Victorian façade and wrought iron lace work during these renovations. It still has retained its old world charm (Local Cuttings File).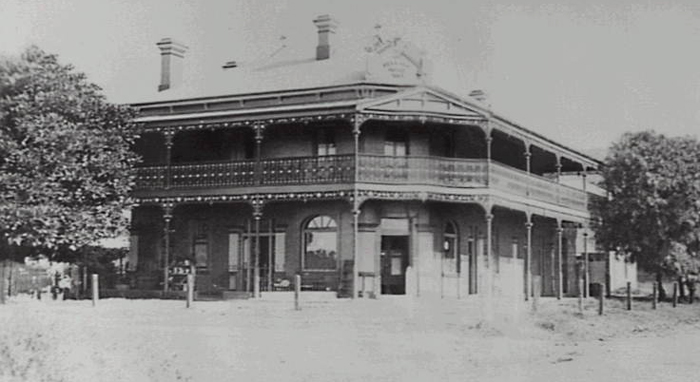 Image: Bellambi Hotel ca. 1915, image number P01109.
Bellambi Beach
Bellambi beach is part of one beach immediately north of Bellambi Point. There is a large playground and reserve with public toilets. The beach is at the southern end of a two kilometre stretch of beach and is backed by a reserve with mountain views. There is a boat ramp and small harbour nearby.
There is a surf club with a large car park available. Bellambi beach is patrolled during the summer (Local cuttings file).
Bellambi Lagoon
Bellambi lagoon is located approximately 10 kilometres north of Wollongong. This lagoon, forest and dune system has an area of about one square kilometre. Despite being sand mined and encroached upon since European settlement it is still archaeologically and botanically significant. This is a unique natural environment of coastal sand and wetland and their associated vegetation areas (Thomas, 1987).
| Date | Event |
| --- | --- |
| 1800s | 2000 acre grant to Miss Harriet Overington who married James Stares Spearing |
| 1824 | Moses Brennan received permission to occupy 800 acres in a small tract of land named Bullambee on 23 July |
| 1834 | Bulli Road laid out by Major Mitchell |
| 1842 | Mrs Spearing's estate subdivided and a village established |
| 1848 | RC Campbell had 2000 acres extending from Woonona past Bellambi |
| 1857 | Thomas Hale opened a coal mine at Bellambi |
| 1858 | Henry Osborne purchased half of Mr Hale's Bellambi property for 7000 pounds |
| 1858 | Bellambi jetty constructed almost 50 feet long and 10 feet wide |
| 1858 | Governor General Sir William Denison visits Bellambi jetty |
| 1859 | Tramway construction completed from coal mine |
| 1861 | Bellambi and Bulli School of Arts organised, Thomas Hale elected president |
| 1862 | Bellambi - Wollongong telegraph line completed |
| 1863 | Formal opening of Bellambi and Bulli School of Arts |
| 1887 | New jetty erected at Bellambi for Taylor and Walkers former mine at Russell Vale |
| 1889 | South Bulli and Bellambi Hotel built. W. Wilson proprietor 25 rooms |
| 1889 | Bellambi Estate sold. Estate lies north of Bellambi Hotel and South Bulli Railway line and west of the railway line. 100 lots were offered and 37 were sold |
| 1889 | Mine officially reopened on Saturday 9 November by Sir Henry Parkes |
| 1890 | Music Hall erected by W. Wilson. Good brick building that can hold 600 -700 people |
| 1890 | Coke works proposed near South Bulli mine |
| 1894 | Wesleyan services begun in music hall |
| 1898 | Half of the Jetty and 30 empty coal trucks were washed away |
| 1903 | First shipment of coke made from Bellambi |
| 1903 | Road required through Rothery's estate from Bellambi to Corrimal for the convenience of children attending school |
| 1904 | New Methodist Church opened |
| 1909 | Bellambi Surf Life Saving Club formed |
| 1913 | Electric light switched on Bellambi - Austinmer |
| 1921 | Auction of Bellambi Estate of 2000 acres. Village of Bellambi Haven laid out having several roads of access and a public wharf or landing place reserved |
| 1924 | War Memorial unveiled |
| 1927 | Main Road complete from the foot of Bulli Pass to Bellambi |
| 1957 | Bellambi Public School opened 18 March 1957 |
| 1957 | Wollongong - Bellambi - Squires Road to be built |
| 1961 | New Methodist Church opened |
| 1961 | Bellambi Coal Company wins contract to supply coal to Japan |
| 1962 | St Pauls College Bellambi opened by Bishop T. McCabe on 26 August |
| 1966 | King Gee Factory opens |
| 1978 | Bellambi Pre School Opens |
| 1983 | Holy Spirit College opened as a result of the amalgamation of St Pauls College and Holy Cross College |
| 1998 | Holy Spirit College receives state funding for works to the science labs |
| 1999 | Owners of the Bellambi west colliery go into voluntary receivership. The mine remains troubled, with periodic closures and changes in ownership continuing for the next decade. |
| 1999 | The NSW government announces plans for a $30 million extension to the Northern Distributor. A community liaison group headed by David Campbell is established. |
| 2000 | A Community Renewal Strategy is launched in Bellambi, with a view to giving the government housing area a facelift |
| 2001 | Community and business consultations are conducted concerning extensions to the Northern Distributor, with the works proposed for 2008 |
| 2004 | The NSW government approves extensions to the Northern Distributor, with works to commence in 2005 |
| 2005 | Local disputes arise over possible redevelopment of a Sydney Water maintenance site next to the sewerage works. Council indicates that any redevelopment would involve community consultation. |
| 2006 | Council approves development of a $4.5 million industrial complex including 16 spaces to cater to small business demand in the area |
| 2006 | Native regeneration of the Bellambi recreation area begins |
| 2007 | Bellambi soccer club celebrates its 50th anniversary |
| 2007 | Jetty at Bellambi boat ramp upgraded as part of a $143,000 project |
| 2008 | Seawind Catamarans upgrades its factory with 3000 square metres of further floor space, while business continues to grow |
| 2008 | Work on the multimillion dollar Northern Distributor project resumes (Illawarra Index) |
| 2009 | Bellambi rock pool to receive a $400,000 upgrade (Illawarra Index) |
| 2009 | Circus troupes to be evicted from existing rehearsals site in Watts Lane, Bellambi. Circus Monoxide to receive financial assistance in relocating (Illawarra Index) |
| 2009 | Southbound lanes of the Northern Distributor extension open between Bellambi Lane and Molloy Street (Illawarra Index) |
| 2009 | King Gee factory closes, with 79 employees being retrenched (Proquest) |
| 2010 | Mission Australia's Big Heart Enterprises opens retail store in former King Gee factory (Proquest) |
| 2017 | Bunnings Warehouse on Bellambi Lane (opposite Bellambi Hotel) officially opened by former cricketer Brett Lee on Friday 27 October |
Anthony, Leanne, An Environmental Management Plan for Bellambi Creek Catchment, Wollongong, NSW: Wollongong City Council, 1994
Bellambi Coal Company, The Mines of the Bellambi Coal Co. Limited, Sydney: Bellambi Coal Company, 1909
Bellambi Coal Company, The Bellambi Coal Company Limited, Sydney: The Company,1962
Clarke, Phillip & Eardley, Gifford H. Transporting the black diamond. Book 2, colliery railways of the Illawarra District (northern section), ca 1968
Cousins, Arthur, The Garden of New South Wales: a history of the Illawarra & Shoalhaven Districts 1770-1900, Wollongong, NSW: Illawarra Historical Society, 1994
Illawarra Index
Illawarra Mercury
Local Cuttings File
Long, Syd, Back to Bellambi - Corrimal: they found a friendly haven, [Wollongong, NSW: s.n.] 1980
Northern Leader
Thomas, Karin, Bellambi lagoon: an ecological overview. Illert Publications, East Corrimal, 1987.