Parish: Southend
County: Cumberland
Clifton is a small coastal suburb in the north of the Wollongong Local Government Area.
The township of Clifton came into being in 1877 when the Coal Cliff Colliery was developed. It was located on the southern portion of what was originally Sir Tomas Mitchell's Stanwell Park Estate. The press reported in 1877 that a number of well-built weatherboard cottages with galvanised iron roofs had been built about half a mile from the mine, and the spot was known as "the village of Clifton".
Local communities of Aboriginal people were the original inhabitants and Traditional Custodians of Illawarra Land. Their dialect is a variant of the Dharawal language.
Before European settlement, the Aboriginal people of the region lived in small family groups with complicated social structures and close associations with specific areas.
Suburb boundaries do not reflect the cultural boundaries of the local Aboriginal community.
Traditional Custodians today are descendants of the original inhabitants and have ongoing spiritual and cultural ties to the Land and waterways where their ancestors lived.
Mr Bill Newstead
Bill Newstead was born in Clifton in 1907 and worked in the Coalcliff mines from 1922 until he retired. He was born in the first cottage across the railway line in Clifton School Parade.
The Newstead family looked after the railway gates. Bill's mother did not like the family living so close to the railway lines so they moved into a little cottage down the cliff road towards Coalcliff. Bill's father worked on the jetty and his mother ran the boarding house.
Bill's family lived mostly off corned beef, damper, and whatever vegetables were available. Fresh meat was a luxury most people could not afford. Social life in the area at the time included films at the public hall. Clifton also had a football team (Illawarra Mercury, 20 August 1983. p.25-26).
Land grants
North of the town of Wollongong the land available in the Illawarra consists of a narrow strip lying between the Illawarra escarpment and the ocean. This narrow strip gradually tapers to a point where the range dips to the sea at Clifton. The majority of this area was absorbed in grants north of the township of Wollongong made to R and C Campbell and John Buckland (Lindsay, 1994).
Coal mining
Coal was first discovered in the Illawarra District at Clifton in 1797 by survivors of the shipwreck 'Sydney Cove'.
The first mine manager was Thomas Hale. He supervised the erection of the jetty (500 feet out to sea, 20 feet deep at low tide) and a timber slide that was constructed down the 120 foot cliff to deliver the materials.
The mine was officially opened in 1878 and Sir Alexander Stuart had two small steam colliers built in Glasgow, the 'Hilda' and the 'Herga'. These were especially designed for the hazardous conditions at Coal Cliff. They were 125 feet long with a capacity of 240 tons. Hilda was lost after striking a reef near Port Hacking in 1893 but Herga served the Coal Cliff mine throughout the entire period of operations of the jetty. Steam colliers were used because it was considered unsafe for sailing ships to come near to "the bold coast".
In 1878 the mine employed 73 miners. By 1884 there were 150 miners producing 51,500 tons of coal annually and most of these men and their families lived at Clifton.
The mining settlement prospered and two years after the opening of the mine, the community boasted its own school, post and telegraph office, and a new licensed coaching inn, James Farraher's Clifton Inn. In 1884 the Illawarra Mercury reported that the township had a population of 'near 1000 residents', of whom a large proportion worked at the mines.
Clifton suffered greatly when storms lashed the South Coast and washed the jetty into sea. The mine was forced to close with serious consequences for the miners and their families.
In 1910 the Coal Cliff Colliery miners went on strike for six months. It was during this strike that the existing School of Arts was built. The striking miners supplied some of the labour for this project. Clifton's population began to drop dramatically from about this point on as men sought work in neighbouring collieries (Local Studies Cuttings File).
Railways
In 1887 a section of line, 13 miles 24 chains long, was opened between Clifton (later South Clifton) and Wollongong. When Clifton Tunnel was completed rails were laid through it and to about a mile beyond. A temporary terminus was laid in at North Clifton at a point accessible to the coaches.
Clifton platform, south of Clifton Tunnel, was opened as North Clifton in 1888 when the line was connected with Sydney. Trains from North Kiama were also extended to North Clifton in 1888 (Singleton, 1972).
Roads
Before the opening of the rail service, four-horse coaches would leave Wollongong at 5am during the week and arrive at the Clifton hotels in time for breakfast. There the coaches would be serviced, the horses attended to and the waiting passengers taken on board. With drivers and horses refreshed, the coaches would then continue the journey, via Bald Hill, to the railhead at Waterfall. Here they would catch the 10.15am steam train to Sydney.
One of the coaching proprietors to run a service from Wollongong to Waterfall, via Bulli and Clifton, was Matthew Bloomfield, later to become host of the Imperial Hotel at Clifton. He started his service in 1886 (Illawarra Mercury, 18 May 2000. p. 21).
School of Arts
Address: Corner of Lawrence Hargrave Drive and School Parade, Clifton
This building was erected in 1911. It included a library, a reading room, a billiard room and the general store. It was constructed on land donated by the Clifton Mine for the creation of a learning facility. It is set along the Illawarra escarpment and is around 100 metres above sea level, with breath-taking views.
The building is Federation Free Classical style of brick. It is two storeys high with stucco pilasters, arches and window surrounds - lower level roughcast. It has an entrance porch with carved arch stucco over brick. Features of the building are the interesting parapet and arch.
Over the years the premises had many incarnations. It was a post office, an electoral office, a caretaker's residence and, in later years, a shop. Dances were often held for the miners of Scarborough and Clifton. The building is now held in trust by the Clifton residents. Restoration work began in 1996 (Illawarra Mercury, 19 March 1997; Ali, c1981; City of Wollongong Heritage Study, 1991).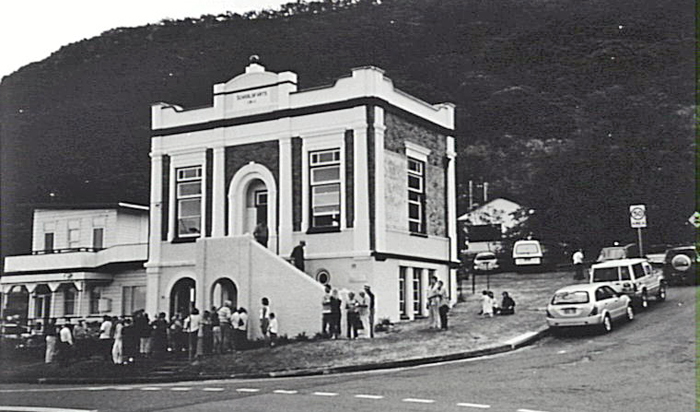 Image: Clifton School of Arts, 2003, image number P16911.
Cottage
Address: Clifton School Parade, Clifton
The cottage is a single storey brick residence, with a corrugated steel roof, a pressed metal gable with fretted veranda brackets. Large pine trees exist to the east and south. It is Federation style with elements of "Queen Anne" and Arts and Crafts style (City of Wollongong Heritage Study, 1991).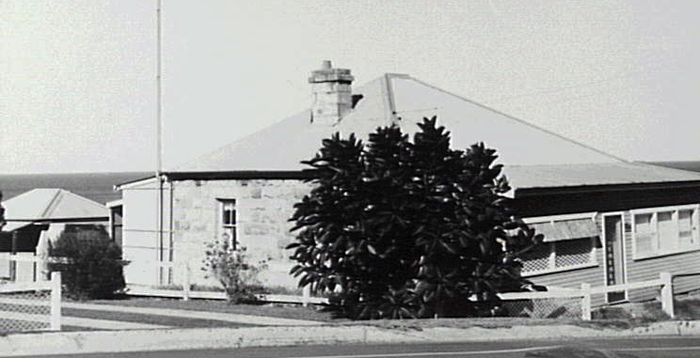 Image: Clifton cottage, 1981, image number P15341.
Former School Residence
Address: Clifton School Parade, Clifton
The Residence is a single storey building, painted brick with corrugated steel, timber veranda and window hoods. It is built in Federation filigree style. The building is still in good condition (City of Wollongong Heritage Study, 1991).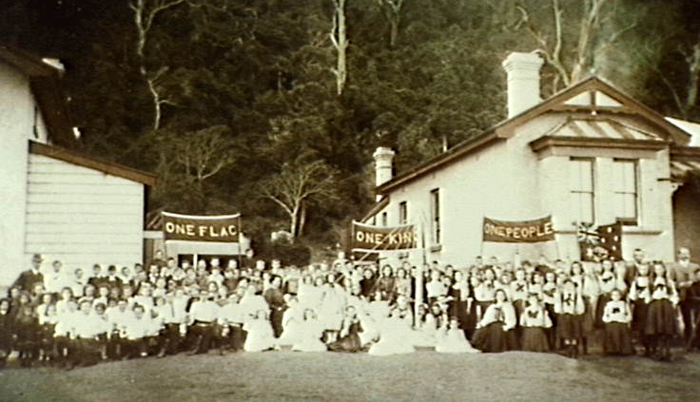 Image: Former School Residence, ca. 1900, image number P01552.
Imperial Hotel
Address: Lawrence Hargrave Drive, Clifton
The Imperial was licensed by 30 year old Wollongong baker, Alexander Osborne in April 1884. From the day it opened its doors the bar was a sanctuary for coal miners. The Imperial was Clifton's second public house, joining the Clifton Inn which had been the village's original watering hole since 1879.
The Imperial Hotel was purchased at auction in 1910 by Reschs Brewery Limited. It was then demolished and replaced by a large two-storey brick structure. The architect of the new hotel was Mr Redgen of Sydney and work on the building began in 1911. A savage storm ripped the roof off the hotel in 1913 causing an estimated 2,000 pounds worth of damage.
The Hotel remained essentially unchanged until the 1970s, when the front timber balcony was replaced with an awning, the bar extended, and a concrete balcony was constructed overlooking the ocean (Illawarra Mercury 26 December 2001, 11 February 2000; City of Wollongong Heritage Study 1991; Roberts, 1991).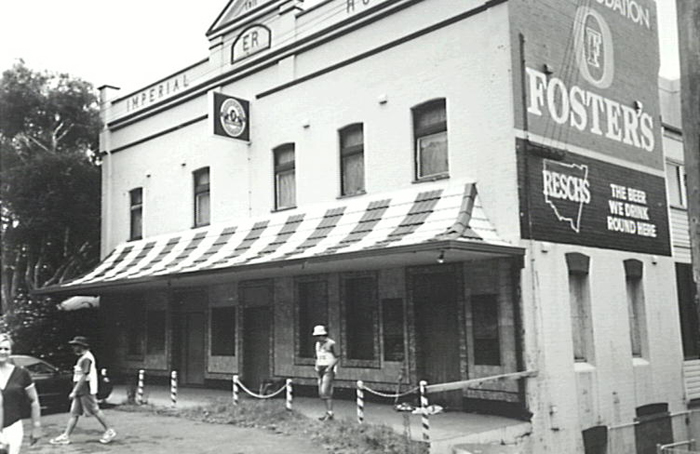 Image: Imperial Hotel, 2005, image number P17800.
Clifton is located on the Illawarra escarpment. The escarpment forms a dramatic backdrop for the Illawarra region. The environment is very dynamic. Steep slopes result in soil erosion and mass movement occurs. Rock falls occur frequently and result in damage to roads and buildings, and interruptions to services.
Urban and rural developments are restricted by the landscape limitations. The soils are reactive with low wet bearing subsoils, resulting in low to moderate fertility. The railway line in this area crosses typical escarpment topography - steep slopes in between the base of cliffs and the coastline. Further erosion and failures are the result of underground mining which commenced in the 1870s.
Many streams and creeks have been altered or diverted. During periods of intense wet weather severe flooding may occur. The climate is warm temperate, with maximum rainfall in autumn and winter. Northern Illawarra has little headland vegetation due to the poorer soils. Coastal Tea-tree and Banksia scrub are prevalent, along with Cheese tree, Lilly Pilly and Eucalypts. It is common to spot dolphins off shore and sea birds are in significant numbers (Dovers, 1983; Hazelton & Tille 1990; Longmac 1991).
| Date | Event |
| --- | --- |
| 1797 | Coal discovered at Clifton by survivors of the shipwreck "Sydney Cove" |
| 1878 | Coal Cliff Mine opened |
| 1879 | The first school and school residence built |
| 1879 | Daily mail service by horseback established between Clifton and Bulli |
| 1880 | School of Arts established |
| 1884 | 150 miners employed at the mine producing 51,500 tons of coal annually |
| 1884 | Anglican and Roman Catholic Churches built |
| 1885 | Public Hall built on land donated by the Colliery Manager |
| 1886 | Court of Petty Sessions first held at Clifton |
| 1886 | Rail completed to Waterfall from Sydney. Horse Coast Depot established by Matthew Bloomfield to connect Clifton to Waterfall Railway Station |
| 1887 | Clifton to Wollongong Railway opened |
| 1887 | Scarborough Hotel opened |
| 1888 | Trains commence to Coal Cliff from Clifton through tunnel |
| 1890 | Coal Cliff Coal and Land Company Ltd take over the colliery |
| 1891 | Illawarra Coal Company opened a mine at South Clifton |
| 1893 | Clifton School opened |
| 1898 | A full Post Office opened at South Clifton (now Scarborough) located at the Railway Station until 1908 |
| 1903 | South Clifton renamed as Scarborough to eliminate the confusion between the two railway stations, Clifton and South Clifton |
| 1911 | Laying of foundation stone for a new Clifton School of Arts |
| 1913 | Foundation dug for new "Central Public School" for Clifton-Scarborough |
| 1914 | New school building at Clifton - Scarborough opened by Minister for Education |
| 1915 | From 1 January, Clifton Public School became known as Scarborough Public School and the new station between Clifton and Scarborough was named Scarborough |
| 1919 | Additions to the Catholic Church at Clifton opened and blessed by Archbishop Kelly on 1 March |
| 1921 | Old South Clifton Mine closed |
| 1954 | Mechanical pillar extraction of coal to commence at South Clifton, Bulli and Mount Keira |
| 1963 | Clifton / Scarborough Public School Jubilee celebrated |
| 1970 | Deputy Lord Mayor Rube Hargrave sells Imperial Hotel to Mr Alec McKenzie |
| 1972 | Mine owners Clutha close down South Clifton colliery |
| 1973 | New owners, Mining and Metals Corporation of Australia, re-open the South Clifton colliery |
| 1983 | South Clifton colliery closes permanently |
| 1998 | Work commences on the refurbishment of the Clifton School of Arts after community fundraising and input from the Joint Coal Board and the Heritage Commission |
| 2001 | The refurbished Clifton School of Arts re-opens |
| 2003 | Geotechnical investigations of Lawrence Hargrave Drive between Clifton and Coalcliff find the road to be unsafe. The road is closed pending tenders for a permanent solution |
| 2003 | The historic Imperial Hotel at Clifton closes down |
| 2004 | The NSW Roads and Traffic Authority releases for public comment the preferred option for Lawrence Hargrave Drive |
| 2005 | The new Seacliff Bridge is opened after major construction works totalling approximately $50 million. Elevated boardwalk and pathways are constructed to connect Clifton village to the new bridge |
Ali, Anne C., Illawarra Region: Historic Buildings and Sites, [Wollongong, NSW]: A.C. Ali, c1981.
City of Wollongong Heritage Study, Wollongong City Council and McDonald McPhee Pty. Ltd., [Wollongong, NSW: Wollongong City Council], 1991.
Dovers, Stephen, (ed.), Illawarra Heritage: an introduction to a region, Wollongong, NSW: Environmental Heritage Committee, 1983.
Hazelton, P.A. and Tille, Peter John, Soil Landscapes of the Wollongong-Port Hacking 1:100,000 sheet, Sydney: Soil Conservation Service of NSW, 1990.
Illawarra Mercury, Wollongong, NSW: Illawarra Newspapers Holdings, 1856-
Lindsay, Benjamin, Organ, Michael & Doyle, Peter, Early Land Settlement in Illawarra: 1804 - 1861, Woonona, NSW: Illawarra Historical Publications, 1994.
Local Studies Cuttings File.
Longmac Associates Pty Limited. Geotechnical assessment report for Culvert and Creek Amplification Study, South Coast Railway, Clifton to Austinmer, Sydney: Longmac Associates Pty Limited, 1991.
Northern Wollongong Development Project, Northern Exposure : a visitor's guide to the Northern Illawarra : where to stay, what to find, what to do and see, [Wollongong, N.S.W. : The Project, 200?]
Place names of the Wollongong Region, Wollongong: Wollongong City Council, 2008.
Singleton, Cyril Corbet, Railway History in Illawarra New South Wales, 3rd ed.,Wollongong, NSW: Illawarra Historical Society, 1972.
Stedinger Associates for Wollongong City Council, A heritage study of five tidal rock pools along the Wollongong coast The Nun's Pool, Toddler's Pool, Fishermen's Pool, Little Austinmer Pool and Clifton Pool, Camden, [NSW]: Stedinger Associates, 2003.