Parish: Southend
County: Cumberland
Coalcliff is in the north of the Wollongong Local Government Area.
Local communities of Aboriginal people were the original inhabitants and Traditional Custodians of Illawarra Land. Their dialect is a variant of the Dharawal language.
Before European settlement, the Aboriginal people of the region lived in small family groups with complicated social structures and close associations with specific areas.
Suburb boundaries do not reflect the cultural boundaries of the local Aboriginal community.
Traditional Custodians today are descendants of the original inhabitants and have ongoing spiritual and cultural ties to the Land and waterways where their ancestors lived.
The name Coalcliff originated in 1797 when three survivors of a wreck set out to walk to Sydney. They found coal here and used it to light a fire for warmth. After they were rescued they reported the presence of coal and Governor Hunter sent George Bass to investigate. Bass found several seams that extended for some distance and conjectured that they might extend throughout the range.
Matthew John Gibbons
Matthew John Gibbons arrived in Australia in 1790 as a convict on the Second Fleet. He received a pardon and joined the NSW Regiment as a steward to Major Francis Grose, a member of the NSW (or "Rum") Corps. He married a free settler, Margaret Gordon. He and his wife had two children, Matthew and Elizabeth. The Gibbons family went back to England for a time but they returned in 1821. Gibbons worked in the civil service as a storekeeper to the Civil Engineer until 1832.
In 1824 Matthew John Gibbons received a promise of grant of 1,000 acres from Governor Macquarie. The grant was known as 'Little Bullie' and later Stanwell Park. Gibbons was actually allocated 1,020 acres from the top of Bald Hill to Judge's or Stony Creek in Coalcliff.
Although the grant included Coalcliff, Gibbons was unable to use it because of its inaccessibility. The land was promised to him in 1824 but it was not finally granted to him until 1833 (Adams, 1983).
Matthew John Gibbons was a prominent citizen of the early colony, and died a respected member of the community (Illawarra Historical Society Bulletin, Adams, 2005).
Sir Thomas Livingstone Mitchell
Mr Mitchell was a well known explorer and Surveyor General of New South Wales. He first acquired property in northern Illawarra in the 1830s. Mitchell purchased property in anticipation of the highway to Illawarra passing through the land. The highway was surveyed but not used to any extent. Mitchell lacked the means to develop the properties in the Illawarra and they passed to his son Campbell Mitchell with little having been done (Town and Country Journal, 2 August 1879).
Coal Mining
The Illawarra coal seams had been observed at Coalcliff as early as 1797. However, a new monopoly on coal production given to the Australian Agricultural Company at Newcastle prevented the development of a coal industry before 1848, when the monopoly was lifted.
Coalcliff at the time was the nearest mine to Sydney by more than 20 miles This valuable cliff originally belonged to Sir Thomas Mitchell, and afterwards to his son, Captain Mitchell. Captain Mitchell penned out the coal in several places but failed to persuade any others to share the responsibility of the enterprise. Faced with the great expense of providing shipping facilities, he gave up the undertaking and eventually disposed of his interest in the cliff.
The tunnelling operations of the Coalcliff Mining Company began in 1877. The land was purchased by Mr Alexander Stuart in 1876 (he later became Premier of NSW from 1883-1885). The mine was officially opened in 1878. Sir Alex had two small steam colliers built in Glasgow, the 'Hilda' and the 'Herga'. These were especially designed for the hazardous conditions at Coalcliff. They were 125 feet long with a capacity of 240 tons. Hilda was lost after striking a reef near Port Hacking in 1893 but Herga served the Coalcliff mine throughout the entire period of the jetty mine.
Steam colliers were used because it was considered unsafe for sailing vessels to come so near to 'the bold rocky coast". The mine manager was Thomas Hale. He supervised the erection of the jetty (500 feet out to sea, 20 feet deep at low tide) and a timber slide that was constructed down the 120 foot cliff to deliver the materials.
Alexander Stuart died in 1886 and the property passed to two of his partners, Sir John Robertson and Charles Cowper. In 1890 they formed the Coalcliff and Land Company Ltd. In 1892 the colliery estate and the ships were acquired by Ebenezer Vickery, who decided to develop a shaft. It took 15 years before the shaft was sunk. During this time legal ownership was transferred from Ebenezer Vickery to E Vickery & Sons Ltd (1902) and later the Coalcliff Colliers Ltd (1909). These changes were largely formal as both companies were controlled by the Vickery family until 1936 (Town and Country Journal, 2 August 1879).
Railways
Construction of a rail link between Sydney and Wollongong was approved in 1881. It was done in three sections, one from Sydney to George's River, the second from George's River to Clifton / Coalcliff and the third from Clifton to Albion Park. The first section was running by 1886.
The Coalcliff Tunnel took three million bricks to line. The third section was completed and opened in 1887 and stations were built at Clifton, Bulli and Wollongong. Fares were set at threepence a mile. A year later the second section was completed. The first through train ran from Sydney to Wollongong on 7 September 1888 (Illawarra express and southern coast general advertiser, 15 June 1988 p.10 & 11).
Roads
There was no road or railway from Bulli to Stanwell Park, only a rough track. Once the mine got underway a road became essential. In 1868 a road was constructed from the foot of Bulli Pass to Coalcliff in response to the small, but growing population in the Northern Illawarra.
Coalcliff tunnel
Coalcliff tunnel is located on the Illawarra Rail line owned by the State Railway. Work commenced on the Coalcliff tunnel in May 1884. The unofficial opening of the Clifton to Coalcliff line was on 23 July 1888.
The No. 8 Tunnel, Coalcliff Tunnel, opened on 3 October 1888. It is a single lane tunnel, originally 3,289 feet long. A brick works was established at Otford in 1885 to provide bricks for the Coalcliff Tunnel (Ali, c1981).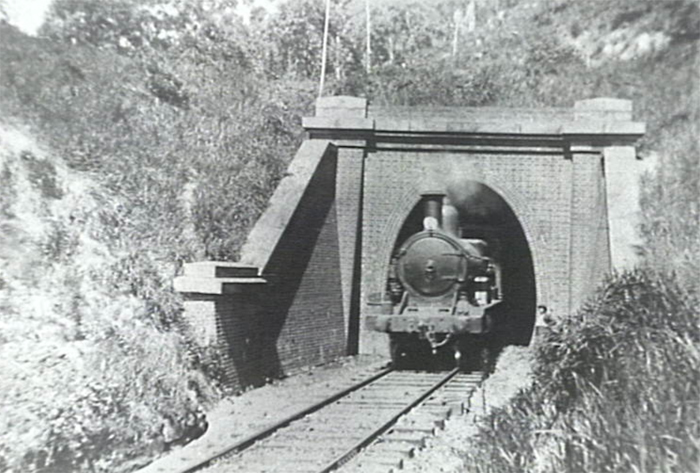 Image: Coalcliff tunnel, image number P09200.
Coalcliff is located on the Illawarra escarpment. The escarpment forms a dramatic backdrop for the Illawarra region. The environment is very dynamic. Steep slopes result in soil erosion and mass movement occurs. Rock falls occur frequently and result in damage to roads and buildings, and interruptions to services.
Urban and rural developments are restricted by the landscape limitations. The soils are reactive with low wet bearing subsoils, resulting in low to moderate fertility. The railway line in this area crosses typical escarpment topography - steep slopes in between the base of cliffs and the coastline. Further erosion and failures are the result of underground mining which began in the 1870s.
Many streams and creeks have been altered or diverted. During periods of intense wet weather severe flooding may occur. The climate is warm temperate, with maximum rainfall in autumn and winter.
Northern Illawarra has little headland vegetation due to the poorer soils. Coastal Tea-tree and Banksia scrub are prevalent, along with Cheese tree, Lilly Pilly and Eucalypts.
It is common to spot dolphins off shore and sea birds are in significant numbers (Dovers, 1983; Hazelton & Tille 1990; Longmac 1991).
| Date | Event |
| --- | --- |
| 1797 | Coal found at Coalcliff by William Clarke and two other seamen who were the first European men to traverse the area on land |
| 1833 | Land grant known as 'Little Bullie' (later Stanwell Park) given to Matthew John Gibbons |
| 1878 | Coalcliff Coal Company created by John Robertson and Alexander Stuart |
| 1878 | Plan to build a road where the narrow bridge track existed around the cliff linking Bulli with Coalcliff and Stanwell Park |
| 1879 | Coalcliff landslip of 200 tons of earth and stones across the bridle track |
| 1879 | Post and Telegraph Office opened |
| 1879 | Men and machines landed at the jetty to work on the Coalcliff Road |
| 1879 | Miners Lodge formed at Coalcliff |
| 1879 | "S S Herga" and "S S Hilda" built in Glasgow and on their way to Australia |
| 1880 | Coalcliff has hotel licence but no policeman |
| 1880 | Construction of road is progressing |
| 1880 | Coalcliff Colliery company being formed |
| 1881 | Portion of Coalcliff Jetty carried away, to be replaced |
| 1881 | Mountainous seas again delay reconstruction of Coalcliff Jetty |
| 1881 | Landslips on road between Clifton and Judge Hargrave's residence |
| 1882 | Pure water supply required for Coalcliff. Water to be supplied by company from the back of the mountain |
| 1882 | Coalcliff miners strike settled. Stuart, manager, conceded 3 pence per ton above other mines |
| 1883 | Charles Harper relinquished managership of the colliery to Charles Stuart, nephew of the Member for the district |
| 1884 | Work commences on Coalcliff tunnel |
| 1885 | Death of J F Hargrave |
| 1886 | Death of Alexander Stuart |
| 1886 | |
| 1887 | Third section of the Coalcliff tunnel opened |
| 1888 | New station at Coalcliff called North Clifton |
| 1888 | Trains commence on the railway line to Coalcliff |
| 1909 | Coalcliff Colliery purchased by Coalcliff Colliery Pty Ltd |
| 1910 | Miners return to work at Coalcliff Colliery after four day strike |
| 1955 | Shaft being sunk at Coalcliff to connect the tunnel of the original Clifton mine |
| 1957 | Coalcliff Community Hall opened on Saturday 16 November |
| 1964 | Official opening of Leeder Park at Coalcliff by Alderman A Squires. The park was built on reclaimed swamp |
| 1970 | Clutha Development Co plan to build a mile-long coal loader off Coalcliff. Campaign against the proposal succeeds |
| 1991 | After 113 years of operation, Coalcliff mine is closed down permanently |
| 2003 | Geotechnical investigations of Lawrence Hargrave Drive between Clifton and Coalcliff find the road to be unsafe. The road is closed pending tenders for a permanent solution |
| 2003 | Construction of a new sewerage system for the local area commenced |
| 2004 | NSW Roads and Traffic Authority releases for public comment the preferred option for Lawrence Hargrave Drive |
| 2005 | The new Seacliff Bridge is opened after major construction works totalling approximately $50 million |
| 2007 | New northern suburbs sewerage system completed |
Adams, Michael., 'Matthew John Gibbons: Pioneer and first owner of Stanwell Park', in Journal of the Royal Australian Historical Society, Vol. 68 Pt 4 March 1983.
Ali, Anne C., Illawarra Region: Historic Buildings and Sites, [Wollongong, NSW]: A.C. Ali, c1981.
Dovers, Stephen, (ed.), Illawarra Heritage: an introduction to a region, Wollongong, NSW: Environmental Heritage Committee, 1983.
Hazelton, P.A. and Tille, Peter John, Soil Landscapes of the Wollongong-Port Hacking 1:100,000 sheet, Sydney: Soil Conservation Service of NSW, 1990.
Illawarra express and southern coast general advertiser [microform], Wollongong, NSW: Michael Devlin and Frederick Sinclair, [1860]-
Illawarra Historical Society, Illawarra Historical Society Bulletin, Wollongong, NSW: Illawarra Historical Society, 1945-
Jervis, James. Illawarra: A century of history 1788-1888, Sydney: Royal Australian Historical Society, 1942.
Local studies cutting file.
Longmac Associates Pty Limited. Geotechnical assessment report for Culvert and Creek Amplification Study, South Coast Railway, Clifton to Austinmer, Sydney: Longmac Associates Pty Limited, 1991.
Piggin, Stuart & Tibbs, Phyllis, Faith of Steel: A history of the Christian Churches in the Illawarra, Wollongong, NSW.: University of Wollongong, 1984.
Place names of the Wollongong Region, Wollongong: Wollongong City Council, 2008.
Town and Country Journal [microform], [Sydney: The Town and Country Journal, 1902].