Parish: Southend
County: Cumberland
Coledale is a coastal suburb in the north of the Wollongong Local Government Area.
Local communities of Aboriginal people were the original inhabitants and Traditional Custodians of Illawarra Land. Their dialect is a variant of the Dharawal language.
Before European settlement, the Aboriginal people of the region lived in small family groups with complicated social structures and close associations with specific areas.
Suburb boundaries do not reflect the cultural boundaries of the local Aboriginal community.
Traditional Custodians today are descendants of the original inhabitants and have ongoing spiritual and cultural ties to the Land and waterways where their ancestors lived.
Previously spelled Coaldale, the name refers to the coal deposits in the area.
In 1902 a new railway platform, incorporating a post and telegraph office, was opened and called Coledale. This was the first appearance of the name Coledale.
In 1903 a new mine was opened at North Bulli, later known as Coledale, and a township was laid out and allotments sold.
Land grants
Three of the earliest land grants in the Coledale area were given to Robert Westmacott, William Barton John Daly and John Carn. It is not known for certain if any of these people ever settled on their land grant.
In November 1903 there was a land sale by a Mr Cotterell, offering land lots for sale. The prices ranged from five pounds to 142 pounds (Illawarra Branches, 1985).
Mr Clem Carrick
For 22 years Mr Clem Carrick ran a one-man sawmill, Coledale Timbers Ltd. He handled thousands of tons of wood a year. He cut down the trees, transported them, sawed them, dressed the timber and sold them. The Emmanuel Church of England was built of weather board by Carrick in 1884.
Thomas Cater
Thomas was born in Shenstone, Co Staffordshire, England in 1837. He served his boyhood days as a coal miner after which he went to New Zealand and then in 1889 to New South Wales. He was contracted to sink the first shaft at the Balmain colliery at Sydney. He also opened the North Bulli Colliery, later known as Coledale, and managed it till his death in March 1912. He was a member and official of the Primitive Methodist Church for which he was a local preacher for 30 years in England, New Zealand and New South Wales. He was a man of strong character and powerful influence (South Coast Times, 22 February 1961).
Coal mining
The beginning of the coal mining industry in Coledale led to the expansion and development of the area. The first mine was opened in 1889 but was abandoned because of problems with underground water. This mine was redeveloped as the North Bulli Colliery in 1902 and was connected by rail to the Illawarra railway.
The North Bulli Colliery was officially opened in early November 1903. The mine had an incline down the hillside and a railway siding. One hundred hands were employed. Coal cutting machines were installed in the mine and production increased. The 50 coke ovens built in 1905 were increased to around 100 in 1908.
The North Bulli Colliery closed in 1926. Several attempts were made to re-open the mine and cokeworks during the Depression years but it was eventually abandoned (Wollongong City Council. Planning and Development Dept., 1985).
People who worked at the new coal mine in Coledale walked or rode horses from places farther south. Railway trains commenced between Clifton and Wollongong in 1887. Over a year later the trains ran between Sydney and Wollongong. There were stations at Clifton, Bulli and Wollongong.
In 1902 a railway platform called Coledale was built along the government railway. This was the first appearance of the name Coledale (South Coast Times, 22 February 1961).
Coledale Railway Station
Address: Illawarra Line, Coledale
The brick railway station was built in 1912 to serve the large population that settled along the Illawarra line. The new island platform was constructed two hundred yards south of the original platform. It is single storey, centrally located between the lines. It is in good condition and retains architectural quality (City of Wollongong Heritage Study, 1991; Singleton, 1964).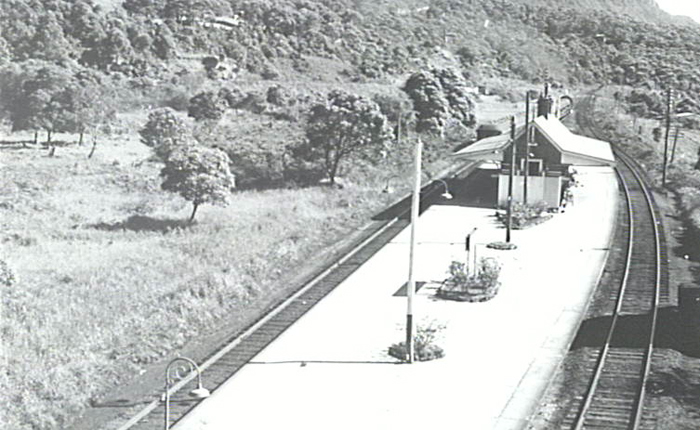 Image: Coledale Railway Station, 1961, image number P09218.
Coledale is a unique area, located on a very narrow strip of land between the steep Illawarra Escarpment (which rises to 1,200 metres above the sea level) and the waters of the Tasman Sea. The escarpment foothills, between the Illawarra railway and the escarpment face, are steep and generally forested, and form the low level backdrop to the plains and coastline. Throughout the foothills is a series of plateaus or benches upon which existing residential development and vehicular access corridors are located.
Typical rainforest tree species found in the area are Cabbage Palm (Livistonia australis), Red Ceder (Toona Australia) and Lillypilly (Acmena smithii). Understorey vegetation species include Rough Tree Fern and other species which require sheltered locations.
Many birds are attracted to the forests for food, in the form of insects and nectar from the flowering eucalypts. Predatory birds such as falcons, hawks and eagles require quite large habitats and have adapted their flight styles to the rising air currants provided by the escarpment. Around 17 species of mammals have been recorded on the wildlife corridor linking the Royal National Park to the escarpment (Local Environmental Study Coledale, 1985).
| Date | Event |
| --- | --- |
| 1884 | North Illawarra Coal Company was formed and commenced mining at North Bulli when coal was produced in 1886 |
| 1887 | On 7 June, a 268 ton coal ship "Waratah" was at the jetty to load coal when a large southerly wind caused her to drag her anchor and become adrift |
| 1887 | Trains commenced between Clifton and Wollongong in June |
| 1889 | Another mine opened, a mile north of the jetty (at Coledale) and was also linked to the jetty with a railway line |
| 1898 | The mine closed and the jetty was abandoned and later part of it collapsed and the remainder was burnt in a fire in 1915 |
| 1902 | In September a railway platform called "Coledale" was built along the government railway, incorporating a post and telegraph office |
| 1902 | A new North Bulli colliery was opened |
| 1903 | On 7 November a village was surveyed and an auction was held for the purchase of land lots. The land sold was owned by Wigram Allen, who was a partner of Allen & Allen & Hensley |
| 1904 | Installation of Sullivan longwall coal cutting machines at the North Bulli Colliery |
| 1905 | Cokeworks were built at Coledale to make 100 tons of coke a day |
| 1907 | The Coledale Progress Association was formed with Frank Carter as its president |
| 1908 | Three churches opened in Coledale: the Church of England, Roman Catholic Church and the Methodist Church Hall |
| 1908 | First mass held in Roman Catholic Church Coledale |
| 1909 | "North Bulli" (later known as Coledale Colliery) mine was the third largest in the state |
| 1910 | John Simpson Kirkpatrick worked at Coledale Pit. He later became a hero of Anzac and a legend of Gallipoli where he died in 1915 |
| 1912 | Coledale Public School officially opened |
| 1913 | Surf life-saving commenced at Coledale |
| 1914 | Coledale was connected to electricity |
| 1915 | Double railway lines were installed, replacing the single track |
| 1915 | The Coledale Hospital opened |
| 1916 | The Empire Hall was opened. It closed on 28 February 1959 |
| 1918 | The town's water supply was connected |
| 1942 | Coledale RSL was formed, and the club was built on the site of the old cricket pitch and football paddock |
| 1945 | Scouting began, and a scout hall officially opened in October |
| 1952 | Coledale threatened by raging fires in the surrounding mountains |
| 1959 | The Northern Suburbs Rugby Leagues Club was opened |
| 1961 | Methodist Church/hall opened at Coledale |
| 1966 | Raymond Short, 13, mauled by a blue pointer shark off Coledale beach |
| 1973 | Mine owners Clutha close Coledale (North Bulli No.2) and South Clifton collieries |
| 1988 | Coledale experienced its worst landslide when part of the railway line collapsed onto a house killing two people |
| 1997 | Coledale Hospital celebrates its 80th birthday |
| 1999 | Coledale Hospital receives a $2.5 million upgrade |
| 2006 | Seawall at Coledale beach replaced at cost of $100,000 |
Ainsley, Lyn, An Oral History of Coledale by a pupil of Bulli High School, Bulli: Bulli High School, [1978].
City of Wollongong Heritage Study, Wollongong City Council and McDonald McPhee Pty. Ltd., [Wollongong, NSW : Wollongong City Council], 1991.
Illawarra branches, Wollongong, NSW: Illawarra Family History Group,1985-
Local Studies Cuttings File.
Place names of the Wollongong Region, Wollongong: Wollongong City Council, 2008.
Singleton, Cyril Corbet, Railway History in Illawarra, Wollongong, NSW: Illawarra Historical Society, 1964.