Parish: Wollongong
County: Camden
Cringila is a residential suburb about four kilometres south of Wollongong. The suburb is bounded by Berkeley, Lake Heights, Warrawong, Five Islands Road and the Steelworks.
Local communities of Aboriginal people were the original inhabitants and Traditional Custodians of Illawarra Land. Their dialect is a variant of the Dharawal language.
Before European settlement, the Aboriginal people of the region lived in small family groups with complicated social structures and close associations with specific areas.
Suburb boundaries do not reflect the cultural boundaries of the local Aboriginal community.
Traditional Custodians today are descendants of the original inhabitants and have ongoing spiritual and cultural ties to the Land and waterways where their ancestors lived.
Cringila was the Aboriginal name for the pipeclay with which people decorated themselves before a corroboree or fighting expedition.
Cringila was formerly known as Steeltown, named after the collection of shacks and tents which were erected close to the Steelworks. In the late 1920s land was advertised in this area as 'The Steeltown Estate'. This land fronted Five Islands Road and adjoined the Hoskins Steelworks.
Robert Jenkins
Cringila was part of a 1,000 acre grant made to Robert Jenkins. Robert Jenkins named his farm 'Berkeley Estate' but he never lived on the land. Jenkins died in 1822 after falling off his horse and the land was passed to his wife Jemima Jenkins. Jemima later purchased 2,000 acres to the west of Robert's grant and then five small parcels of land adjacent to this 2,000 acres. The name 'Berkeley Estate' covered all Jemima Jenkins' seven properties (Reynolds, 2001).
O'Donnell Family
Michael O'Donnell and his wife arrived in Sydney from Ireland in 1841. He became teacher-in-charge of the Wollongong Roman Catholic Denominational School in 1842. In 1843-1844 O'Donnell and a fellow school teacher undertook the management of Wentworth's 'Five Islands Estate'. In 1853 O'Donnell leased the Estate from Wentworth with a proviso that he would clear 500 acres of the land. Evidence suggests that the O'Donnell family still held a lease with Wentworth in 1900. The O'Donnell's farm house was built not on 'Five Islands Estate' but on 'Berkeley Estate' (Reynolds, 2001).
The land for the 'Steeltown Estate' was probably purchased from the O'Donnell family. The subdivision extended from the southern side of Five Islands Road to just north of Fitzgerald's homestead. The southern extent of the subdivision is midway between Cringila Street and Fitzgerald Street. It is presumed that this was the boundary between the O'Donnell family's property and Fitzgerald's property (Reynolds, 2001).
Marcella O'Donnell, the third child of Michael O'Donnell Jnr, married Sidney Arkell and lived in Port Kembla. Sidney operated a trucking business and worked during the construction of the Steelworks. Marcella and Sid moved into a home on the 'Berkeley Estate'. This home was located on Birmingham Street on land the size of about six domestic sized blocks. Marcella and Sidney lived here until about 1940. After they left the house was moved to the edge of the block, and the block was subdivided into normal sized building blocks (Reynolds, 2001).
Fitzgerald Family
Paddy Fitzgerald purchased an old homestead and land from the O'Donnell family in the early 1920s. This land was located just inside the Berkeley Estate. The border between the Fitzgerald and the O'Donnell properties is approximately midway between the present Cringila and Fitzgerald Streets. Two of Fitzgerald's sons worked horses and drays on the Steelworks site during excavations for the blast furnace (Reynolds, 2001).
The early settlers in the area were dairy farmers and crop growers.
In 1926 Charles Hoskins purchased 400 acres of land at Port Kembla to develop a steelworks. In 1927 the Hoskins Steelworks was established. Although it was referred to as AI & S Port Kembla, the blast furnace and the surrounding mills and foundries were closer to Cringila and Warrawong than to Port Kembla. In 1928 the Hoskins Steelworks commenced production with the opening of the No.1 blast furnace.
In the 1930s suburbs around Port Kembla, including Cringila, began to grow as people moved into the area to be close to their work. Cringila was a combination of two suburbs, the Steeltown housing estate which opened in the late 1920s and Belvedere estate which opened in the mid 1930s. In 1934 Charles Hippisley opened a mixed business and unofficial post office in Newcastle Street, Cringila (Reynolds, 2001).
In 1900 the Port Kembla area was relatively isolated because of bad roads. By the 1920s better roads had been constructed which meant that workers no longer had to cross lagoons or construct their own bridges to get to work. In 1940, however, the road between Wollongong and Port Kembla was still unsealed and crossed by unmarked train lines.
Construction of a direct railway line from Port Kembla to Wollongong began in 1913 in the vicinity of the present Cringila railway station. It progressed north to meet the main Illawarra line at Mount Drummond. The new Port Kembla branch was opened in 1916 and the original line from Cringila to Unanderra was abandoned. Passenger services from Port Kembla to Wollongong began in 1920 (Southern, 1978; Eklund, 2002).
Residential building
Address: 26 Lake Avenue, Cringila
This residence was built in the 1930s in Cringila as a family residence. It was built from weatherboard, wooden frame and corrugated iron roof.
In the 1950s this residence was home to many migrant families who lived there a short time, and saved enough money so they could move to another suburb. This became a cycle for many families. The Campara family purchased the house in the 1960s because they could not afford a new house. They sold it in 1975.
The residence was purchased and renovated by the Wollongong Community Health Services and it became a Community Health Centre. In 1988 it was used as a Migrant Health Centre for the Illawarra Region and in 1989 the centre closed and a purpose built centre was opened.
The house was sold to a Cringila resident in 1994 and apart from the renovations done in 1975 the house is largely the same as it was in the 1930s (Local Studies Cuttings).
Cringila footbridge
Location: Railway bridge and Cringila Station
The Cringila footbridge was built in 1952 to provide access to Port Kembla Steelworks. It features a steel welded through Warren truss. Concrete decks were now standard for most new footbridges and for the replacement of timber decks.
By the mid-1930s welding had become an established technology, but railways were slow to use it for underbridges subjected to dynamic loads. However, for footbridges with light static loads, welding was ideal. Costly drilling and riveting was eliminated at joints by simple runs of welds, after an easy assembly of members. Initially double angles were used for the flanges but later, T-sections were used (NSW Heritage Office, 2004).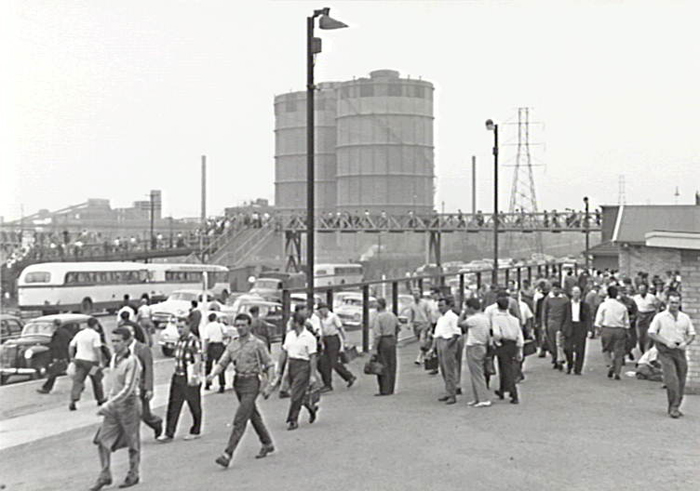 Image: Cringila footbridge, 1963, image number P04436.
Cringila is a densely populated area containing the highest concentration of non-English speaking migrants in the Wollongong area. It has a diverse cultural heritage of approximately 20 nationalities. The suburb is surrounded on all sides by heavy industry. Air pollution from the emissions from these industries is an ongoing problem for Cringila residents.
In the 1970s BHP recognised the need to address the plant's impact on the environment and established long term goals to improve environmental performance. In 1976 the first five year pollution reduction program was put in place. Since then, there have been three further plans that aim to continually reduce the impact of industrial activity on the environment and residents who live in the region.
The Cringila Community Park has been developed by various groups and organisations to save and rehabilitate remnants of rainforests on the creek line at the southern end of the park. The park is a 78 hectare site purchased by Wollongong City Council after residents defeated a proposal by BHP to use the land as a coal dump.
'Save the bush' grants have been awarded to help with the rehabilitation of this area. Weed control, planting of native trees (turpentine, boobkilla, and wattles) and construction of paths has been undertaken in this area. The long term objectives of the park management is to:
Assist regeneration of the area
Provide habitat for native fauna
Provide an area for study and enjoyment.
Cringila has been changed into a vibrant community-minded village. A large entry wall has been erected to welcome visitors to the village, the main street has had a facelift and tree planting has been carried out in all areas of the suburb (Local Studies Cuttings File).
| Date | Event |
| --- | --- |
| 1817 | Robert Jenkins was granted 1,000 acres of land, called 'Berkeley Estate', in January 1817. Cringila was later developed on part of this land |
| 1913 | Construction of the direct railway line from Port Kembla to Wollongong begins |
| 1920 | Passenger services begin on the railway line from Port Kembla to Wollongong |
| 1926 | Land on the Steeltown Estate advertised for sale |
| 1926 | Charles Hoskins purchases 400 acres of land at Port Kembla to develop a steelworks |
| 1928 | Hoskins Steelworks commenced production with the opening of the No. 1 blast furnace |
| 1930 | Opening of the Belvedere housing estate at Cringila |
| 1934 | Charles Hippisley opened a mixed business and unofficial post office in Newcastle Street, Cringila |
| 1935 | Steeltown School opened in Flagstaff Road about 150 metres east of Lake Avenue |
| 1935-1936 | First mention of Cringila Railway Station in report of the Commissioner for Railways |
| 1942 | Steeltown Public School students relocated to Berkeley Public School as gun emplacements had been built adjacent to Steeltown School to protect the Steelworks from enemy attack |
| 1943 | National Emergency Service Hall opened |
| 1946 | Steeltown School transferred to Warrawong Public School in Cowper Street and the old Steeltown school was shut down |
| 1947 | Australian Iron and Steel Pty Ltd to erect a single men's hostel costing 44,000 pounds under the migration program |
| 1952 | Railway bridge was built to provide access from Cringila Station to the Steelworks |
| 1957 | Cringila Primary School established |
| 1974 | Task Force established by Immigration Minister to study problems of migrants at Cringila |
| 1976 | Opening of Cringila Community Hall |
| 1979 | Official opening of new accommodation at Cringila Public School by Mr Bedford, Education Minister |
| 1988 | Ranger appointed for Cringila Park |
| 1988 | Former BHP coal wash site acquired by Wollongong City Council for transformation into a community park |
| 1996 | Over 600 trees planted at Cringila Park by 60 LEAP participants as part of Youth Week activities |
| 2006 | Cringila Community Centre gets new facelift |
| 2008 | Cringila Park Community Garden wins award (Illawarra Index) |
Eklund, Erik, Steel Town: the making and breaking of Port Kembla, Carlton, Vic: Melbourne University Press, 2002.
Kembla Green Corridor Committee, Kembla Green Corridor: overview August 1991, [Wollongong: Wollongong City Council], 1991.
Local Studies Cuttings File.
NSW Heritage Office, Heritage office website. Available from: http://www.heritage.nsw.gov.au/07_subnav_01_2.cfm?itemid=4802049 [Accessed 29/11/04], 2004.
Reynolds, D K. & BHP Flat Products, A history of the land purchased for the building of the Port Kembla Steelworks, Wollongong, NSW: BHP Flat Products, 2001.
Southern, J.L.N., A Railway history of the Illawarra: the history of rail transportation at Australian Iron and Steel Pty Ltd, Port Kembla, New South Wales together with an account of the development of railways and shipping ports in the Illawarra region, Melbourne: Broken Hill Proprietary Co. Ltd, 1978.