Parish: Kembla
County: Camden
Farmborough Heights is located approximately eight kilometres south west of Wollongong.
Local communities of Aboriginal people were the original inhabitants and Traditional Custodians of Illawarra Land. Their dialect is a variant of the Dharawal language.
Before European settlement, the Aboriginal people of the region lived in small family groups with complicated social structures and close associations with specific areas.
Suburb boundaries do not reflect the cultural boundaries of the local Aboriginal community.
Traditional Custodians today are descendants of the original inhabitants and have ongoing spiritual and cultural ties to the Land and waterways where their ancestors lived.
Land in this area was owned in the 1800s by Captain Robert Martin Cole and later, John Blackman. Leases on the land were advertised in the Mercury in 1857 as being "at Farmborough (late Captain Cole's farm)".
In 1914 the 337 acre 'Farmborough Estate' was advertised for sale as two separate farms. The Estate was described as being "within 2½ miles of Unanderra Railway Station and about 1 mile of Kembla Grange". The name Farmborough (Farnborough), seems to be of English origin and means "fern-clad hill".
Martin Robert Cole (Captain Cole)
Cole was born in 1788 in England. At the age of 12 he joined the Royal Navy, and served in France, the Baltic and North Seas, North America and the East and West Indies theatres of war. In 1815, after becoming ill a number of times, Coles was invalided out of the navy as a lieutenant on half pay at the age of 27. He was never to return to the navy, but remained on half pay for the next 50 years. He was promoted to Commander on 23 March 1854, while still on the reserve list and living at Mount Kembla. Although many Australian documents refer to him as 'Captain', Cole he never actually officially attained this rank. In the Illawarra district though, he was known as 'Captain Cole' (Cole, 1979).
The Cole family arrived in Australia on 10 January, 1842 when Robert Cole was 54 years old. Cole was eligible for a free land grant of 200 acres of undeveloped land because he was an officer in the Royal Navy with more than 20 years' service. Cole received his first grant of 106 acres in December 1843.
Over the next few years Cole took up adjoining acres. He built his first home on the second parcel of land he acquired: 100 acres in 1845. He is said to have called this home 'Nonsuch' or 'Nonesuch'. The name is said to come from his declaration upon seeing the land for the first time 'none such view have I ever seen'. The farm is recorded on the 1855 deeds as 'Mount Kembla Farm'. A later owner, Mr John Blackman, gave it the name of 'Farnborough Farm' which eventually became 'Farmborough' as used today. By 1855, Mr Cole held 377 acres at Mount Kembla in one holding (Cole, 1979; Illawarra Historical Society Bulletin, June, 1980).
Robert Cole subsequently took up five holdings in the Illawarra area, some of them located in what are now the suburbs of Kembla Grange, Mount Kembla and Unanderra (Cole, 1979).
Mr. Cole also held land at Fairy Meadow (Herme or Hermes Farm), as well as land at Bulli and 'Mount Corrimel" (Cole, 1979).
After the death of his wife, Mr. Cole sold all his land and returned to England. He was 67 years old. Robert Cole died at the age of 80 in Brompton, England and is buried at the cemetery there. Eleanor Cole is buried in St. Luke's Cemetery, Brownsville (Cole, 1979).
George Waples
George Waples was born on 6 November 1806 at Finedon, Northamptonshire, England. Recruited in London on 1 June 1827 by Lt. Payne into the King's Own 4th Foot Regiment as Private, Regimental no. 523, George arrived with the Regiment as a Guard on the convict ship 'Strathfieldsay' at Van Diemen's Land (Tasmania) penal settlement, on 15 November 1831.
He arrived in NSW with the Regiment early in 1833, where for a time he was servant to Capt. Robert Marsh Westmacott. When his Regiment sailed for Madras in 1837, George bought his freedom on 31 July 1837.
On 28 September 1835, George Waples married Amelia (Emily) Carlisle at St. John's Church of England, Parramatta. They had 12 children. He was living for a few years on Capt. Westmacott's property 'Woodlands' at Bulli. During this time in 1844 George was mentioned in Wollongong Police Office records as being overseer to the Bulli road gang.
From 1846 until 1860 he was listed in Parish Registers as living at Berkeley. On 28 March 1855 George Waples purchased by public auction two adjoining portions of land totalling 100 acres in the foothills of Mount Kembla. The land can be described as Portions 123 & 124, Parish of Kembla, County of Camden, with access via Waples Road, Unanderra. Amelia died on 2 June 1876 and George died 27 February 1884. They are both buried at St. Luke's Church of England Cemetery, Brownsville (Illawarra Mercury, 28 December 1982).
John Blackman
Blackman arrived in Sydney on 1 October 1833. Blackman had been a pupil at the Kings' School, Parramatta, and when he left school he worked as a surveyor with the Government Survey Office under Sir Thomas Mitchell, the man responsible for surveying the Illawarra's major roads.
In 1855 Blackman moved to the Illawarra and bought the property 'Nonesuch' ('Nonsuch') at Farmborough Heights from Robert Cole. He lived in the area until his death in 1914. He married Lydia Jemima Erskine on 6 June 1849, and Elizabeth Bartlett on 12 October 1871. He raised a family in the Farmborough Heights area. While living in the Farmborough Heights area, Blackman worked as a surveyor with the Central Illawarra Council. He designed the Council's Seal, now in the Wollongong Museum (Illawarra Pioneer Reminiscences, 1988).
John Lindsay
John Lindsay was one of the leaders in the dairy industry. He received 24 acres of land from his father George. John was an innovative thinker, willing to take risks in building up his dairy cattle. He owned a herd of Ayrshire dairy cattle that was the envy of his peers.
Lindsay was born in Ireland, in 1832, arriving in Australia in 1841 on the Orestes. His parents, George Lindsay and Jane McCauley, settled in the Illawarra area and became landholders. John Lindsay married Jane Musgrave and raised a family who were all born at his property Kembla Park, Farmborough Heights. In 1859 Lindsay had bought 'Kembla Park' where he built a home. At the same time he also purchased 200 acres and 60 cows from the Berkeley estate as well as two other areas adjacent to Kembla Park, of 105 acres and 45 acres.
In 1878, John purchased "The Earl of Beaconsfield', an Ayrshire bull, for 100 pound ($200). Local farmers thought this was foolish and extravagant. At the same time, he bought two bulls, two cows and two heifers (all Ayrshires) from his brother-in-law James Wilson. These cattle enabled him to make his herd outstanding, producing prized dairy products and show animals for many years.
In 1876, Lindsay and Thomas Wilson of Victoria established a cheese factory at George Brown's old flour mill, Brownsville, but the venture was short lived. Lindsay died at Kembla Park in 1894 and is buried at St. Luke's Church of England, Brownsville (Cousins, 1994 ; Illawarra pioneers pre 1900, 1988).
In 1969, the buildings of 'Kembla Park' were demolished and a bottle containing several items was found which included a copy of the Wollongong Argus dated 1 September 1886, and a letter headed 'Kembla Park, Unanderra" dated 2 September 1886. The letter stated:
"This dairy was built for Mr. John Lindsay, J.P. by Mr. William Newson for one hundred and ninety pounds. He was the largest 'Ayrshire' breeder in the colonies and was the largest prize-taker both for cattle and butter." (Illawarra pioneers pre 1900, 1988).
The site of Kembla Park is now occupied by the Farmborough Grove Retirement Village, the village having been built on the part of the farm known as the 'pea paddock'.
Farming
After the 1820s the richer land owners had brought cattle into the area. As more land was cleared and more people settled the land, milking and butter making gradually replaced timber-getting as a way of making a living. The newly cleared land was very fertile and supported many more people than is possible today.
The Illawarra district also supplied meat for district settlements, sending large numbers of cattle to the Sydney Sale Yards. Usually, the settlers killed their own meat. Often the farmers took turns to kill and butcher an animal, then distributing it to neighbours. Any surplus meat was salted and stored to be used later. Early farmers had to be self supporting, and meat was plentiful.
Small farms grew wheat, maize, potatoes, pumpkin and other vegetables. The growing of crops and vegetables was vital for the farmers' existence. Reaping of crops and thrashing of grain took up a lot of the time. Maize crop cobs were pulled when ripe and carted to the barn for husking. A corn bag was ½ filled with cobs of corn, tied and then beat on the barn floor with a flail.
Small farms kept cows and pigs and many farm holders in this area collected wattle bark for the tanneries which were located at Charcoal Creek (Unanderra), Wollongong and elsewhere. Wheat was ground at the flour mill at Brownsville, which had been opened up by George Brown in 1839 (Young, 1989 ; Cousins, 1994).
Dairy farming
Up to the 1880s most dairying was quite primitive with the exception of the larger properties. For wealthy landowners, Ayrshires were favoured after being brought into the district by John Lindsay (Cousins, 1994; Young, 1989).
Both the Illawarra and Sydney had a market for butter and most farms had their own dairy and churns. The larger holdings churned butter and transported it to Wollongong on a daily basis, while the smaller farms churned and transported their butter up to three times a week. From the Mount Kembla and Farmborough Heights areas a packhorse was in use to cart butter and one or twp kegs were hung in bags specially prepared, from each side of a horse (Young, 1989 ; Cousins, 1994).
Farmborough House (also known as 'Non-such' or Nonesuch')
This homestead was built in 1844 and remodelled in 1857 and 1974. It is described in the Greater Wollongong Heritage Study of 1991, as: 'Brick Victorian vernacular eclectic, modified. Stone and cement render, corrugated metal roof. Original residence made in timber, distinctive Quoins, and curved gables.' The building and surrounds have significant historic links with the earliest settlements in the Illawarra. Remodelling in 1974 may have removed / replaced authentic details.
The original stone house, built by Robert Cole, was built of sandstone blocks and rubble found on the property. It is reported to have had two cedar doors from the Old Government House at Parramatta. The house, which had a large garden with fruit trees featured in it, was built on the southern side of Mount Kembla with views over Kembla Grange. Cole named the property 'Non Such' or 'Nonesuch', and this is recorded on his wife Eleanor's grave as her home.
In 1856, John Blackman purchased the property from Cole, who renamed it 'Farnborough' after his birth place of Farnborough, Kent, England. Extensive renovations were carried out by Blackman, as well as building additions to the property. After Blackman died in 1914, the estate passed through a number of hands, and fell into a state of disrepair. In 1974 the property was completely remodelled by Fred Strode, with a wing added and extensive modifications in Colonial Georgian Style. The homestead still stands alongside oak trees planted by Cole (Ali, 1981; Cuttings file).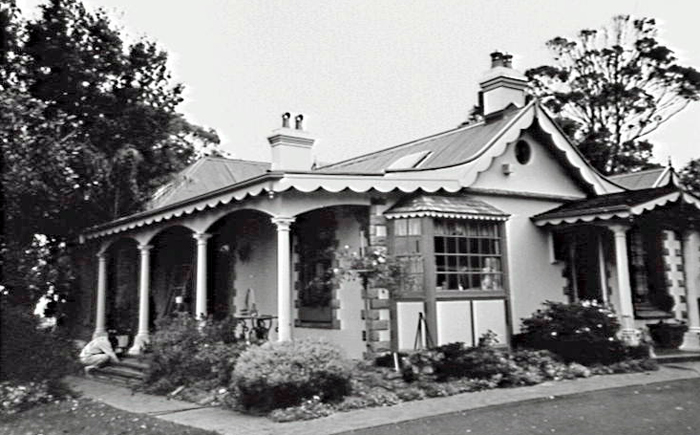 Image: Farmborough House, 1994, image number P01750.
The land of Farmborough Heights forms part of the Sydney Basin, in an area of volcanic sandstone. It is located on the lower slopes of the Illawarra Escarpment on predominantly Mount Kembla Sandstone, with underlying sedimentary rocks of the Permian age, as well as Quaternary talus on the higher slopes. The area is mostly one of gentle sloping topography and perimeter screening.
The suburb has a dominating central ridge which overlooks Kembla Grange, West Dapto and Lake Illawarra, with views back up to the escarpment of Mount Kembla.
The entire area has undergone considerable disturbances as a result of European land clearance and agricultural and building activities. The only significant areas of natural vegetation remaining are found in vegetated creek lines and on the steeper wooded slopes.
The western escarpment side of the suburb is typified by 'Escarpment Tall Open Forest' with specimens of Eucalyptus quadrangulata, while on the drier lower side of the suburb, Coastal Plain Forest with Eucalyptus tereticornis would have been the original dominating flora.
Where the land is cleared, medium sized trees only can now be found. The area has localised characteristics of dry subtropical rainforest with low woodland, mostly Melaleuca styphelloides, confined to hummocky areas (Forbes, 1996; Maunsell, 1992).
Local flora includes: White Waxflower, Native Holly, Brush Wilga, Eucalyptus smithii, Pittosporium undulatum, Toana uliata, Omalanthus populifolius (Forbes, 1996).
| Date | Event |
| --- | --- |
| 1770 | Mount Kembla first sighted by Captain Cook on Wednesday 25 April |
| 1810 | Cedar getters commence felling trees in area |
| 1817 | George Cribb brings cattle down mountain to Charcoal Creek (Unanderra) |
| 1834 | Jemima Jenkins purchases 2,000 acres at Berkeley |
| 1844 | Farmborough House is built on land acquired by Robert Martin Cole Initially named 'Nonesuch' |
| 1855 | 'Nonesuch' bought by John Blackman and renamed 'Farnborough'; additions built |
| 1860 | Post Office opened at Charcoal |
| 1860 | Tannery is established at Charcoal by John Richardson |
| 1878 | Unanderra Public School is opened |
| 1878 | Central Illawarra Council transfers its operations to Charcoal |
| 1880 | Government railway line built in Illawarra |
| 1881 | Government Gazette changes the name of the local post office from Charcoal to Unanderra |
| 1882 | Mount Kembla coal mine constructs rail link to Port Kembla |
| 1887 | Butter factory is opened at Unanderra |
| 1887 | Unanderra Station Master's residence built |
| 1888 | Unanderra Coke Works are constructed |
| 1888 | Local school's name is changed from Charcoal Creek to Unanderra |
| 1888 | Telephone is connected to the Unanderra Post Office |
| 1901 | Unanderra Public Hall is opened |
| 1913 | First motor bus used in Wollongong |
| 1913 | Unanderra Butter factory burns down |
| 1927 | Construction of Unanderra - Moss Vale railway line commences |
| 1927 | The Princes Highway is laid through Unanderra |
| 1932 | Unanderra - Moss Vale line opens |
| 1956 | Farmborough Road Primary School opens, first Principal is Mr. W. A. Bayley |
| 1975 | Farmborough Chase housing development is established |
| 1979 | Farmborough Grove Retirement Village purchases 18 acres on site of 'Pea Paddock' of Kembla Park |
| 1982 | Farmborough Grove Retirement Village, Waples Road, opens on 14 March |
| 1986 | Wollongong Christian Community School opens six blocks with approx. 60 students; Principal Mr. Chris Connor |
| 1999 | Unanderra Public School relocates from the Princes Highway to Derribong Drive, Cordeaux Heights |
| 2003 | Wollongong Christian Community School name changed to Cedars Christian college |
Ali, Anne C., Illawarra Region: Historic Buildings and Sites, [Wollongong, NSW]: A.C. Ali, c1981.
Barwick, Kathleen Harrison. Berkeley and surrounding districts. 2nd ed., 1988.
Basic Community Profile: Unanderra: based on the 1991 Census. Australian Bureau of Statistics, 1992.
City of Wollongong Heritage Study. Provisional Inventory. Volume 3. Built Items. Wollongong City Council, 1991.
Cole, E.S. Early history of 'Farmborough Farm' Mount Kembla NSW and of its founder & first owner Captain Robert Martin Cole R.N. The author. 1979.
Cousins, Arthur, The Garden of New South Wales: a history of the Illawarra & Shoalhaven Districts 1770-1900, Wollongong, NSW: Illawarra Historical Society, 1994.
Forbes, Rigby Pty. Ltd. Farmborough Heights Local Environmental Study for Wollongong City Council. Wollongong: Forbes Rigby, 1996.
Forbes, Rigby Pty. Ltd. Farmborough Heights to Mount Kembla Strategic Planning Study. Prepared on behalf of landowners within the study area. Wollongong: Forbes Rigby, 1996.
Illawarra Historical Society Bulletin, Wollongong, NSW: Illawarra Historical Society, 1945-
Illawarra Mercury, Wollongong, NSW: Illawarra Newspapers Holdings, 1856-
Illawarra Pioneers Pre 1900, Wollongong, NSW: Illawarra Family History Group,1988.
Local Studies Cuttings File.
Maunsell, Whytes Gully Landfill extension: environmental impact statement, Wollongong : Maunsell, c1992.
Wollongong City Council. Proposed Suburbs. 2001
Young, Frank et. al., Old Pioneer's Reminiscences of Illawarra: (1830s-1920s), Wollongong, NSW: Illawarra Historical Publications, 1989.