Parish: Wollongong
County: Camden
Figtree is a residential suburb a short distance south west of the Wollongong city centre.
Local communities of Aboriginal people were the original inhabitants and Traditional Custodians of Illawarra Land. Their dialect is a variant of the Dharawal language.
Before European settlement, the Aboriginal people of the region lived in small family groups with complicated social structures and close associations with specific areas.
Suburb boundaries do not reflect the cultural boundaries of the local Aboriginal community.
Traditional Custodians today are descendants of the original inhabitants and have ongoing spiritual and cultural ties to the Land and waterways where their ancestors lived.
The giant fig tree originally growing at this place gave rise to the name of the township. The fig tree was at a very important road junction, and thus became a well-known landmark. When travellers were being directed to or from Sydney in the early days, the best way of describing the route was to tell them to "turn off at the fig tree".
The fig tree was cut down in 1996 due to disease and only a portion of the trunk remains.
Gregory Blaxland
Gregory Blaxland, of Blue Mountains fame, had a property of 1,280 acres promised to him in 1830. The property was known as 'Keelogues' and later as 'Gundarun'. John Hubert Plunkett (who was appointed as Solicitor General for the Colony in 1832) secured this grant in 1837 for £1300. Plunkett subdivided and sold Keelogues estate for £13,000 in 1840 (Cousins, 1994).
James Stares Spearing and 'Paulsgrove' (later known as 'Mount Keira Estate')
Spearing received promises of two grants totalling 2,000 acres. The south west corner of his second grant fell within the current borders of Figtree as it extended from the Cross Roads to Mount Keira township and south almost to Figtree Hotel. (McDonald, 1988)
Smaller land grants
An area of land at Figtree and Cobblers Hill was sold in small grants to the following people (Lindsay, 1934 and 'Parish of Wollongong' maps 2nd, 4th and 12th editions):
Matthew Ryan (1833), 40 acres
Malachi Ryan (1833), 30 acres
John George Richardson (1835), 80 acres
Matthew Ryan (1835), 100 acres
John Darragh (1836), 50 acres
John Plunkett (1838), 60 acres
Benjamin Rixon (1839), 40 acres.
John Plunkett of 'Keelogues'
John Hubert Plunkett secured the grant formerly owned by Gregory Blaxland. The deed was issued to Plunkett on 12 March 1837. Mr Plunkett was a member of a distinguished family of Irish patriots and had been the Solicitor General for the Colony.
John Plunkett took a prominent part in local affairs, particularly in issues involving local Aboriginal people, education and navigation. He was the Superintendent of National Education in New South Wales and he was a member of the Committee of Management of the Illawarra Steam Packet Company (Cousins, 1994).
He sold the estate for 13,000 pounds four years after its purchase to a Mr Wood, who was the first chairman of the Illawarra Agricultural Society.
Benjamin Rixon
Benjamin Rixon was a native of Parramatta and a well known tracker. He settled at American Creek in 1839 on a farm later owned by Deighton Taylor (husband of Rachel Henning). In 1847 Ben Rixon discovered a route over the escarpment which now bears his name 'Rixon's Pass'. Subscription was used to provide funds for making a road along Rixon's line … it was reported in December 1848 that Rixon had opened a road to the top of the mountain and along 12 miles of bush to Appin for the sum of £35. The line was used by the mailman (Marshall, 1963).
The presentation of the Rixon Testimonial with a purse of 100 sovereigns was made on 31 August 1857 at a public meeting "In testimony of the respect in which he is universally held by the inhabitants of the Illawarra and neighboring districts." (Illawarra Mercury, 7 September 1857).
Rixon died aged 80 in 1886 (Illawarra Mercury 22 July 1886).
Rachel Henning
Rachel Henning (1826-1914) lived with her husband, Deighton Taylor, at Springfield, on American Creek near [the] fig tree, from 1872 until 1896. Rachel's descriptive letters, mainly addressed to her sister in England, provide a detailed account of nearly 30 years of pioneering life, including glimpses of the early Illawarra.
Rachel's letters were first published by The Bulletin in 1951 and 1952. They were collected in book form and published by Angus and Robertson in 1963, with a foreword and illustrations by Norman Lindsay.
Rachel's house and garden have gone, but Springfield Avenue in Figtree is named for the property today (Gibbs, 1995).
In the 1880s Figtree was described as "a thinly populated farming community dominated socially by such pastoralists as the Jenkins of Berkeley, and the Gibsons, Taylors and Lindsays." (Piggin, 1983).
In the 1850s Central Illawarra contained one main road (passing through Figtree) and a number of branch roads. None of the roads were metalled.
One of the earliest roads over the escarpment was O'Brien's Road which went from the 'Fig Tree' to Appin. It was discovered by Cornelius O'Brien from Bulli who proposed to develop it "to make a cattle road from the Illawarra to the District of Appin". This was achieved in 1821 by subscription i.e. each proprietor (land holder) along the road was required to pay £10. "It was primitive for many years, the track being only a bridle track. It was almost impossible for vehicles to go down the mountain. However some vehicles did go down with the aid of ropes passed around trees." (Marshall, 1963). O'Briens Road in Figtree today is the beginning of the original track.
Following the proclamation of Central Illawarra Municipality and the election of council members in 1859, money was put towards improving travel in the Illawarra. This included construction of Figtree Bridge in 1861 by Messrs. Moore and Vaughan (Cousins, 1994).
Mount Keira Hotel
In 1846 Hugh Higgins built a single storey brick building with a wide veranda on the main road south of Wollongong, now 59 Princes Highway, Figtree. After Higgins returned from the Californian goldfields the building was upgraded and used as an 'Inn'. The Inn was distinguished by its rose gardens and two fig trees planted by Higgins in 1865. The fig tree on the south side still stands today (Local Studies Cuttings file).
"In 1892 the Clarke family took over the old Inn (now Hotel) and George Clarke became the publican in 1901. A second storey was added, along with extensions to the south west corner." (Organ, 1991).
In the late 1920s the hotel's licence was transferred to the Crown Hotel in Wollongong. Shortly after this the second storey was removed and once again it was used as a private residence. After the site was subdivided a Golden Fleece service station was built in the 1950s next to the old Inn. During the 1970s the service station closed, the Hellenic Club was built, and the Inn was converted into two flats. Since the 1990s the flats have been used by small retail businesses while still retaining original floor boards, fire places and walls (Local Studies Cuttings File).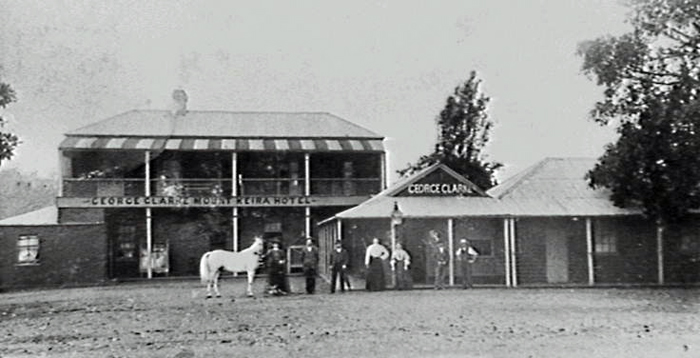 Image: Mount Keira Hotel, image number P01756.
The natural vegetation of Figtree has greatly changed since European settlement of the district in 1815. Artist Eugene von Guerard vividly described the area when painting 'Cabbage-tree Forest, American Creek, New South Wales' in 1867:
"This sylvan scene is situated at a distance of little more than ten miles from Wollongong, near the junction of a little stream … Brandy Water creek, with the American Creek, and at the foot of a noble range of mountains. With the lofty bangalow palm, the cabbage tree palm, the gigantic wild fig-tree, and the fire tree (otherwise known as the blaze tree) with its vividly scarlet blossoms, are intermingled the nettle tree, the rose-wood tree, the sassafras, the white-wood, the wild rose, numerous varieties of the fern tree and parasites innumerable; the whole being tightly woven together into one dense and almost impenetrable mass of foliage. Unfortunately the progress of settlement is necessitating the destruction of some of these magnificent forests which in many instances clothe a rich chocolate soil of especial value to the farmer…' (Guerard, E. von, 1866-68).
Today most of the tall forests have been cleared, initially for small farms, and later for residential areas that now occupy most of Figtree. The remaining pockets of vegetation and fauna are described briefly below.
Closed Forest (Rainforest)
An example is found on the lower slopes bounding American Creek. The common rainforest trees include:
Backhousia myrtifolia
Red Ash (Alphitonia excelsia)
Red Cedar (Toona ciliata)
Pittosporum undulatum
Cheesetree (Glochidion ferdinandi)
Whalebone Tree (Streblus brunoniuanus)
Flintwood (Scolopia braunii).
Blue Gum Tall Open Forest
This community occurs on moist slopes generally face south and east and contains species such as:
Blue Gum (Eucalyptus saligna)
Coast White Box (Eucalyptus quadrangulata)
Grey Ironbark (Eucalyptus paniculate)
Maiden's Wattle (Accacia maidenii)
Accacia binervata.
Red Gum Open Forest
This community occurs on the drier slopes and ridges merging with the Blue Gum Forest with the following characteristic species.
Forest Red Gum (Eucalyptus tereticornis)
Pink-tips (Callistemon salignus)
Prickly-leaved Paperbark (Maleleuca styphelioides)
Native Cherry (exocarpuos cupressiformis)
Black She-oak (Allocasuarina)
Wattles.
Coral Tree Stands
This community is dominated by exotic plants.
Coral Tree (Erythrina x sykesii)
Castor Oil Plant (Ricinus communis)
Wandering Jew (Tradescantia albiflora)
Crofton Weed (Ageratina adenophora)
Lantana camara.

Exotic Grassland
This community covers much of the area particularly on the flood plains. The main species are:
Kikuyu Grass (Pennisetum clandestinum)
Rhodes Grass (Chloris gayana)
Carpet Grass (Axonopus affinis)
Paspalum dilatatum.
Of the many introduced plants to the area many have become problem weeds such as Thorny Poinciana, Lantana, Blackberry, Crofton Weed, Willow and Coral Tree.
Fauna
Below is a small sample of the native fauna identified in a 1993 survey of the area.
Mammals
Platypus
Common Brushtail Possum
Sugar Glider
Swamp Wallaby
Grey-headed Flying Fox.
Birds
Brown Thornbill
Eastern Spinebill
Eastern Whipbird
Lewin's Honeyeater
Pied Currawong
Red-whiskered Bulbul
Rufus Fantail
Silvereye
Spotted Pardalote
White-browed Scrubwren
Yellow-tail Black Cockatoo.
Reptiles
Eastern Water Dragon
Eastern Water Skink
Grass Skink.
Amphibians
Common Eastern Foglet
Brown-striped Frog
Lesueur's Tree Frog.

(Local environmental study, Figtree, 1993)
| Date | Event |
| --- | --- |
| 1821 | Cornelius O'Brien discovers and develops a track over the escarpment |
| 1846 | What was to become known as Mt Keira Hotel was built by Hugh Higgins |
| 1859 | Central Illawarra proclaimed a Municipality |
| 1861 | Figtree Bridge built by Moore & Vaughan for the municipality |
| 1867 | Figtree Inn, a small weatherboard building built alongside the giant fig tree, later had name changed to Figtree Hotel.The building was demolished in 1961 to provide car parking space when a 'modern £100,000 hotel' was built alongside it. |
| 1888 | Figtree Sunday School (an outpost of the Parish of Wollongong) began in a cottage belonging to James Buckland, with Rev. Cockerill |
| 1903 | Proclamation of 'Fig Tree Park' on 25 November |
| 1911 | All Saints, Figtree was opened and dedicated on 14 November by Archdeacon Gunther assisted by the Rev. Lampard |
| 1956 | Figtree Public School opened |
| 1965 | Westfield Shoppingtown opened on 23 September 1965 |
| 1969 | Figtree High School opened |
| 1972 | Figtree Heights Public School opened |
| 1974 | Westfield Shoppingtown redeveloped, changing it from a neighbourhood shopping centre to a full regional centre and one of the largest shopping areas outside the Wollongong CBD |
| 1977 | Nareena Hills Public School opened |
| 1979 | Illawarra Private Hospital opened on 15 October |
| 1996 | The 'Fig Tree' is cut down |
| 1998 | Fig Tree Park revamped with new plantings and a three metre diameter Aboriginal mosaic as a result of a community project. It is now known as Moreton Bay Figtree Park. |
Cousins, Arthur. The garden of New South Wales: a history of the Illawarra & Shoalhaven districts, 1770-1900, Wollongong, NSW: Illawarra Historical Society, 1994.
Gibbs, Alison & Warne, Catherine, A pictorial history: Wollongong, Alexandria, NSW: Kingsclear Books, 1995.
von Guerard, E., Eugen von Guerard's Australian Landscapes – 24 lithographs, Melbourne, 1866-68.
Illawarra Mercury, Wollongong, NSW: Illawarra Newspapers Holdings, 1856-
Lindsay, Benjamin. Early land settlement in Illawarra: 1804-1861, Woonona, NSW: Illawarra Historical Publications, 1994.
Local environmental study, Figtree, prepared for Wollongong City Council by Gutteridge Haskins & Davey Pty Ltd. Sydney: The Consultants, 1993.
Local Studies Cuttings File.
Marshall, K & M. The ups and downs of the early roads to Wollongong: 1815-1888, Wollongong: Illawarra Historical Society, 1963.
McCaffrey, Frank. The history of Illawarra and its pioneers, Haberfield, NSW: The Author, 1922.
McDonald, W.G. The Paulsgrove Diary: Illawarra 1833 -1834, Illawarra Historical Society. Wollongong. 1979.
Organ, Michael. Wollongong's oldest pub in Illawarra Trader n.d. c1991 p.5.
Parish of Wollongong, County of Camden, Land District of Wollongong [map] 2nd ed. [1884] A & R H.E.C. Robinson, 1960.
Piggin, Stuart. The fruitful figtree: a history of All Saints Anglican Church, Figtree 1888-1983, [Figtree, NSW] : s.n., 1983?].
Place names of the Wollongong Region, Wollongong: Wollongong City Council, 2008.
Rachel Henning in Illawarra IN Illawarra Historical Society Bulletin, December 1973 p.7-8.
Ratcliffe, R. Australia's master gardener: Paul Sorenson and his gardens, Sydney: Kangaroo Press, 1990.
Ritchie, Rod. Seeing the rainforests in 19th-century Australia, Sydney: Rainforest Publishing, 1989.