Parish: Heathcote
County: Cumberland
Helensburgh is located in the far north of the Wollongong Local Government Area, near the Royal National Park.
Local communities of Aboriginal people were the original inhabitants and Traditional Custodians of Illawarra Land. Their dialect is a variant of the Dharawal language.
Before European settlement, the Aboriginal people of the region lived in small family groups with complicated social structures and close associations with specific areas.
Suburb boundaries do not reflect the cultural boundaries of the local Aboriginal community.
Traditional Custodians today are descendants of the original inhabitants and have ongoing spiritual and cultural ties to the Land and waterways where their ancestors lived.
Helensburgh was first known as 'Camp Creek'. It was mainly a tent town of railway workers who were constructing the Illawarra railway line.
There are two different explanations for the choice of the name Helensburgh. The first is that the town was named after Helensburgh in Scotland, birthplace of the Cumberland Coal Mine's manager, Charles Harper. The second explanation is that the town was named after Harper's daughter, Helen.
Land grants
Until the early 1880s there was very little settlement between Sutherland and Little Bulli (Stanwell Park) as the land was considered desolate, rugged and wild. There were some small holdings but because of the difficulty in travelling through the area it remained largely undeveloped.
In 1883 the Cumberland Coal and Iron Mining Company took a 99 year lease on 18,000 acres of Crown land. In 1884 they were successful in finding coal in the area. The Metropolitan Coal Company of Sydney took over the lease in 1887 and a mine opened in 1888. A miner's camp was established and the area became known as Camp Creek.
Shanty towns sprang up on Crown Land as the railway came through and workers' camps were established.
Other large land owners were Thomas Walker and Sir John Robertson. Sir John was Premier of NSW on numerous occasions between 1860 and 1886. The village of Helensburgh West was subdivided for building sites on land owned by Sir John (Buckley, 1984; Church of the Holy Redeemer).
Early residents
The first residents of Helensburgh were railway workers, miners and their families. Early dwellings were tents and rough shanties built from turpentine and iron bark from Otford sawmills. In the 1890s, 50 four-room cottages were built for mine employees by the Metropolitan Coal Company.
Charles Harper
Charles Harper was one of the first successful coal miners and a leading community worker in Helensburgh. He was the first manager of Metropolitan Coal Company, and the father of nine children. Charles Harper was an active member of the committee of citizens lobbying for roads, a school, post office and public facilities for the new community (History of Helensburgh, 1978). He died in a tragic mine accident in 1887.
Thomas Horan
Thomas Horan was the first storekeeper and postmaster. The Post Office was opened in 1886 and Thomas held the position of postmaster for 22 years. He was also given the contract to run a mail service from Waterfall to Helensburgh using a horse drawn cart, as well as from Helensburgh to Otford by horseback six times a week. In 1901 the present Post Office building was opened. Thomas was also the Registrar of Births Deaths and Marriages for 11 years. He was described as a very capable, prominent citizen and an asset to Helensburgh (History of Helensburgh, 1978).
Nurse Chadwick
Nurse Chadwick came to Helensburgh from England with her husband. She was a highly respected local midwife and endeared herself to many maternity patients because of her kindly attentiveness, cheerfulness and generosity. Nurse Chadwick first took up residence in Walker Street and then moved with her husband and daughter to Short Street. In the late 1930s she had three bedrooms of her home converted into accommodation for maternity cases. She died on 18 June 1977 and was a patient at Garrawarra Hospital before her death (Buckley, 1984).
Coal Mining
In 1883 Cumberland Coal and Iron Mining Company took a 99 year lease of 18,000 acres of Government land known as 'Camp Creek'. Coal was found in 1884 on the site where the mine is located today. The opening of the coal mine was responsible for the growth of the village of Helensburgh. The Metropolitan Coal Company of Sydney took over the mine in 1887 and opened in 1888, employing 45 men. This mine was described as the most perfectly arranged mine in Australia because miners were able to walk fully upright, in contrast to most mines. It was also possible to use horses rather than ponies in the unusually high tunnels. The mine was bought by Australian Iron & Steel, Port Kembla in 1965. This mine has been closed and re-opened on a few occasions (History of Helensburgh, 1978).
Mushroom Industry
Lilyvale Mushrooms Pty. Ltd. is the largest growing mushroom firm in Australia. It began in 1952 in a very small single tunnel at Lilyvale and in 1959 two tunnels were in operation. 80 to 90 crops are grown per year; 80 percent of the production is canned and the remainder is sold fresh (History of Helensburgh, 1978).
Clothing Factory
Helensburgh Manufacturing Company, a subsidiary of Leathercrafts Ltd, Sydney, was established in June 1945 and was sponsored by the government. This factory produced many types of clothing including 'King Gee' orders. The company was forced into liquidation because of insufficient orders. It closed down but was re-opened in 1960 as Anvil Industries Pty. Ltd. Today it manufactures boys and youths casual wear and employs 75 people (History of Helensburgh, 1978).
Transport for the first settlers of Helensburgh was mainly horses and bullock teams. The postman and butcher delivered on horseback and milk was delivered by horse and cart.
Railways
In 1884 there was a great demand for a rail service from Sydney to Wollongong and the construction of the Illawarra line began. Settlements for railway construction workers were established at Otford and Cawley in 1884. The coming of the railway in 1888 provided improved communications for the isolated Helensburgh. Helensburgh growth depended on the operation of the Metropolitan Colliery and its establishment was due to the opening of the railway line. In October 1888 a continuous service from Wollongong to Sydney was opened. Helensburgh's original railway station operated from January 1889 until May 1915 (History of Helensburgh, 1978).
Road
Helensburgh's first 'Motor Bus' was owned by Arthur Perks and was running in the 1920s.
Otford Road was commenced in 1905 as a direct link between Otford and Helensburgh and was abandoned in about 1916 because of the rugged bushland. Helensburgh was consequently only accessible via Bald Hill (History of Helensburgh, 1978).
Helensburgh Police Station
Address: 75 Parkes Street, Helensburgh
The original building of the Police station dates back to 1895. This Police station is still in use. There is a courtroom furnished with red cedar, and a lock-up which consists of two cells and an exercise yard. The federation style building is constructed from bricks. A constable was first stationed at Helensburgh in 1891 and the first recorded officer in charge was Constable George Stephens in 1899 (Ali, c1981).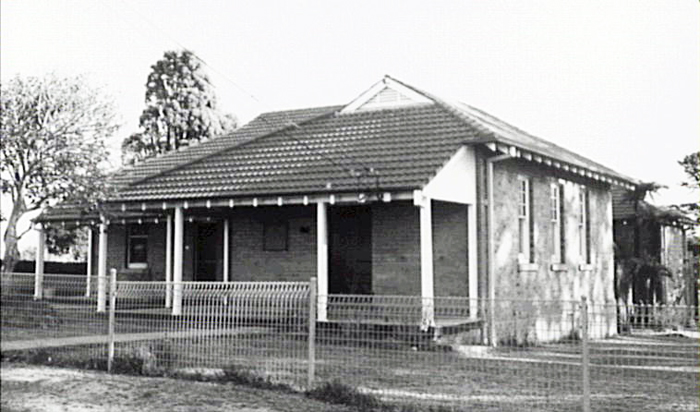 Image: Helensburgh Police Station, 1981, image number P15326.
Hanley's Hotel
Address: Corner of Parkes and Walker Streets, Helensburgh
The Hotel was built in 1915 and has been modified on ground level. It features two storey painted brickwork with a modern awning. There is one remnant painted glass sash on the upper level. The building is Federation stripped classical style (Ali, c1981).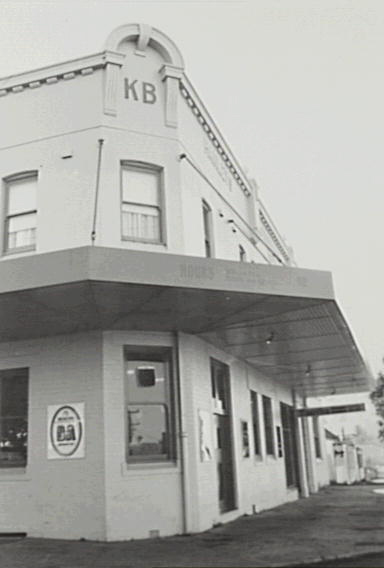 Image: Hanley's Hotel, 1981, image number P15327.
Helensburgh began as a group of tents pitched in the heart of wild bush country in the 1880s. Today it is a thriving centre with a growing population and a mixture of old pioneer weatherboard homes and modern new homes built on the hillsides.
Unique flora and fauna found in this area include Cabbage tree palms, Gymea lily, Yellow-top ash eucalyptus and Bush pea. Kelly's Falls has two waterfalls and an abundance of rainforest flora which once covered this entire area.
Some of the native birds and animals found in the Helensburgh area are: Sulphur-crested cockatoos; spotted owls; crimson rosella; kookaburra and the superb lyrebird; long nose bandicoot; brush tail possums; swamp wallabies; bush rats and feather tailed gliders.
Helensburgh's closeness to the Royal National Park and the Garrawarra State Recreation area, both environmentally protected areas, means that any further development must be carefully planned to ensure the survival of local native flora, fauna and native wildlife corridors.
Future development of the Helensburgh area has been an important issue since the 1970s. In 1985 the State Government requested Wollongong City Council undertake a Local Environment Study to investigate urban expansion and its effect on the local environment. Also in 1985 there was a draft plan for the development of 2,200 lots in the Camp Creek and Gills Creek area and a 40 hectare site for commercial development on the town's outskirts. Council rejected the development plan after five years of debating because it could not guarantee that the Royal National Park and the Hacking river catchment area would not be polluted (Illawarra Mercury 20 April, 1991).
Some of the problems associated with further development of the Helensburgh area are:
Water suppy from the Woronora Dam
Waste disposal
Bushfire hazards
Introduction of exotic plants and domestic animals and the spread of diseases that may affect native animals and plants
Contamination of Hacking River which flows through the National Park due to sewerage waste, urban runoff, erosion from construction sites and also the scenic value of certain areas around Helensburgh.
Spread of feral animals into National Park because of its proximity (Helensburgh Local Environmental Study Progress Report, 1986; The Helensburgh Plan: Draft, 1989; Future Development of Helensburgh, 1984).
| Date | Event |
| --- | --- |
| 1883 | Cumberland Coal and Iron Mining Co took a 99 year lease on 18,000 acres of Crown land at Helensburgh, and began drilling on the plateau above Camp Creek |
| 1884 | First sod of shaft sinking for the mine was turned by Sir Robert Wisdom on 1 November |
| 1885 | First school was established with Edwin Byrnes as its first teacher |
| 1886 | South Cumberland Coal Mining Company sinking a shaft at Camp Creek, to a depth of 315 feet and 16 feet in diameter |
| 1886 | First Post Office opened |
| 1887 | Metropolitan Coal Company of Sydney took over mine |
| 1887 | Opening of Centennial Hotel, licensee Bill Handley |
| 1887 | First recorded fatality at the mine is R W Davis |
| 1888 | Construction of Miners' Hall |
| 1888 | Opening of Helensburgh railway station |
| 1888 | Pit of the Metropolitan Coal Company reached the coal-seam at a depth of 1,095 feet |
| 1888 | Two men killed in the mine: a shaft sinker and Charles Harper the mine manager |
| 1889 | Paragon Hotel built for George Welch by George Ricketts |
| 1892 | Establishment of the Helensburgh and Lilyvale Cooperative Society Ltd |
| 1892 | Helensburgh Church of England parish was opened by Rev. J L Boswell |
| 1894 | Opening of the School of Arts building in Walker Street |
| 1895 | Establishment of police station and court house |
| 1901 | Present Post Office building opened |
| 1915 | Construction of the Band Hall at a cost of 800 pounds |
| 1925 | Electricity for the Helensburgh township was switched on |
| 1945 | Helensburgh Manufacturing Co established. Its name was later changed to Leathercrafts Ltd |
| 1951 | Supply of water to Helensburgh township officially opened |
| 1952 | Lilyvale Mushrooms Pty Ltd begins production in small tunnel at Lilyvale |
| 1965 | Mine purchased by Australian Iron & Steel, Port Kembla |
| 1981 | Population of Helensburgh 3,750 |
| 1985 | State Government requests Wollongong City Council to undertake Local Environment Study for Helensburgh area |
| 1985 | Draft Plan for development of 2,200 lots in Camp Creek and Gills Creek Area and 40 hectare site for commercial development on the town's outskirts |
| 1989 | Wollongong City Council produces The Helensburgh Plan (Draft) on the future development of Helensburgh |
| 2001 | Massive bushfires in the area reach Helensburgh at lunch time on Christmas Day; a number of houses and businesses are destroyed or damaged |
| 2004 | After a 25 year building process, the Sri Venkateswara Temple, the largest complex of its kind in the Southern hemisphere, is consecrated in a special ceremony involving 5000 Hindu people from Australia and throughout the world |
| 2007 | Skate park constructed at Rex Jackson Park |
| 2007 | A $6.1 million upgrade to the railway station is completed |
| 2008 | A bronze statue commemorating the town's mining heritage is unveiled near the Post Office |
Ali, Anne C., Illawarra Region: Historic Buildings and Sites, [Wollongong, NSW]: A.C. Ali, c1981.
Bayley, William A. Black Diamonds: history of Bulli District, New South Wales, 4th ed., Illawarra Historical Society, Wollongong, 1989.
Buckley, Bryant & McAuliffe, Pat, Helensburgh: the first one hundred years 1884-1984. Helensburgh, NSW: The authors, 1984.
Church of the Holy Redeemer, Helensburgh: a history, Part 1 'Breaking New Ground' 1880-1927, [s.l.: s.n., 19-?].
Helensburgh Public School Centenary Committee, History of Helensburgh Public School, 1887-1987, Helensburgh, NSW: The Committee, 1987.
Helensburgh: linking old and new, Helensburgh, NSW: Helensburgh Community Centre, 1991.
History of Helensburgh, [Helensburgh?: s.n., 1978?].
Local Studies Cuttings File.
Place names of the Wollongong Region, Wollongong: Wollongong City Council, 2008.
Wollongong City Council. Planning and Development Dept, Future Development of Helensburgh, [Wollongong]: Wollongong City Council, 1984.
Wollongong City Council. Planning and Development Dept., Helensburgh Local Environment Study progress report, Wollongong: Wollongong City Council, 1986.
Wollongong City Council. Strategic Planning Section, The Helensburgh Plan Draft, Wollongong: Wollongong City Council, 1989.