Parish: Calderwood
County: Camden
Kanahooka is a residential suburb east of Dapto, on the foreshore of Lake Illawarra.
Local communities of Aboriginal people were the original inhabitants and Traditional Custodians of Illawarra Land. Their dialect is a variant of the Dharawal language.
Before European settlement, the Aboriginal people of the region lived in small family groups with complicated social structures and close associations with specific areas.
Suburb boundaries do not reflect the cultural boundaries of the local Aboriginal community.
Traditional Custodians today are descendants of the original inhabitants and have ongoing spiritual and cultural ties to the Land and waterways where their ancestors lived.
Kanahooka was named after Kana (King) Hooka, an Aboriginal chief. Kana Hooka was head of the Five Islanders, who were based near Hooka Creek at what is now Berkeley.
Local Aboriginal people referred to Kanahooka as "Kullillah", meaning a native meeting place.
Richard Brooks
Richard Brooks was one of the Illawarra's first five land grantees. He was born in 1764 at Bermondsay, Surrey, England. Brooks was a sea captain and a former East India Company Officer. He was granted 1,300 acres by Governor Macquarie on 17 January 1817. It was called 'Exmouth' or 'Koonawarra' by the local Aboriginal people. Like most of the early grantees he did not live on his Illawarra property. 'Exmouth' was managed by William or John Neale and an assistant named Cream.
Brooks had two sons. In 1825 he gave his son Henry a grant of 600 acres. It was portion 17, Parish of Calderwood and located to the north of his father's property 'Exmouth'. The land was marked out in 1825 by surveyor James McBrien and was bounded by Lake Illawarra to the East and Brooks Creek to the South. The area of this land grant encompassed Kanahooka Point (McDonald, 1976).
Richard Brooks died at 'Denham Court' near Ingleburn in 1833. He and his wife were buried on the Denham Court estate.
Charlie Hooka
The Hooka Islands are situated in the north west waters of Lake Illawarra. These islands are named Hooka after the last Aboriginal chief who laid claim to them. "Charlie Hooka was a great chief, whose land extended along the western shores of the lake from the mouth of Mullet Creek northerly to Budjong, now known as Killys Creek, by the range on the north and on the west and south by Dapto and Mullet Creeks…. Hooka was a sturdy well made man of medium height. He did not mix much with white people…but preferred to remain with his tribe in their wild state, his only garment being an opossum skin cloak…" (Organ, 1990, p. 355). According to an article by 'Old Pioneer' in the Illawarra Mercury dated 30 November 1923, King Hooka advised the early European settlers to take their goods and cattle back to Wollongong to avoid a confrontation with the Coolangatta tribe. He then went to give battle with his men along the road to Brownsville.
"Early in the morning the tribes gave battle. All day long they fought and at night the Coolangatta tribe retired south leaving the place in charge of the victorious Hooka tribe….The cost was great and many warriors killed, and amongst the dying was good King Hooka…" (Organ, 1990, p. 375 ; Illawarra Historical Society Bulletin, October 1970).
Smelting
The establishment of the Dapto Smelting Works was an important part of Kanahooka's history. The Dapto Smelting Works came about through the ill fated 'Lake Illawarra Harbour Scheme'. This scheme gave a great impetus to the growth of the town of Dapto in the early 1900s.
In 1890 a Parliamentary Act was passed authorising the Illawarra Harbour and Land Corporation to begin projects near Dapto that would involve an outlay of many hundreds of thousands of pounds. The scheme involved building a channel through Lake Illawarra to allow ocean going vessels to come up to Elizabeth Point, a short distance north of Kanahooka Point. A railway was also built at a cost of 42,000 pounds to allow coal to be brought from a local colliery to be loaded onto the ships.
With the opening of the railway the Smelting Company of Australia Ltd. had been formed and with the backing of overseas capital a large smelting works was established. "The site chosen for the works was an elevated one, contiguous to Mullet Creek and about half a mile from its mouth. The more northerly of 'the Twins' - two similar hills - was decapitated, thus providing a series of levels to which the ores would gravitate, in the various processes from bins to crushing and roasting plants, then to the blast furnaces before being sent to the refinery.." (O'Malley, 1950, p. 6).
The works were operating at full production by 1899 and were prosperous for several years. They treated lead, silver, zinc, copper and gold from Broken Hill, Zeehan, Mount Morgan and Western Australia.
"The main plant of the smelting works consisted of three blast furnaces, roasting plant, refinery, sulphuric acid plant, steam engines, blowing engines, pumps and a foundry…The products from the works were Dore bullion (gold and silver conglomerate), soft lead and a high-grade copper matte containing gold silver and lead." (O'Malley, 1950, p. 8).
Numbers of employees at the plant peaked at between 400 and 500. Half of the employee population lived in tents and there was a group of 50 in the clump of swamp oaks just north of the works. The success of the smelting works lead to Dapto being a boom town in the early 1900s. The report of the Commissioner for Railways for 1903 declared Dapto the most valuable station on the Illawarra line, its goods transfer totalling 22,000 pounds.
Quite suddenly in 1905 everything folded, competition cut off the supply of ore from Western Australia and Broken Hill, an ambitious scheme for treating nickel from New Caledonia came to nothing, and in 1905 the works closed (McDonald, 1976; O'Malley, 1950).
Railway
The most significant early transport experience for Kanahooka was the establishment of the railway line. This line was to transport coal from a colliery known as 'Flemings Mine' in the range behind West Dapto to ocean going vessels at Elizabeth Point. The railway was five and a half miles long and was built at a cost of 42,000 pounds. The failure of the Lake Illawarra Harbour scheme lead to this railway becoming defunct although some relics can still be seen.
Roads
"Fowlers Road uses part of its road bed, old rails forming part of the spur which connected it to the main line were embedded in Marshall Street and are still in position behind the high fences on either side and old embankments, cuttings and broken viaducts can be seen at various points around Kanahooka, Bong Bong Road, Wongawilli and West Dapto." (McDonald, 1976, p.69).
Also significant was the building of the bridge over Mullet Creek. After the establishment of the Central Illawarra Council it was decided to build a bridge over Mullet Creek to avoid the isolation of residents in the large tract of country between the Creek and the Macquarie River. During times of flooding these residents were cut off from Wollongong for days. In 1860 Mr Weaver, a well known architect, was employed and selected the high banks close to the Dapto Mill as the most appropriate site. In August the following year the bridge was opened with much fanfare. "The bridge was built entirely of local timber, was twenty feet wide and it is confidently calculated that it will withstand any flood likely to visit that portion of the district."(McDonald, 1976, p. 37).
Rhondella House
Address: 25 Kanahooka Road. Kanahooka
Rhondella is a federation bungalow / homestead that was built circa 1890. It has wide verandahs, painted brickwork and a grey slate roof. It also has attic windows with interesting side light. This building was once owned by A.C. Hoskins, a pioneer of the steel industry in the Illawarra. It is an architecturally significant early 20th Century building of an uncommonly large scale with a high level of integrity (City of Wollongong Heritage Study, 1991).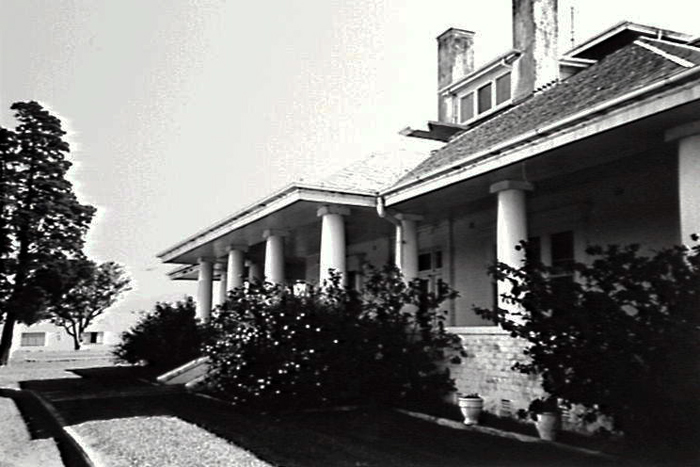 Image: Rhondella House, image number P07103.
Lake View House
Address: Kanahooka Road, Kanahooka (next to the old smelting works)
This house was built in conjunction with the Dapto Smelter (1895 - 1905) as an administration office and laboratory. It is rendered brick and has a corrugated metal roof. Although it has been modified, the core section of the building represents the early Victorian homestead (City of Wollongong Heritage Study, 1991).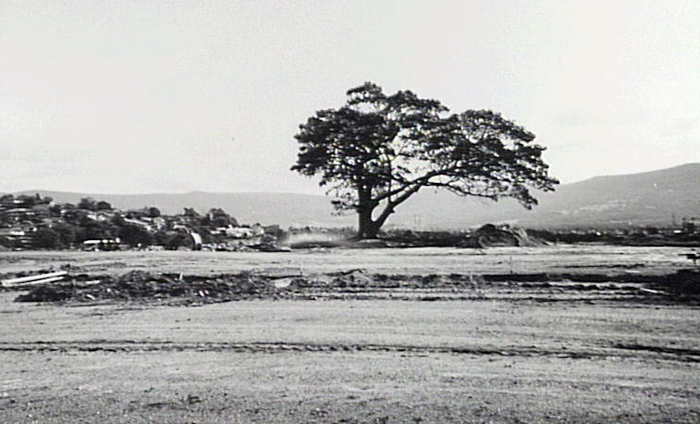 Image: site of Lake View House, image number P12345.
The environment of Kanahooka is largely influenced by its location on the western shore of Lake Illawarra. Lake Illawarra lies approximately eight kilometres south of the Wollongong central business district and is an important ecological asset for the Illawarra region. It is a natural habitat for wildlife and a valuable commercial and recreational fishing ground.
Mullet Creek contributes to areas of sand and mudflats at the edge of the lake which gives rise to large concentrations of wading birds during summer. Some of these species include Pelicans, Cormorants, Musk Ducks, Hoary-headed Grebes, Black Swans, Black Ducks, Grey Teal Ducks, Herons, Ibises and Spoonbills (Mills, 1983).
There are no large areas of native vegetation remaining in Kanahooka. There are remnants of subtropical rainforest on Hooka and Goosebery Islands. The low lying land to the west of the lake once supported forests of Swamp Oak Casuarina glauca. Most of this remnant vegetation has been cleared from around the lake.
| Date | Event |
| --- | --- |
| 1816 | Surveyor Meehan refers to Mullet Creek in his field book. 1,300 acres granted to Richard Brooks known as 'Exmouth' with a frontage to Lake Illawarra from Brooks Creek to near Tallawarra, extending west to Mullet Creek |
| 1825 | Henry Brooks was given a land grant of 600 acres marked out in 1825 by Surveyor James McBrian, bordered by Lake Illawarra and Brooks Creek, roughly the Kanahooka Point area |
| 1890 | Lake Illawarra Harbour Scheme proposed by Parliament |
| 1892 | Abandonment of Lake Illawarra Harbour scheme announced in local press |
| 1897 | The Smelting Company of Australia erected a smelting works on Kanahooka Point, providing employment for 350 people |
| 1898 | The smelting works was in full operation treating lead, zinc, copper and gold from Broken Hill, Mount Morgan and Western Australia |
| 1901 | The Mount Pleasant Coke works produced 100 tons per week for the Dapto smelter |
| 1902 | The Commissioner for Railways declared that Dapto was the most valuable station on the Illawarra line, its traffic being double that of Wollongong |
| 1905 | The smelting works closed; the collapse of the works produced a temporary collapse of the town. |
| 1905 | Kanahooka became a small dairying community |
| 1906 | The Australian Smelting Corporation commenced transfer of the Dapto Smelting works to Port Kembla. Work discontinued in 1907 |
| 1907 | Dapto Smelting Works were demolished |
| 1962 | Kanahooka Point subdivision opened; 2100 home sites were released |
| 1969 | Hayes Park Public School opened reflecting the population growth in Kanahooka |
| 1974 | Kanahooka High School opened with an intake of 400 first and second year students |
| 1986 | Kanahooka boat ramp constructed at Lake Illawarra |
| 1987 | The Lakeside Leisure Centre opened |
| 1990 | Application lodged by Windsor Development to develop the 'Illawarra Garden Estate' comprising 300 project homes. Community concerns arise. The Land and Environment Court eventually decides in favour of the development |
| 1992 | Council backs development of a new residential village for over 55s on the site of the old Dapto Smelting works |
| 1993 | Windsor Developments commence construction of the Forest Grove Estate (formerly known as Illawarra Garden Estate) |
| 1994 | Plans for redevelopment and refurbishment of the Lakeline estate are released |
| 2000 | Asbestos found at the Lakeline Estate, and clean-up program implemented |
| 2001 | Illawarra Retirement Trust announces it will build a new 120 bed aged care facility at the William Beach complex |
| 2002 | Foreshore park at Kanahooka Point opens after works totalling $170,000 |
| 2005 | Kanahooka Lodge estate to be subdivided and the lodge sold after 20 years in the Primmer family |
| 2007 | Lakeside Leisure Centre renovated and refurbished |
Advertiser. 19 August 1987.
Wollongong City Council and McDonald McPhee Pty. Ltd., City of Wollongong Heritage Study, [Wollongong, NSW: Wollongong City Council], 1991.
Dowd, Bernard Thomas, First Five Land Grantees and their Grants in the Illawarra, Wollongong, NSW: Illawarra Historical Society, 1960.
Illawarra Historical Society Bulletin, Wollongong, NSW: Illawarra Historical Society, 1945-
Lake Illawarra Authority, Lake Illawarra Foreshore Habitat Enhancement Plan, [Wollongong, NSW]: Lake Illawarra Authority, c1988.
McDonald, William Graham, Nineteenth Century Dapto: notes on the history of Dapto and its neighbourhood, Wollongong, NSW: Illawarra Historical Society, 1976.
Mills, Kevin, Evaluation and inventory of the wetland habitats associated with Lake Illawarra, [Wollongong, NSW: Illawarra Lake Management Committee, 1983].
O'Malley, J.P., The Old Dapto Smelting Works: an address given by Rev. Bro. J.P. O'Malley to members of the Illawarra Historical Society, Wollongong, NSW: Illawarra Historical Society, 1950.
Organ, M. A Documentary History of the Illawarra and South Coast Aborigines 1770 – 1850. [Wollongong]: Aboriginal Education Unit, Wollongong University, 1990.
Place names of the Wollongong Region, Wollongong: Wollongong City Council, 2008.
South Coast Times, 28 May 1962.