Parish: Wollongong
County: Camden
Mangerton is a suburb in central Wollongong, west of the city centre.
See the Wollongong page for information about early residents and land grants, industry and transport in the Mangerton area.
Local communities of Aboriginal people were the original inhabitants and Traditional Custodians of Illawarra Land. Their dialect is a variant of the Dharawal language.
Before European settlement, the Aboriginal people of the region lived in small family groups with complicated social structures and close associations with specific areas.
Suburb boundaries do not reflect the cultural boundaries of the local Aboriginal community.
Traditional Custodians today are descendants of the original inhabitants and have ongoing spiritual and cultural ties to the Land and waterways where their ancestors lived.
Mangerton was originally part of John Thompson's grant of 640 acres, called Glen Gosh. This property was later bought by Dr John Osborne and divided into Mangerton and Garden Hill.
Mangerton is said to have been named after a place in John Osborne's native county of Tyrone in Northern Ireland. However, no place of this name has been located in Tyrone.
There are two other explanations for the naming of Mangerton. Firstly, there is a Mangerton in Liddesdale, Scotland. The Laird of Mangerton was chief of the Armstrongs and a James Armstrong had clearing leases on Dr John Osborne's Garden Hill estate.
Secondly, a family member who had spent time with Belle and Edith Osborne (Dr John Osborne's grand-daughters) said that John Osborne had thought there was some resemblance between Wollongong and the Mangerton Hills in Ireland. This was where Dr John and his wife are believed to have spent their honeymoon.
Ferndale
Address: 27 Mangerton Road
The original Matchett home was purchased with three acres of land soon after the family arrived from Victoria in May 1926.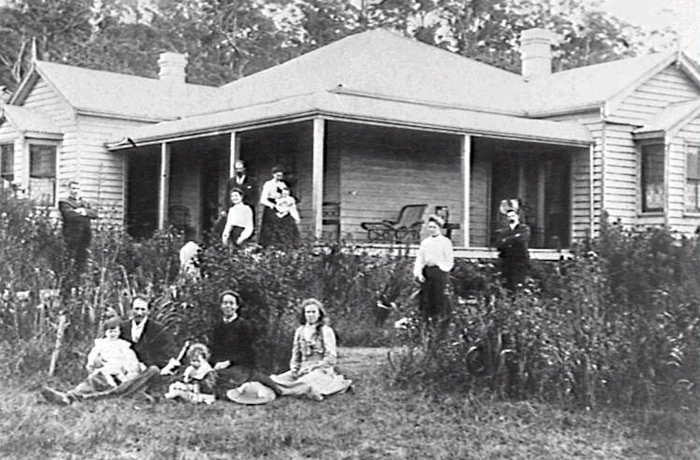 Image: Ferndale ca. 1900, image number P02393.
Hightrees
Address: Mangerton Road
James Hughes (Hugh) Britten was a local architect with a considerable corpus of work in Wollongong. Built in 1936, this was Hugh Britten's own home, an early Wollongong example of the Inter-War Functionalist style (sometimes known as the Ocean Liner style). Britten used his characteristic rectilinear and curved forms, wide overhanging eaves and roof-concealing parapets. In this design the facetted arrangement of the continuous windows in the semicircular bay is notable. This house has been altered since the Brittens lived here but the essence of his style is still clearly evident (Irving, 2001, p.67).
Orana
Address: Norman Street
Orana is an Aboriginal name meaning 'Welcome'. This splendid home was designed by Cecil Francis and built by John Luborg in 1952. It epitomises the Functionalist style. The design exploits the steep slope and takes a calculated account of solar angles to provide shade in the summer and warmth in the winter. The flat roof provides access to admire the distant views. The lowest storey was originally an exposed column-and-beam structure (Irving, 2001, p.97).
Although Mangerton is primarily a residential suburb of Wollongong, its most dominant environmental feature is Mangerton Park. The Park is a remnant of the original vegetation of this part of the coastal plain and includes turpentine woodland in the higher parts and sub tropical rainforest in the wetter downslope. The 4.5 hectare area provides important habitat for the many native animals that have suffered from the pressure of urban development. A wide variety of birds, mammals and reptiles rely on this area for their survival.
Weed invasion is a serious threat to the park's ecology. Restoring and maintaining the park has been been a long term project spanning decades and has been largely due to the The Friends of Mangerton Park, working through Wollongong City Council's Bushcare program and in collaboration with the local community (Local cuttings file).
Mangerton Park has a great diversity of flora. Studies have identified 54 species of trees and shrubs, 23 species of climbers and 39 species of ground covers, herbs and ferns. This diversity of flora supports over 70 species of birds that use the park either as residents or as a migration stop over.
In 1993 The National Trust awarded The Friends of Mangerton Park an Environmental Trust Scheme Grant, and in 1995 they were awarded Total Catchment Management Enhancement funding. These grants and the continuing support of the Bushcare program have been invaluable in the regeneration and long term restoration of Mangerton Park (Davis, 1995).
| Date | Event |
| --- | --- |
| 1824 | Governor Brisbane promises the 640 acres known as Glen Gosh to John (Joseph) Thompson |
| 1828 | John (Joseph) Thompson sells Glen Gosh to John Tawell |
| 1831 | John Tawell sells Glen Gosh to Dr John Osborne |
| 1831 | Governor Darling grants deeds of Glen Gosh to Dr John Osborne, who divided the property and renamed it Garden Hill and Mangerton |
| 1834 | Dr John Osborne appointed Illawarra District Surgeon |
| 1850 | Dr John Osborne dies at Garden Hill |
| 1916 | Land release of first subdivision in Mangerton Estate |
| 1923 | Land release of subdivision 'Woodlawn' |
| 1937 | Mangerton Reservoir completed |
| 1938 | Mangerton Reservoir officially opened |
| 1941 | 77 allotments released in the McArthur Heights subdivision |
| 1952 | Mount St Thomas Public School established to serve Mount St Thomas, Mangerton and Woodlawn |
| 1952 | Amateur theatre group formed at Mangerton Hall |
| 1956 | Anglican Archbishop Mowll opened and dedicated for worship St Matthew's Church Hall in Phillip Crescent |
| 1958 | Water Board announces project for Mangerton No. 2 Reservoir |
| 1960 | Water Board announces the extension of sewerage services to 260 properties in Mangerton |
| 1961 | Housing Commission of NSW announces public housing project for Mangerton; several flat developments are constructed over the next 10 years |
| 1964 | A 60 ft radio tower is put into place near Mangerton Reservoir |
| 1986 | Mangerton Post Office Agency withdrawn from service |
| 1988 | First Tree Planting Day for Mangerton Park on 17 January |
| 1993 | National Trust awards Friends of Mangerton Bushland an Environmental Trust Scheme grant for bush regeneration |
| 1995 | National Trust awards Friends of Mangerton Bushland a Total Catchment Management Enhancement grant for bush regeneration |
| 1998 | Land release of new subdivision 'The Pinnacle' |
| 2008 | The inaugural Mangerton ROMP fun day held at Mangerton Park |
| 2008 | Land release of new subdivision 'Mangerton Hill Estate' |
Davis, Wayne (ed.), Environment Illawarra: initiatives, Wollongong: Keira Green Corridor Committee, 1995.
Irving, Robert, Twentieth century architecture in Wollongong, Paddington, NSW: Barbara Beckett, 2001.
Local Studies Cuttings File.