Lockdown reads
Tuesday 20 July 2021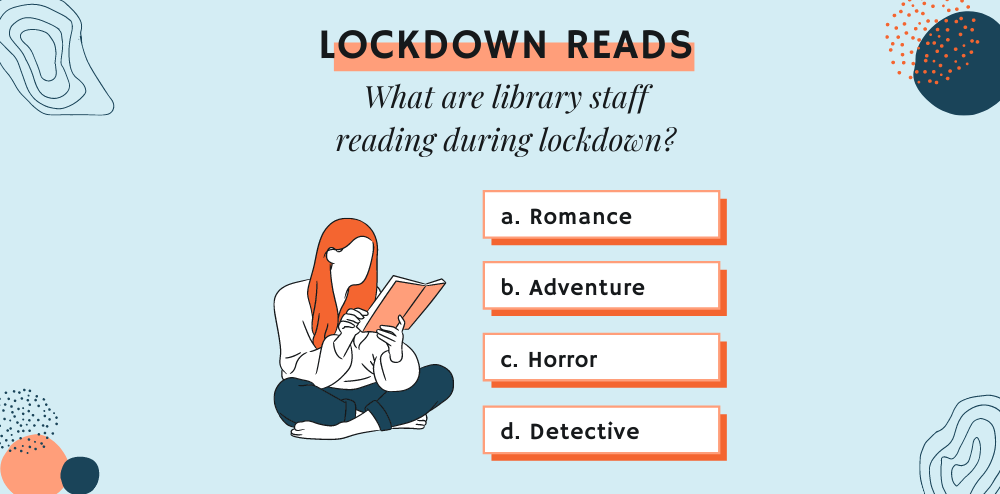 The staff of Wollongong City Libraries have been toiling away during lockdown, making sure that everything keeps running for when we get to reopen. But when they're not working, what are they reading? We asked a few of them what they'd been reading or listening to over the last few weeks to help get them through another lockdown, and here's what they said. (Warning: we tend to read a lot!)
Rosanne
"The better question would be what haven't I been reading!" Rosanne said, after being asked what she was reading this week. Given that Rosanne is the Serials and Collections Librarian (a very, very busy job), I was doubtful – but then she proceeded to recommend not one, not two, but four books (as well as an entire series!) and I was forced to concede that she must simply be Wonder Woman. Her picks were:
The Guest List by Lucy Foley – "A fun, intriguing whodunnit with interesting characters, set on a wild island off the coast of Ireland. It jumps around in time and between characters, and I'm hooked!"
The Viscount who loved me by Julia Quinn – "I enjoyed it, but I'm a bit pretentious about it. Throughout the first book – and this one! – I kept thinking, 'I can't believe I'm enjoying this!'" There's no such thing as a guilty read, Rosanne!
The Gilded Wolves by Roshani Chokski – "I just finished the second book as we were going into lockdown, so it totally counts. The third isn't out yet, but I really wanted to mention this series because it's fantastic!"
Fake Medicine : exposing the wellness crazes, cons, and quacks costing us our health by Dr. Brad McKay – "This was interesting and vital – it totally took to task influencers who dole out harmful medical advice (and he also doubles down on alternative medicines!).
The Kingston Cycle series by C. L. Polk – "I read the first book, Witchmark, and thoroughly loved it! I can't wait to read the second one – I have it on reserve!"
And before she finishes, Rosanne slipped in that she's got Sharon Stone's memoir (The beauty of living twice) waiting for her to pick up when the library reopens.
Lindsay
Lindsay has been keeping busy, making sure to have both a book and audiobook on hand at all times. Not only does she have her hands full during the lockdown as a librarian at Thirroul Library, she somehow finds time to juggle two books. She recommends:
Turns Out, I'm Fine by Judith Lucy – "Good for a laugh – it's humorous, self-reflective and honest."
Win by Harlan Coben – "The narrator, Steven Weber, is consistent across a number of Harlan Coben's audiobooks, and his telling of the story puts you right there with the characters. Coben is always good for a bit of a twisty mystery."
Clancy
Tackling all things digital is Clancy's job, and with so many of our library customers how borrowing from our digital library, Clancy's had his work cut out for him. When he's finished work, however, Clancy unwinds with some reading – his pick most recently was Exactly: How Precision Engineers Created the Modern World by Simon Winchester.
"It was surprisingly, and sometimes literally, riveting," he said. "My dad (a lifelong carpenter) had been urging me to give it a read. Lockdown provided the perfect opportunity. Simon Winchester breathes life and character into the cold and exact mechanical workings of a watch, and the atomic-level tinkering required to drive the machine you are reading THIS on. The author seamlessly weaves in the often equally astonishing human stories behind modern machinery, which makes it an unexpectedly compelling read."
Jenny
Jenny is part of our Local Studies team, and if you thought you'd be expecting a historical fiction book from her, you're wrong! She's dived into August Heat by Andrea Camilleri.
"It makes me feel warm, even on a cold night in July," she said. Sounds steamy!
Narelle
"I often spend more time looking for a book than reading it," confessed Narelle. "Personally, I find lockdown relaxing – it takes all the hustle and bustle out of my life." An integral part of our Children's and Youth Services team, Narelle has reawakened her love of the library's online resources. She's also stumbled across a new author, Helene Tursten, who is a Swedish crime writer. "I've always enjoyed Scandinavian crime, so I thought I'd give it a go," she said.
Narelle recommends:
Hunting Game by Helene Tursten – the first book in the series, which Narelle listened to on BorrowBox. "And the second one was also on BorrowBox, which I'm very thankful for."
A Fatal Obsession by Faith Martin – "While waiting for Helene Tursten's other book, I was desperate and downloaded a book I thought I wouldn't like, but I was tired and just went with it. Surprisingly, I really liked it!"
Andrew
Anyone who has met Andrew knows how hard he works, and that hasn't stopped during lockdown. As the team leader for Information Services at Wollongong Library, Andrew's enthusiasm is contagious, and helped to keep spirits high of late. At the moment, maintaining a current read is impossible for Andrew, who confesses he hasn't been reading much at all during the last few weeks. Instead, lockdown has allowed him more time to focus on learning the guitar as a way of unwinding after work. He's trying to learn songs by Cream, a 60's rock band hailing from London.
Andrew recommends two albums – Wheels of Fire and Disraeli Gears, which have been where the majority of songs he's learning come from
Mitchell
As the newest member to Wollongong Library's team, Mitchell has had his work cut out for him over the last few weeks. Busy learning the ropes as the new Programs and Events Librarian, Mitchell admits that reading has fallen by the wayside – but isn't completely forgotten.
"I'm about to start reading the book for the Get Lost book club," he admits. "I'm excited to get stuck into it!"
The House in the Cerulean Sea by TJ Klune will be the next read for the Get Lost book club, which you can read more about here.
Lisa
The lockdown has been keeping Lisa busy, who's the head of the Digital Team for Wollongong City Libraries. But that hasn't stopped her from diving into a new book – one that she confesses she can't put down. "I'm reading and loving Phoebe Wynne's debut novel, Madam," she says. "Think Dead Poet's Society meets Rebecca, with a healthy dose of inspiration from Margaret Atwood."
Young teacher, Rose, accepts a positions as Head Teacher of Classics at prestigious school Caldonbrae. The school is steeped in tradition, with all male teachers called 'Sir', and the females 'Madam'. Plus, there is the mysterious Madam who previously taught Classics that no one is willing to talk about. The more Rose learns about Caldonbrae and its history, the more desperate she is to escape and bring attention to what truly happens at the school. But once you are in that inner sanctum, it appears it is impossible to get out.
Lisa is also excited to get started on the next book for the Wollongong City Libraries Online Book Club. With a new book each month and a space for all members to talk about it, the online book club is the perfect choice for anyone looking to stay involved with your community and chat about books. You can check out the Facebook group for the online book club here.
*
We'd love to hear from you - what have you been reading during this lockdown? Let us know on Facebook or Instagram, or using the hashtag #WCLibraries.