Gear up for Spin Fest!
Friday 5 August 2022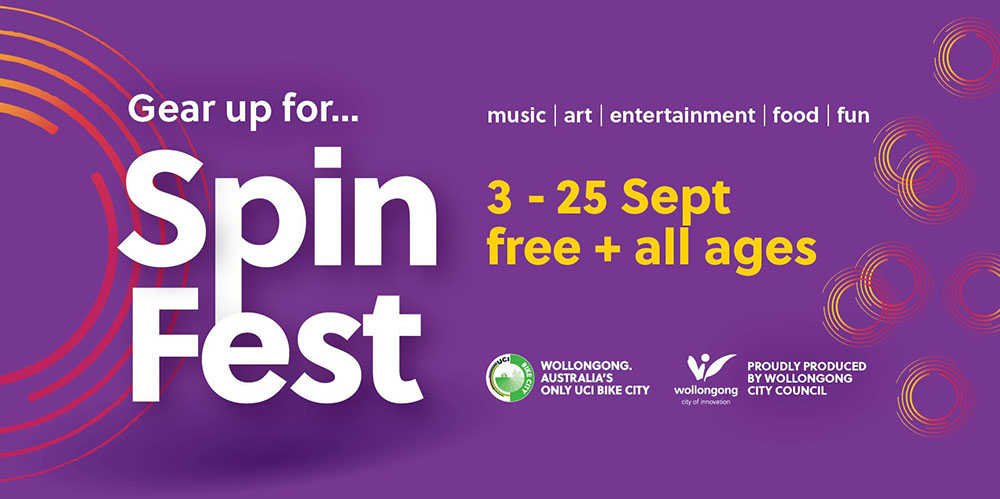 We're positively whirring with excitement for the UCI World Road Championships happening this September in the heart of Wollongong. To help celebrate, we're taking part in Wollongong City Council's Spin Fest with a range of talks and giveaways, including an e-bike and seven balance bikes!
What's On
Join our On Yer Bike speaker series to hear from a range of local cyclists and bicycle experts.
Cycling Together: Exsight Tandems
WOLLONGONG LIBRARY | WEDNESDAY 10 AUGUST | 6-7PM
Blind disability advocate, Geoff Stratton established Exsight Tandems to give people with a disability the chance to ride. Geoff will be talking about what riding means to him, and how riding can assist everyone's mental and physical health. Book now
Purchasing an E-Bike
THIRROUL LIBRARY | WEDNESDAY 24 AUGUST | 6-7PM
Electric bikes are becoming increasingly popular, not just in Australia but around the globe. Local bike shop owner, Andrew Larkin will talk about what to look for when choosing your next ride. Book now
BMX with Bryan Goddard
WOLLONGONG LIBRARY | WEDNESDAY 31 AUGUST | 6-7PM (tbc)
Find out how you can get into BMX riding, with former stunt BMX rider Bryan Goddard. Now helping locals of all ages and all abilities to ride bikes, Bryan encourages everyone to give it a try. Book now
Re-cycling at UOW
WOLLONGONG LIBRARY | WEDNESDAY 7 SEPTEMBER | 6-7PM
Come and learn about a cycling club with a difference. Juliana Peloche from UOW Cycling Club will share how students engage with local volunteers over a shared passion for cycling: encouraging a more sustainable commute to university, improved fitness, and a cost-effective travel solution. Book now.
Illawarra Cycling Stories
WOLLONGONG LIBRARY | WEDNESDAY 19 OCTOBER | 6-7PM
Recently retired Dave Hansen spent 41 years in the local cycling industry. He will be talking about the changes he has seen over the years both in the industry and in the bikes. Come along to celebrate a great local supporter of cycling in the Illawarra. Book now
Join in and win!
There's lots to celebrate, so we've got two giveaways happening from 1 August to 23 September!

Borrow physical items from any of our seven library locations and go into the draw to win an NCM Milano 28'" E-Bike! Simply enter your receipt with your phone number on the back into one of our prize boxes. This entry is open only to persons aged 18 and over. Read the full terms and conditions.

Each library location has a Cruzee Balance Bike up for grabs! Simply attend one of our preschool programs and receive an entry form to fill out and submit. Make sure you put all your details on the entry form including the program you attended and your location. Read the full terms and conditions.