Parish: Wollongong
County: Camden
Berkeley is a suburb in the south of the Wollongong Local Government area, on the foreshore of Lake Illawarra.
Local communities of Aboriginal people were the original inhabitants and Traditional Custodians of Illawarra Land. Their dialect is a variant of the Dharawal language.
Before European settlement, the Aboriginal people of the region lived in small family groups with complicated social structures and close associations with specific areas.
Suburb boundaries do not reflect the cultural boundaries of the local Aboriginal community.
Traditional Custodians today are descendants of the original inhabitants and have ongoing spiritual and cultural ties to the Land and waterways where their ancestors lived.
Berkeley was named by Robert Jenkins in the early 1800s, after the historic estate of that name in his native county of Gloucestershire, England.
Robert Jenkins and Berkeley Estate
Robert Jenkins came to NSW in about 1808. He became a prominent business man in Sydney, working as a shipping merchant and auctioneer. Robert married his wife Jemima in 1813 and they had two sons, William and Robert.
Robert Jenkins was granted 1,000 acres of land in January 1817. This was one of the first five land grants in the Illawarra area. The grant was called 'Berkeley Estate' and extended from Allan's Creek to Lake Illawarra. It fronted the north-east end of Lake Illawarra and adjoined David Allan's land grant 'Illawarra Farm' (Barwick, 1978). It is found on parish of Wollongong maps as portion 52.
Robert Jenkins died in May 1822, at the age of 45, after a fall from his horse.
After Jenkins' death, his wife Jemima acquired 2,000 acres to the west of and adjoining the original grant. In 1835-1836 Mrs Jenkins acquired another 280 acres which embraced the village of Charcoal, (now Unanderra).
The combined land of the 'Berkeley Estate' totalled 3,280 acres by 1836.
William Warren Jenkins
William was born in July 1816, and was the son of Robert Jenkins. He was six years old when his father was killed. He married his cousin Matilda Pitt in 1838 and built Berkeley Mansion on the estate. He became a resident of the Estate in 1839.
William Jenkins divided the Estate and let it to tenants under the clearing lease system. The Estate was developed by convicts and settlers.
William was a respected citizen and he donated land for the building of the first school and church in the area. William died in May 1884 at the age of 66. After his death the estate was subdivided into farms and sold (Barwick, 1978).
The major primary industry among European settlers was dairy farming, grazing and cattle raising. Wheat, potatoes and small amounts of maize were grown.
Fishing
Fishing on Lake Illawarra was also an industry in the early settlement days, and supplied fish to Aboriginal people and European settlers. 'Fishtown' was a fishing village which is now part of Berkeley. It was a small collection of houses on the northern shore of Lake Illawarra previously known as 'Home Shore' (this area was located south of where the Berkeley Primary School now stands).
In the early days of the fishing industry, only rowing and sailing boats were used. The fish had to be sent to the markets in Sydney by steamer. There was no ice so the fish were washed, packed in boxes and covered with ferns and branches to keep them cool.
In 1887 the railway was extended through Unanderra and this made it possible to transport fish to the markets in Sydney much faster (Barwick, 1978; Illawarra Mercury 18 October 1984. p.21).
Dairy Farming
Dairy cattle were raised on the 'Berkeley Estate' between 1817-1887. In December 1887 a co-operative factory was opened in Factory Street, Unanderra and the farmers took their milk to the factory to be made into butter. Before this, in 1856, milk was being sent to Sydney by steamer. The daily milk train began running in 1889 from Unanderra station (Barwick, 1978).
Early Transport
Pioneers walked or rode on horseback or in horse drawn vehicles because the roads that existed were more like bush tracks. In 1834 Governor Burke sent the Surveyor General to the area to inspect the roads and they were reported to be in very bad condition.
The first road in the Illawarra, the Wollongong-Dapto Road, went through the Berkeley Estate. The road ran near to the coke works at Unanderra, to the right of Charcoal Creek, through the Berkeley Estate and across Charcoal Creek near Unanderra railway station.
Northcliffe Drive was extended from Lake Heights to the former Fishing Village in 1956. The F6 Freeway (now called the M1 Motorway) was connected to Berkeley in the mid 1970s (Barwick, 1978).
Berkeley House (Mansion)
Address: Five Islands Road
Edmund Blacket designed this mansion which was built in 1839 on the 'Berkeley Estate' by convict labour. It was built from hand-made glazed bricks formed from clay on the site. The mansion was demolished in February 1940 and all that remains today of the house are a couple of boulders and the timber foundations of what was apparently the convict quarters. These relics are located south of the electrical substation on Five Islands Road (Barwick, 1988).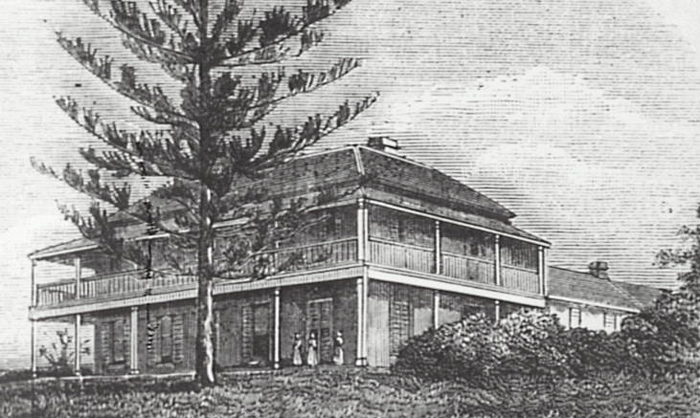 Image: Berkeley House 1879, image number P01043.
Berkeley Pioneer Cemetery
Address: Investigator Drive, Unanderra
This site was established in 1862 as a cemetery for the Jenkins family. William Jenkins donated one acre of land to the Church of England for a site for a church and burial ground. The cemetery is now an Anglican cemetery which has been restored by the Berkeley Pioneer Cemetery Restoration Group with help from Wollongong City Council, local businesses and organisations.
The gates erected at the entry to the cemetery are the historic gates from the entrance of Berkeley mansion (homestead of William Jenkins).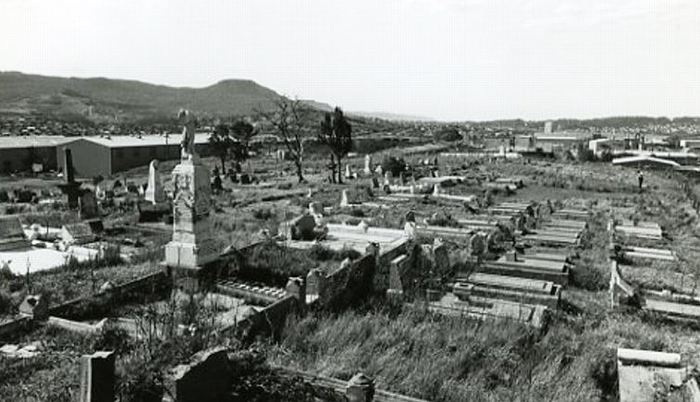 Image: Berkeley Pioneer Cemetery, image number P17924.
Before European settlement most of the Berkeley area was covered in rainforest, known as the Berkeley Brush (dry sub-tropical rainforest). These forests and woodlands were some of the first to be cleared for farming. Even today horses and cattle graze in this area around the hills.
Budjong Creek catchment area is one of the remaining remnants of rainforest in the hills above Berkeley. In 1992 a group of residents formed 'The Budjong Creek Landscape Group' because they did not want to lose these pockets of rainforest to urban development. They formed a five to ten year management plan to regenerate the area by:
removing the rubbish and weeds
planting native plants (to date 5000 trees and shrubs have been planted)
ongoing maintenance of the area.
Funding for these projects comes from many sources including Wollongong City Council, Landcare and the National Heritage Trust.
Native species found in this area are lilly pilly, Illawarra plum and brush cherry trees (Plan of Management for the Budjong Creek Catchment, 1993).
| Date | Event |
| --- | --- |
| 1817 | Land grant of 1,000 acres to Robert Jenkins, called Berkeley Estate |
| 1822 | Robert Jenkins died aged 45 years after falling from his horse |
| 1839 | Berkeley Mansion was built and was home to the Jenkins family |
| 1858 | First Berkeley Public School opened |
| 1862 | Church of England church and burial grounds established on one acre of ground donated by W W Jenkins. Known today as Pioneer Cemetery |
| 1884 | William Jenkins, son of Robert, died aged 66 years |
| 1887 | Berkeley dairymen opened a co-operative factory to process their cream into butter |
| 1889 | Berkeley coke ovens began operations and employed 40 men |
| 1890 | Berkeley Estate subdivided |
| 1895 | Salt industry established on Gooseberry Island |
| 1903 | School of Arts opened |
| 1917 | Berkeley Public School relocated to the junction of Flagstaff and Berkeley Roads |
| 1926 | The Illawarra Coastal Fishing Company was formed with a depot located at Berkeley |
| 1940 | Berkeley Mansion was demolished |
| 1951 | The Berkeley Migrant Hostel was built by the Commonwealth Government to accommodate 2800 people |
| 1954 | The Migrant Hostel opened with an intake of British migrants |
| 1957 | Berkeley High School opened |
| 1962 | Berkeley South School opened |
| 1967 | The Migrant Hostel was closed and all residents were moved |
| 1989 | Neighbourhood Centre upgraded |
| 1992 | The Budjong Creek landscape group was formed to protect the remaining pockets of rainforest and native plants that still grow in the area |
| 1995 | The Nan Tien Temple opened in October |
| 2005 | Winnima Way resurfaced and repairs to kerbs and footpaths carried out |
| 2006 | Integral Energy removed Hills Fig trees from footpaths along Northcliffe Drive (Illawarra Index) |
| 2008 | Notorious Northcliffe Drive pedestrian crossing at Bristol and Sussex Streets received a $240,000 upgrade (Illawarra Index) |
| 2010 | Major refurbishment of Berkeley Hotel |
| 2015 | Nan Tien Institute officially opened on 1 March by then-Prime Minister Tony Abbott. This tertiary education facility on the western side of the M1 Motorway is connected with Nan Tien Temple via a wide footbridge over the motorway. |
| 2016 | Berkeley Community Centre reopens on 27 February after a major refurbishment by Wollongong City Council |
Barwick, Kathleen H., Berkeley and surrounding districts glimpses into the past and present Illawarra. Paddington, NSW Kathleen H. Barwick-Hooke, c1988.
Barwick, Kathleen H, History of Berkeley, New South Wales, 2nd ed., Wollongong, NSW: Illawarra Historical Society, 1978.
Illawarra Mercury, Wollongong, NSW: Illawarra Newspapers Holdings, 1856-
Mitchell, Winifred and Sherington, Geoffrey, Growing up in the Illawarra: a social history 1834-1984, Wollongong, NSW: University of Wollongong, c1984.
Place names of the Wollongong Region, Wollongong: Wollongong City Council, 2008.
Quality Environmental Management, Plan of management for the Budjong Creek Catchment Berkeley, [Berkeley]: Berkeley Development Association Inc., 1993.
Smith, Barry, Nan Tien Temple: paradise of the southern hemisphere, Balmain, NSW: Rala International in association with International Buddhist Association of Australia, 1995.