Parish: Wollongong
County: Camden
Unanderra is a suburb in the south of the Wollongong Local Government Area.
Local communities of Aboriginal people were the original inhabitants and Traditional Custodians of Illawarra Land. Their dialect is a variant of the Dharawal language.
Before European settlement, the Aboriginal people of the region lived in small family groups with complicated social structures and close associations with specific areas.
Suburb boundaries do not reflect the cultural boundaries of the local Aboriginal community.
Traditional Custodians today are descendants of the original inhabitants and have ongoing spiritual and cultural ties to the Land and waterways where their ancestors lived.
Unanderra is located on part of the 'Berkeley Estate' which was granted to Mrs Jemima Jenkins in 1835-1836.
Unanderra was originally called Charcoal or Charcoal Creek.
There are two explanations for the origin of the name Charcoal. One is that charcoal was burned there. The other is that it owes its name to an Aboriginal stockman employed by Throsby Smith, known as 'Charcoal'. Smith's cattle, under the care of 'Charcoal', are said to have rested here after descending the mountain road.
From 7 April 1881 Charcoal Creek became Unanderra, an Aboriginal word meaning the "meeting place of creeks" or the "junction of the two creeks". The two creeks were Charcoal and Allan's Creeks. The original form of the name is thought to have been Unundurra or Un-dirra.
Robert Jenkins and Family
Robert Jenkins (c.1777-1822) arrived in New South Wales about 1808 and became a prominent auctioneer and shipping merchant. In 1813 he was appointed Auctioneer and Appraiser for the town of Sydney, and in 1819 served briefly as a director of the Bank of New South Wales.
In 1813 Jenkins married Jemima Forrest (c.1786-1842). Robert and Jemima had two children: Robert Pitt Jenkins (1814-1859) and William Warren Jenkins (1816-1884).
Robert Jenkins was one of the first five land grantees in the Illawarra. He received a holding of 1,000 acres from Governor Lachlan Macquarie on 24 January 1817. The holding can be identified on present day maps as portion 52, parish of Wollongong, fronting the north-east end of Lake Illawarra.
Jenkins called his grant 'Berkeley', after the historic estate of that name in his native Gloucestershire. Berkeley was used as a cattle run from 1817 to 1839.
On 24 September 1834, Jemima Jenkins was allowed to purchase 2,000 acres adjacent to Berkeley for 500 pounds. This area had been promised to the family by Governor Thomas Brisbane in 1825. Other areas purchased by Jemima increased the estate to 3,280 acres. The enlarged holding became known as the Berkeley Estate, part of which comprises modern-day Unanderra.
In 1839 William Warren Jenkins assumed management of the Berkeley Estate, engaging the architect Edmund Blacket to design the residence Berkeley House. This mansion was built from convict labour, and incorporated features such as a six metre-wide hallway, and Italian marble tiles and fireplaces. Berkeley House was demolished in 1940.
About 1870, William Warren Jenkins built Nudjia House on the western boundary of the Estate for his eldest son, William James Robert Jenkins. Nudjia, the Aboriginal name for a safe and protected place, was built from red cedar mostly grown on the property, and at one time had its own racetrack. Nudjia opened as a museum in 1993, and is located at 83 Cummins Street, Unanderra.
The elaborate cast iron gates which once led to the Berkeley Estate can now be seen at the Berkeley Pioneer Cemetery, formally the Jenkins family's private cemetery (Dowd, B.T. 1960; Wollongong Advertiser; 20 April 1994, 19 October 1994 , 13 September 1995; Wood, Anne 1999).
George Lindsay and Family
George Lindsay (died 1866) settled at Charcoal in 1841, opening a small store. In 1843, he received a land grant of 35 acres for property south of Berkeley Estate, which he called Lake View. He used the property for mixed farming and dairying. Lindsay is reputed to have sent the first keg of butter from the Illawarra to Sydney.
One of George Lindsay's sons, William, established the Farmers' Inn at Charcoal in the 1850s, while another son, George, represented New South Wales in rifle shooting (Gibbs, Alison & Warne, Catherine 1995; Illawarra Mercury, 31 May 1984; Unanderra Public School 1878-1978).
Edward Hammond Hargraves
Edward Hargraves (1816-1891), one of the early discoverers of gold in Australia, farmed at Charcoal during 1836-1841. He also established a store at Charcoal: "…the first country store in the district outside Wollongong" (Dennis, C.L., South Coast Times, 3 November 1960; Illawarra Mercury, 31 May 1984).
During the second half of the 19th century, major industries in Unanderra included a cokeworks, butter factory, and tannery.
Coke making in the Illawarra began on a commercial basis in 1888 at Unanderra, when the Southern Coal Mining Company, which operated a coal mine on the eastern side of Mount Kembla, established the Australian Coke Making Company Works. The Works were located on the eastern side of the Illawarra railway line and north of Five Islands Road. By November 1889, 20 ovens were in operation, the industry employed approximately 40 workers, and 300-400 tons were produced per week. The number of ovens later increased to 90. In 1912 most of the plant was relocated to Corrimal.
Unanderra was also surrounded by rich dairying country, its farms being noted from the 1840s for their Ayrshire cattle. In 1887 the Unanderra Butter Factory was established west of Factory Road, backing onto Jenkins Creek. The factory was 78 feet long with two nine-feet verandahs and a shingle roof. James York was the butter maker. 27 suppliers delivered milk cans in their carts, and much of the milk produced was sent to Sydney. During spring, from 1000 to 1500 lbs. of butter were dispatched daily. A refrigeration plant had been installed in the factory by 1898. The factory burned down in 1913.
A major industry in Unanderra during this period was the tannery, which at one time employed up to about 40 workers and had an annual turnover of 15,000 pounds in 1880. The tannery was established in 1860 by John Richardson. Eventually 60 pits were built, and steam rollers, wattle bark cutters, pumps and other plants were installed. Unanderra's 'Tannery Street' commemorates this early industry (Hagan, Jim & Wells, Andrew (eds). 1997; Illawarra Mercury, 31 May 1984; Unanderra Public School 1878-1978).
Roads
The Princes Highway, linking Sydney and Melbourne by the coast, was named in 1920 to mark the visit of the Prince of Wales to New South Wales. The Highway was laid through Unanderra as a bitumen road in early 1927.
However, at this time all outlying roads remained gravel or metal, and transport by horse-drawn sulky or cart was common. Bread, meat, and vegetables were delivered by horse and cart, and the population travelled by foot, horse, or bicycle. Very few people owned cars.
The first motor bus was used in Wollongong in 1913. Buses ran through Unanderra mostly on the hour, and signalled their approach by sounding their horns (Bayley, 1973; Cook, 1987?; Gibbs, Alison & Warne, Catherine 1995).
Railways
In 1882 a private coal rail link from Mount Kembla to Port Kembla was constructed. The government took over the line from Unanderra to Port Kembla in 1912, and passenger service began in 1919.
A survey for construction of the Sydney to Illawarra railway began in 1873, and the line was completed in 1888. At this time, the journey from Sydney to Wollongong took four hours and 53 minutes. The advent of the railway allowed both coke and dairy produce to be sent directly to Sydney.
In 1924 the government agreed to construct a 38 mile rail link between Moss Vale and Unanderra, thus linking the South Coast line and the main southern line. On 26 June 1925 the Premier, Sir George Fuller, turned the first sod at a ceremony in Unanderra to signal the beginning of work on the Illawarra Mountain Railway. The line opened in August 1932, having cost approximately three million pounds, almost twice the original estimate. The opening of the Unanderra – Moss Vale line made it possible to transport limestone from the Southern Highlands to Port Kembla.
Diesel engines replaced steam in the early 1960s, and trains to Wollongong were electrified in 1986 (Bayley, 1973; Cook, 1987?; Cook, 1992; Gibbs, Alison & Warne, Catherine 1995; Larkin, 1979; Singleton, 1984).
Nudjia House
Address: 83 Cummins Street, Unanderra.
Nudjia, the Aboriginal name for a safe and protected place, was built around 1870 by William Warren Jenkins (1816-1884) for his eldest son, William James Robert Jenkins. An original part of the structure dates from around 1840, the same time that the nearby Berkeley House (demolished 1940) was built. Nudjia is located on the original Berkeley Estate, one of the Illawarra's first land grants, which was received by Robert Jenkins (c.1777-1822) in 1817.
Nudjia is a weatherboard, early Victorian, vernacular, Georgian cottage with corrugated metal roof verandahs. The original section (c.1840) is built of handmade local clay bricks and stone rubble footings. The later weatherboard section was constructed in front.
The City of Wollongong Heritage Study: Provisional Inventory: Wollongong Heritage Study Date Sheets: Volume 3/5 (1991) assigns the building regional significance, describing it as "… a rare example of a building of the 1840's in this southern area…".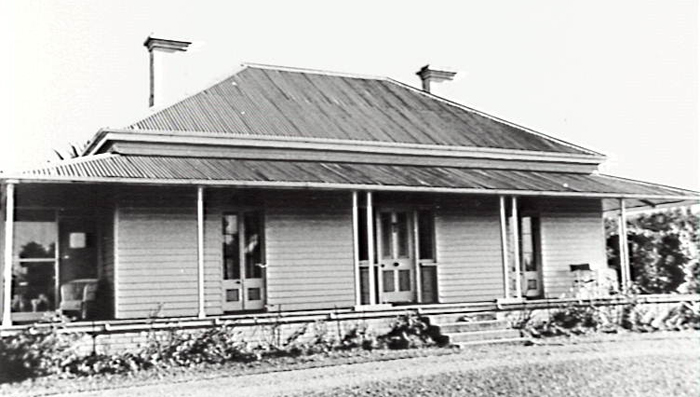 Image: Nudjia, image number P02642.
Unanderra Station Master's Residence
The Unanderra Station Master's residence is next to the Unanderra Railway line and was built in 1887. It is a Victorian vernacular brick building with timber skillion, a corrugated metal roof, and a single central chimney.
The City of Wollongong Heritage Study: Provisional Inventory: Wollongong Heritage Study Data Sheets: Volume 3/5 (1991) assigns this building regional significance, and describes it as a "… typical Railway Dept. building similar to Bellambi Railway Station. A rare surviving element of railway building groups representing the transport, historical theme" (McPhee, 1991).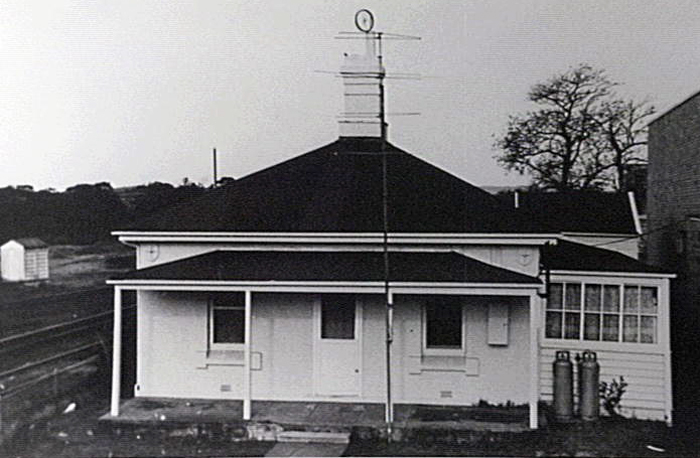 Image: Unanderra Station Master's Residence, image number P10691.
Unanderra Community Hall
Address: Corner of Princes Highway and Factory Road.
The Unanderra Community Hall was opened in 1901. It was the site of the Central Illawarra Municipal Council Chambers until the formation of the City of Greater Wollongong in 1947.
The Unanderra Branch Library opened in one room of the building in October 1955, and was extended in 1961. The building currently continues to house the public library and community centre.
The Unanderra Community Hall is a two-storey brick building with a parapet and a single-storey brick section with a corrugated metal roof. The City of Wollongong Heritage Study: Provisional Inventory: Wollongong Heritage Study Data Sheets: Volume 3/5 (1991) assigns the building local historical significance.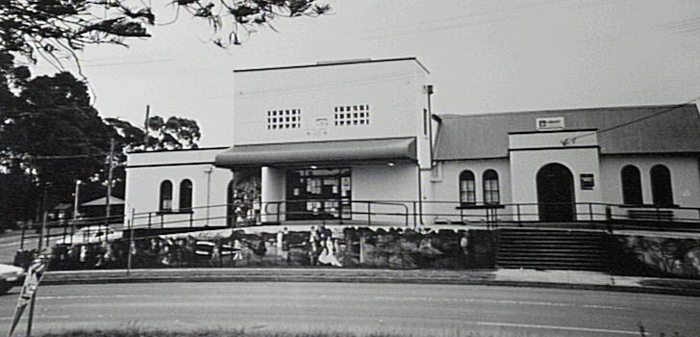 Image: Unanderra Community Hall, image number P10670.
Early records show that Unanderra was noted for its many cabbage tree palms. Vegetation in the area was originally cleared for rural land use in the mid 19th century and by the mid 20th century virtually all of the cabbage tree palms had been eliminated.
Unanderra has three creeks that constitute the Allans Creek Catchment, receiving inflow from Charcoal Creek and Jenkins Creek.
Charcoal Creek forms on the eastern face of Mount Kembla and flows into Allans creek. Warm temperate and sub-tropical rainforest once grew along the banks of the creek. All that is left today are a few remnants of this former splendour with weeds such as Cape Ivy, Moth Vine, and Crofton weed growing in abundance. Regeneration projects have resulted in the replanting of species such as Blackwood, Native Peach and Bastard Rosewood after the careful elimination of the weeds.
Todd Park is a large public reserve between Cummins Street and Staff Road. An unnamed watercourse runs through the reserve, dividing it into north and south sections. The recent revegetation of Todd Park Reserve has restored the park into a lush rainforest. Over 10,000 native plants including Lomandra, Bleeding Heart, Black and Green Wattle, Red Ash and Callistemon were planted. This resulted in the return of birdlife to the reserve. Kookaburras, Fairy Wrens, Honeyeaters, Cockatoos, Magpies and Rosellas are now common visitors.
| Date | Event |
| --- | --- |
| 1817 | Robert Jenkins receives land grant of 1,000 acres, which he names Berkeley. George Cribb brings cattle down the mountain to Charcoal Creek |
| 1834 | Jemima Jenkins purchases 2,000 acres at Berkeley |
| 1836-1841 | Edward Hargraves farms at Charcoal |
| 1839 | William Jenkins builds Berkeley House |
| 1840 | George Lindsay opens a small store at Charcoal |
| 1843 | The Illawarra District Council is formed |
| 1844 | Farmborough House is built on land acquired by Robert Martin Cole |
| 1855 | Farmborough House brought by John Blackman |
| 1859 | Two local government areas were formed; Municipality of Wollongong was proclaimed on 22 February, and Central Illawarra Municipality was formed on 19 August (including the area from Unanderra to Macquarie Rivulet) |
| 1860 | Post Office opened at Charcoal |
| 1860 | Tannery established at Charcoal by John Richards |
| 1866 | Pioneer Kerosene begins production at American Creek |
| 1870s | Nudjia House built by William Warren Jenkins on the Berkeley Estate |
| 1878 | Unanderra Public School opened |
| 1878 | Central Illawarra Council transfers its operations to Charcoal |
| 1881 | Government Gazette changes the name of the local post office from Charcoal to Unanderra |
| 1887 | Butter factory opened at Unanderra |
| 1887 | Unanderra Station Master's residence built |
| 1888 | Unanderra Coke Works constructed |
| 1901 | Unanderra Public Hall opened |
| 1913 | Unanderra Butter factory burns down |
| 1925 | Work commences on the Illawarra Mountain Railway between Unanderra and Moss Vale |
| 1927 | The Princes Highway is laid through Unanderra |
| 1932 | The Illawarra Mountain Railway between Unanderra and Moss Vale opens |
| 1938 | Berkeley House demolished |
| 1955 | Unanderra Branch Library begins operation at the Unanderra Community Hall |
| 1956 | Farmborough Road Public School opened |
| 1960 | Unanderra Branch Library enlarged |
| 1960 | St Pius X Catholic Primary School established |
| 1960 | Rotary Club of Unanderra granted Charter on 30 April |
| 1977 | Western Suburbs Olympic swimming pool opened |
| 1977 | Unanderra receives the first supply of natural gas in Wollongong |
| 1981 | New Industrial park established at Unanderra |
| 1986 | Cedars Christian College, formerly known as Wollongong Christian Community School, relocated to Waples Road |
| 1999 | Unanderra Public School relocates from Princes Highway site to Derribong Drive, Cordeaux Heights |
| 2001 | Old Unanderra Primary School site cleared to make way for construction of new Villa Maria aged care centre |
| 2002 | Unanderra branch of the Commonwealth Bank closes on 4 January |
| 2004 | The Immaculate Conception Catholic Church celebrates its 50th anniversary in November |
| 2005 | Five Islands Industrial Business Park opened to accommodate large and small companies, with options to either buy the land and/or the warehouse, or lease facilities |