Parish: Woonona
County: Camden
Corrimal is one of the Wollongong Local Government Area's larger town centres, north of the Wollongong city centre.
East Corrimal is a beachside suburb adjoining Corrimal.
Local communities of Aboriginal people were the original inhabitants and Traditional Custodians of Illawarra Land. Their dialect is a variant of the Dharawal language.
Before European settlement, the Aboriginal people of the region lived in small family groups with complicated social structures and close associations with specific areas.
Suburb boundaries do not reflect the cultural boundaries of the local Aboriginal community.
Traditional Custodians today are descendants of the original inhabitants and have ongoing spiritual and cultural ties to the Land and waterways where their ancestors lived.
Corrimal was officially recorded as a place in 1839 when a grant of 50 acres was made to Hugh Kennedy and described as being "at Corrimal".
A point on the range nearby was known as Mount Corrimal after the Aboriginal warrior "Kurimul" (kori-mul). This point was known locally as Brooker's Nose after James Brooker, an early settler in the area.
"Kurumul" was a 'dreamtime' warrior who took another man's wife. When pursued by the husband "Kurumul raced up the mountain and climbed a tall tree. The husband gathered wood and set fire to the tree, and Kurimul was carried up in flames into the sky".
Harriet Overington
Harriet Overington (who married James Stares Spearing of Paulsgrove Estate) was promised a grant of 2000 acres in 1827, which was named Pallamba or Bellambi. It faced a small bay, now known as Bellambi Harbour, which was used for shipping cedar, and later coal. James Spearing used the land as a sheep run until 1842 when the estate was subdivided and the village of Bellambi established.
James Martin
James Martin was granted 50 acres of land in the Corrimal area in 1830. This land was sold to Dr George Cox in 1840.
John Buckland
John Buckland received a grant of 1920 acres in 1835, which he called Balgownie Estate. In 1839 it was subdivided into 132 lots and sold. Buckland lived in Hoare Town (now known as Douglas Park) and it appears he didn't take up residence on this estate (Cousins, 1994; Jervis, 1942).
Dr George Cox
George Cox was born in Nottinghamshire, England, about 1805. He arrived in Australia in 1840 and acquired approximately 50 acres of land at Corrimal. The property was named Summer Hill and he lived there until his death in 1880.
Dr Cox was one of three trustees elected under the Parish Roads Act (the other two being Captain Plunkett and Mr George Anderson who also had properties between Fairy Meadow and Bulli) to form the Bulli Road. Up until 1846-1847 the road beyond Fairy Meadow was just a track. He and Captain Plunkett succeeded in having the road run past the boundaries of their properties, along the route first surveyed by Major Mitchell in 1834. This was very much to their benefit as it meant that they didn't have to construct roads from their own properties to the main road.
Dr Cox was medically trained but did not practice his profession, though he was known to be "most considerate and kind" to locals who fell ill. He was also a great collector and Fred Zeims recalls the doctor's study being "more like a museum than a surgery"! His property was also known locally as the Coxton Estate and Cox's Hill (Stewart, 1987; Young, 1989).
Henry (Harry) Angel
Henry was transported to the Colony in 1818. In 1824 he was assigned as one of six servants to accompany Hume and Hovell on their explorations of inland Australia. On this journey they discovered the Murray River and went on to Port Phillip Bay, close to where Geelong now stands. He also accompanied Hume on his journey with Sturt in 1828-1829 when the Darling River was discovered.
In 1834 Henry Angel came to the Illawarra and married Mary Ledwidge, a widow with two young boys. Mary was the daughter of John Brooker (after which Brokers Nose is named) and Mary Wade. They purchased land near Towradgi Creek (also known as Angels Creek) and a bridge was built over the creek on what was eventually to become the main road. It was known as Angels Bridge and still is today.
Henry and Hamilton Hume remained firm friends and Hume, in gratitude for the service Henry gave, gifted him two bullocks of prime quality which were seen, on occasion, hauling firewood to the local school.
In 1844 Henry moved his family to a property in the Riverina and then eventually to Spring Vale, a property near Wagga Wagga, where he lived and worked with Mary, until his death at 91, in 1881 (Illawarra Historical Society Bulletin, November 1975, p.71).
Coal mining
Thomas Bertram opened Corrimal Colliery (also known as the Corrimal-Balgownie Colliery) in 1883. Until 1887 coal was transported to the government railway by bullock team. A private colliery line was then constructed to connect with the government line by the Southern Coal Company, which had bought out Bertram. Coal from Corrimal was then shipped from the Southern Coal Company jetty at Port Kembla. By 1890, 60 men were working at the Corrimal mine and 200 tons of coal was being carried away per day. Coal from Corrimal Colliery was also shipped from Wollongong Harbour, Bulli and Bellambi Jetties.
A colliery existed at Corrimal until 1985 (Illawarra Coal, 2010; McCarthy, 1978).
Streets Ice Cream
The Streets Ice Cream Company came from humble beginnings. Edwin (Ted) Street operated a fruit run at Corrimal in the early 1930s before buying a mixed business and milk bar. He started making ice cream in a small churn, just after the Depression, to supply his milk bar. It tasted so good that other shops wanted to buy it and before long Mr Street was supplying ice cream to dozens of shops. He built an ice works and factory near the corner of the Princes Highway and Tarrawanna Road, and the first deliveries to Sydney were made by van.
Another factory was opened at Turella, in Sydney in 1947. Many locals still remember the huge neon sign, featuring a polar bear licking an ice cream, that was outside the Corrimal works (it was also the first moving neon sign in Wollongong). Mr Street became a multi-millionaire in 1961 when he sold his business to Unilever Australia P/L for approximately $8 million.
Edwin Street made many donations to South Coast organisations, including $100,000 for accommodation for the aged in Narooma, where he spent his retirement; $10,000 to the Illawarra Retirement Trust to establish Diment Towers; $50,000 each to Batemans Bay and Nowra to build Ambulance Stations; and $10,000 for Corrimal Swimming Pool.
He received an OBE in recognition of his services and donations to charity. Edwin Street died in August 1975.
Road
With the growth of the coal industry in the Wollongong region, villages appeared close to the sites of the mines. Roads were developed to link the district and also provide an overland link to Sydney, previously travelled to by sea.
In 1834 the Bulli Parish road route was laid out by Major Mitchell from the intersection of Keira and Smith Streets in Wollongong. Convicts made the road as far as Para Creek, however past that point it remained a bridle track. In 1846 local landowners met to elect trustees under the Parish Roads Act, so that the road could be built. After much local debate it was decided that the road should follow the route surveyed by Mitchell (Robert Westmacott and others had favoured a route following the coastline). The road was built over Plunkett's Hill and Cox's Hill making these sections very steep and causing problems for drays and carriages. Eventually these hills were cut away, making the route more suitable. All streams and creeks were forded and no bridges were built until the road was taken over by the North Illawarra Municipal Council. A toll bar was put in place in 1871 but was strongly objected to and eventually closed in 1881. The Trust transferred responsibility for the road to the Government in 1878 (Bayley, 1989).
Railway
A railway linking the Illawarra to Sydney was first seriously considered in 1873 following a paper read by James Manning to the Royal Society. Later that year a meeting was called in Wollongong to press for its construction. Following public meetings, letters to the press and deputations to parliament, construction of the line was approved in 1881. The Illawarra section (from Coal Cliff to the Macquarie River and then on to Kiama) was put out for tender in July 1883 and was to link up with the second section which was to be built from Georges River to Coal Cliff. The line opened on Queen Victoria's Jubilee Day, 21 June 1887, with stations at Clifton, Bulli and Wollongong. The link to Sydney was not completed until 1888.
Corrimal Railway Station was in operation by November 1887 when a rail service from Clifton to Kiama began. Bellambi Station opened soon afterwards in 1888.
Towradgi did not get a railway station until 1948 (Bayley, 1989).
Corrimal Public School
In 1889, with the population of Corrimal growing, the Department of Public Instruction selected a site on a hill on the Main South Coast Road for the Corrimal Public School. It was to be built by J. Mackie in a style similar to schools at Robbinsville (Thirroul) and Balgownie. According to Department of Education records the school opened in April 1890. The original building still stands in the grounds of Corrimal Public School on the Princes Highway.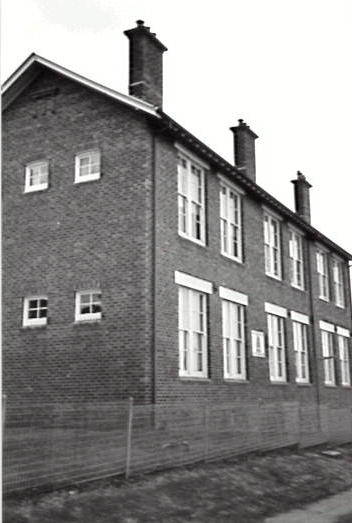 Image: Corrimal Public School, image number P01623.
Mountain View (Wilgendene)
Mountain View or Wilgendene was a fine two story Victorian mansion built in the late 1880s. Located between South Bulli Colliery and the beach, it is believed to have been the residence of the South Bulli Colliery mine manager before being sold to Mr C.P. Hansen who used it as a guesthouse in the early 1900s. It boasted 11 bedrooms and five bathrooms, with its own windmill and underground tank. Wilgendene was set on approximately 30 acres of well tended gardens with many trees including Norfolk Island pines, cedar, coral and magnolia trees and many palms. Unfortunately over the years the house has fallen into disrepair and only the basic shell of the house survives (City of Wollongong Heritage Study, 1991).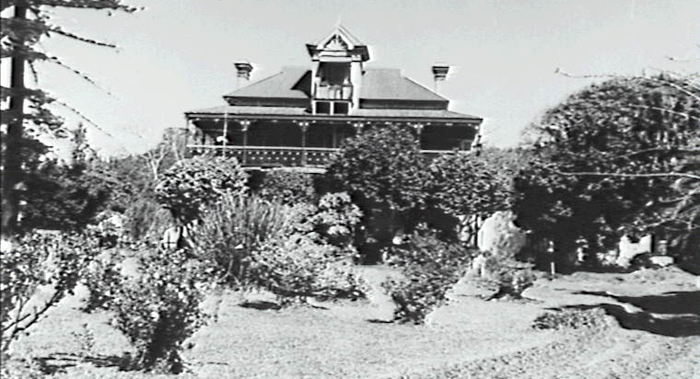 Image: Mountain View (Wilgendene) ca. 1960, image number P03466.
Corrimal and surrounds is located mostly on the coastal plain that runs behind the coastline to an altitude of approximately 100m. Much of the natural habitat has been disturbed and less than 8% of natural cover remains along the coastal plain of the Illawarra Region, though remnant patches of woodland, wetland and forest can still be found.
Birds found in the area include the Sulphur Crested Cockatoo, Kookaburra, Native Pigeon, Butcher Bird, King Parrot, Mountain Lowry, Cat Bird, Eastern Whip Bird, Rufus Fantail, Black Duck and Magpie.
In the lower foothills area Echidna, Wallabies and Bandicoots can also be found (Davis, 1995).
| Date | Event |
| --- | --- |
| 1874 | Trial survey made for the route of the Illawarra railway |
| 1877 | Telegraph line extended from Bellambi to Bulli |
| 1879 | Two 10-seater coaches were put into service on the Wollongong-Bulli run |
| 1881 | "Queen of Nations" wrecked on Black Rocks, Towradgi Beach |
| 1884 | Brokers Nose Colliery commenced operation |
| 1884 | Model township laid out with reserve for railway station. Sales to commence in July. |
| 1885 | Brookers Farm subdivided and sold |
| 1886 | In February Thomas Bertram opened coke works with a capacity for 600 tons per week at Corrimal |
| 1887 | Railway opened between Clifton and Wollongong on 21 June |
| 1889 | Many houses were being built in new Corrimal suburb |
| 1889 | |
| 1890 | Corrimal Public School opened |
| 1890 | Bertrams Corrimal Coke works out of use |
| 1890 | Presbyterian Church built |
| 1892 | Corrimal has a population of 300 |
| 1896 | St. Albans Church of England dedicated |
| 1899 | Primitive Methodist church opened |
| 1902 | St Columbkilles Roman Catholic Church opened by Rt Rev. Monsignor O'Brien on 28 September |
| 1903 | Broken Hill Proprietary Company opens coke works with 100 ovens west of the railway, between Bellambi and Woonona, on 2 March |
| 1904 | Railway line duplicated for ¼ mile and station removed to the opposite side of the line |
| 1904 | Woonona Co-operative Society celebrates the opening of a branch store at Corrimal |
| 1905 | The number of tourists using the Illawarra Railway on public holidays exceeds 50,000 |
| 1906 | Bulli Shire proclaimed on 15 May to serve the area north of Bellambi to the National Park and Waterfall |
| 1906 | Roman Catholic Convent opened by Cardinal Moran on 26 January |
| 1910 | Street Bros market garden at Towradgi being irrigated (first irrigation scheme in district) |
| 1912 | Corrimal Colliery opened by G.S. Yuill and Company |
| 1912 | New coke works at Corrimal completed in May and working with the new Corrimal Colliery, were officially opened in September |
| 1913 | First motor bus service established by J.P. Christiansen and S. Saber, with a daily service from Thirroul to Wollongong and Port Kembla. |
| 1913 | South Bulli Colliery started providing electricity to the northern suburbs of Illawarra |
| 1927 | Bellambi Mines Rescue Station established because of legislation passed following the Bellbird mine disaster on the northern field in 1923 |
| 1947 | The City of Greater Wollongong was inaugurated on 12 September to administer the areas formerly comprising the City of Wollongong, Municipality of North Illawarra and the shires of Central Illawarra and Bulli. The population of the new local government area is 62,973 |
| 1948 | Towradgi Railway Station opened Saturday 18 December |
| 1950 | Northern Illawarra suburbs transferred from private electricity supply to the public utility |
| 1954 | New school officially opened at Towradgi by the Minister for Education, R J Heffron, on Friday 30 April |
| 1955 | Congregational Church opened in Carters Lane |
| 1958 | Expressway planned Wrexham Road - Bulli Hill - Slacky Flat – to be located between railway and highway to Fairy Meadow |
| 1963 | Work begins on sewerage system for northern suburbs, from Fairy Meadow to Corrimal |
| 1964 | Corrimal Colliery acquired by BHP |
| 1982 | Major downturn in the mining and steel industries occurs as restructuring begins |
| 1985 | |
| 1996 | 1st Corrimal Scout Hall destroyed by fire in July |
| 1997 | Corrimal District Library and Community Centre opens in May |
| 1997 | Heating of Corrimal Memorial Pool completed in September and entry fee charged |
| 1997 | Medicare office in Corrimal closes in November |
| 1998 | Major renovations to Corrimal's Palm Court Hotel completed in December |
| 2002 | Corrimal Regional Uniting Church extensions completed in October |
| 2007 | Corrimal Fire Station's renovations are completed in February in time to celebrate 80 years of serving the Corrimal area |
| 2007 | Illawarra Diggers Aged Care Residence is upgraded in June, and accepts female patients for the first time |
| 2007 | Apex Club of Corrimal celebrates 50th anniversary in July |
| 2009 | Corrimal Rotary Club celebrates 50th anniversary in June |
Bayley, William A., Black Diamonds: History of Bulli District, New South Wales, 4th ed., Wollongong, NSW: Illawarra Historical Society, 1989.
City of Wollongong Heritage Study, [Wollongong, NSW: Wollongong City Council], 1991.
Cousins, Arthur, The Garden of New South Wales: a history of the Illawarra & Shoalhaven Districts 1770-1900, Wollongong, NSW: Illawarra Historical Society, 1994.
Davis, Wayne (ed.), Environment Illawarra: initiatives, Wollongong: Keira Green Corridor Committee, 1995.
Illawarra coal: an unofficial history of coal mining in the Illawarra, website.[Accessed 19 November 2010], 2010.
Illawarra Historical Society Bulletin, Wollongong, NSW: Illawarra Historical Society, 1945-
Jervis, James. Illawarra: A century of history 1788-1888, Sydney: Royal Australian Historical Society, 1942.
McCarthy, K., Simpson, L. and Simpson, P., The Corrimal Colliery Railway, Burwood, NSW: Light Railway Research Society of Australia, 1978.
Roberts, Mick R., The little house on the hill: a history of the development of coaching inns and hotels in the Bulli district, New South Wales, Bulli: M Roberts, 1989.
Stewart, Alexander & Organ, Michael, Reminiscences of Illawarra, Woonona, NSW: Illawarra Historical Publications, 1987.
Young, Frank et. al., Old Pioneer's Reminiscences of Illawarra: (1830's-1920's), Wollongong, NSW: Illawarra Historical Publications, 1989.