Parish: Kembla
County: Camden
Kembla Grange is a suburb north of the Dapto area. It has strong associations with horse racing and farming.
Local communities of Aboriginal people were the original inhabitants and Traditional Custodians of Illawarra Land. Their dialect is a variant of the Dharawal language.
Before European settlement, the Aboriginal people of the region lived in small family groups with complicated social structures and close associations with specific areas.
Suburb boundaries do not reflect the cultural boundaries of the local Aboriginal community.
Traditional Custodians today are descendants of the original inhabitants and have ongoing spiritual and cultural ties to the Land and waterways where their ancestors lived.
In 1856 a property was advertised to let, by Robert Haworth, as a farm at Dapto known as Kembla Grange.
The name Kembla was taken from Mount Kembla and is said to mean "plenty of fowl" or "abundant game". Another explanation is that it is a corruption of the Aboriginal word "Djembla" and means "a wallaby".
Veterans land grants
In 1829, Governor Darling, acting under instructions from the Home Office, sent Surveyor Knapp to survey 10 lots of land on Dapto and Mullet Creeks, each of 100 acres, to be set aside for long-serving army veterans. Knapp was also ordered to select a dry position on each parcel of land for a hut to be built, and to point out the site for the huts to Lieutenant Butler, stationed at Wollongong, who was to direct the building parties (Jervis, 1942; Cousins, 1994).
Of the 10 lots of land set aside for army veterans, only three took up the offer. James Mitchell, John Robins, and John McKelly were British soldiers who had come to Australia in charge of convicts. In addition to 100 acres of land and a hut, the grant also included food for 12 months, and a convict labourer to help work the land, and for whom the grantees were responsible. A fourth parcel of land was granted to the widow of Richard Mallon, one of the veterans. Mrs. Mallon remarried and the land grant was made in the name of Mrs Elizabeth Cray, her name after remarrying. Mrs Cray gave four of her acres to the Catholic Church for the building of a Roman Catholic Church and cemetery. Unsubstantiated reports claim that the old weatherboard building between the convent and Catholic Church in Jerramatta Street, Dapto, was the original church built on Mrs Cray's site, and moved bodily from West Dapto. Eventually, all these blocks became dairy farms (Lindsay, 1934; Cousins, 1994; McDonald, 1976).
Glengarry Homestead, now Glengarry Cottage is the last of the Veteran's Land Grants homes at Kembla Grange.
John Dunlop Wylie
In 1829 a parcel of 2,000 acres was promised as a grant to John Dunlop Wylie. Wylie got into financial difficulties before the grant was actually issued to him, and he was forced to relinquish the land which he had named 'Dunlop Vale', in honour of his uncle James Dunlop, the astronomer. Wylie's mortgagees auctioned both his land and the cattle he had established on it. His cattle were sold to Alexander Berry and his land was sold in two lots, to Andrew Lang and Dr Gerard Gerard. The deed of grant was issued on 3 March 1840 (Cousins, 1994; Jervis, 1942).
Andrew Lang
Lang named his 1,000 acres 'Canterbury', and eventually subdivided it in May 1840 into 34 farms which varied in size from 10 to 70 acres. By 1841 some of these lots were occupied and while there appears to be no descriptions made of the dwellings on them at the time, according to the census, the majority were built of wood, or were bark huts.
Dr Gerard Gerard
Dr. Gerard purchased half of the portion of land granted to John Wylie, and named his property 'Kembla Grange', after Mount Kembla. About the same time, Dr Gerard subscribed 100 pounds towards improving the road through what was later known as Wylie's flat.
Dr Gerard was a founding member of the Illawarra District Council, a council elected by the land owners of the district. The Illawarra District Council had its headquarters in Wollongong, and was established in 1844. Its jurisdiction stretched from northern Illawarra to Jervis Bay in the south.
Gerard was also a leading cattle man in the area, being described as one of the aristocracy of the early dairying industry. Gerard was one of the shareholders of the Illawarra's first steamship company 'The Illawarra Steam Packet Co.' He held a position on the Committee of the Illawarra Agricultural and Horticulture Association and was a successful exhibitor at the district show (Cousins, 1994).
When Dr Gerard moved to New Zealand, 'Kembla Grange' was sold to Robert Haworth.
Robert Haworth
In 1856, when the property was owned by Haworth, it was advertised to let as a farm at Dapto known as Kembla Grange in the Illawarra Mercury. In his 'Early land settlement in Illawarra 1804-1861', Lindsay states that "the Kembla Grange Race Course is on this land." (Cousins, 1994; Jervis, 1942; Lindsay, 1994; Henderson, 1983).
Robert Haworth was born in Bury, Lancashire, England, and was transported to Australia in 1834, after being convicted of forgery. His sentence was for seven years. Upon arrival in Australia he was assigned to the property 'Dunlop Vale', then worked by two brothers, Robert and William Carruth. Here he was employed feeding the pigs and calves. Upon being sentenced to transportation, Haworth, swore never to gamble again and resolved to live a good life. After serving his time he brought his wife and family to the Illawarra district.
Robert Haworth built the fine homestead upon the Kembla Grange property. He was by trade a shoe maker and in his spare time made boots for settlers on surrounding properties. When the Carruth Brothers sold their land, Haworth was preparing to build a tannery in Wollongong, and open up his own business. His tannery prospered and Haworth became quite wealthy.
By 1883, when Dr Gerard was ready to sell his land, Haworth was in a position to purchase it. Haworth made the property one of the showplaces of the day. He went on to become a member of parliament and represented the Illawarra from 1860-1864. Robert Haworth is buried at St. Luke's Church. Brownsville (McDonald, 1976).
William Keevers
William Keevers had been granted 100 acres of land in 1834. He had served in the Inniskilling Dragoons and the 18th Hussars and at Waterloo. He received his grant after serving as a drill instructor to the 1st troop of NSW Mounted Police. He named his property 'Hussar Farm' which he later sold to George McPhail, before moving to the Jamberoo area. Keevers died at Jamberoo, and was buried with military honours in the Anglican cemetery at Jamberoo where his gravestone records his action at Waterloo (McDonald, 1976).
George McPhail
George McPhail had been granted land in 1855, which lay directly on the north side of Keevers' land. When Keevers sold his land to move to Jamberoo, McPhail bought it off him. George's father John McPhail was the schoolmaster at Charcoal (now Unanderra), before settling in the Dapto area where he was the tenant of various farms. George married Elizabeth Smith, daughter of Corporal James Smith. The land for the building of the West Dapto Public School was donated by McPhail, and was part of the land he had initially bought from Keevers. This school opened in 1882 and its first teacher was a Mr Campbell. McPhail was one of the first elders of the Dapto-Albion Park Presbyterian Church, and is reputed to have walked regularly to Wollongong and back to ensure that he attended weekly Sabbath services (McDonald, 1976).
Farming
The majority of early residents in this area cleared the land for farming and the area became a prime dairy area, with produce such as butter and cream being sold in local and Sydney markets.
Up to the mid 1840s, practically all the butter made in New South Wales was made in the Illawarra. The larger properties made butter on a daily basis, from cream obtained by allowing the milk to stand for about 24 hours in broad flat dishes on shelves in the dairy itself. This cream was then churned in kegs into butter. Smaller farms only produced around three churnings a week. After the Illawarra railway line was built, the main depot for this produce became Unanderra (Cousins, 1994).
Railway
A survey for construction of the Sydney to Illawarra railway began in 1873. In 1874, John Whitton, the engineer-in-chief of for railways, was instructed to locate a suitable route between Sydney and Kiama, and the single line was completed in 1888. At this time, the journey from Sydney to Wollongong took 4 hours and 53 minutes. The advent of the railway allowed both coke and dairy produce to be sent directly to Sydney. The Kembla Grange Platform is first mentioned in timetables on 1 January 1890. The platform is located next to the level crossing of West Dapto Road.
On 25 March 1912 a private loop and loading bank for horses was opened for the local race club, which is directly across the road from the station. The loading bank was removed in 1942 when horses were no longer transported by rail. Diesel engines replaced steam in the early 1960s, and trains to Wollongong were electrified in 1986 (Singleton, 1984; Southern, 1978).
Moss Vale - Unanderra Line
The Moss Vale- Unanderra railway line marks the northern most boundary of Kembla Grange. This rail line is in many ways responsible for the industrial development of the Wollongong region. Proposals for a railway link from the Southern Highlands to the Illawarra region had been put forward from as early as the 1880s, when residents of the Moss Vale district sent a deputation to the Minister for Works (Southern, 1978; Jacobson, 1977).
Charles Hoskins, proprietor of Hoskins Iron and Steel Col. Ltd., also petitioned for the rail link to be built, stating that should it be built, his company would establish a steel works and cement plant at Port Kembla, using the proposed line to rail raw materials into the works from the iron ore and limestone deposits in the southern parts of the state.
The proposal was referred to the Parliamentary Standing Committee on Public Works for consideration on 22 November 1922. The estimated cost for the building of the line was 854,024 pounds ($1,708,048). The line would be "30 miles 6 ½ chains long, of 80 pound rail, having a ruling grade of 1 in 30 with I in 75 against the load" (Jacobson, 1977).
On 23 December 1924 an Act of Parliament was passed sanctioning construction on the line, and on 26 June 1925 Premier Sir George Fuller turned the first sod at Unanderra. However, the line was not opened until 20 August 1932, by which time it had cost 1,500,00 pounds sterling ($3,000,000), almost twice the amount approved. The inaugural train left Moss Vale and consisted of 12 cars pulled by engines 3316 and 3269, with more than 300 people aboard, among them Sir George Fuller, who had turned the first sod in 1925 (Jacobson, 1977).
Initially, most freight was limestone en route from the Marulan Quarry to Port Kembla Steelworks, and vegetables from Robertson bound for Sydney. By 1932 freight began to include coal. Today the railway is still delivering limestone from Marulan, and transports scrap steel and steel products out of the district to southern markets. The original 80 pound rail has been replaced by 107 pound rail plant to accommodate increased usage (Jacobson, 1977).
Passenger services commenced on 22 August 1932 with a daily return service, except Sundays. So popular was this service that it was extended within three months to include a twice daily service on Saturdays, plus a daily Sunday service. From 1938 rail motors began to haul the carriages, along with the original steam engines, and several years later the service was fully locomatised (Jacobson, 1977).
Early roads
For information on early roads in this area, see the Brownsville and Unanderra pages.
Former West Dapto Public School
Address: Sheaffes Road, Kembla Grange
Built in 1882, there are two main buildings and toilet blocks. All are constructed of sandstone with corrugated iron roofs. The residence on the site has a verandah on the south and west elevations. The Wollongong Heritage Study of 1991 describes it as a "Group of intact buildings representative of late Victorian small town school. It is uncommon in Wollongong for this type of building to be built of stone" (Ali, 1981).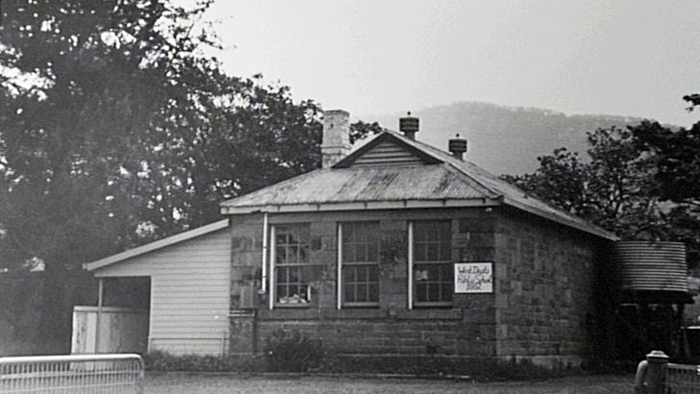 Image: Former West Dapto Public School, image number P10850.
Glengarry Homestead
Glengarry Homestead is listed on the Historical Register for Regional significance because it is the last of the Veterans' Land Grants homes at Kembla Grange (Illawarra Mercury, 23 July 1999).
In 1826 the government had promised a number of lots of 100 acres of land on Dapto Creek, to long serving soldiers. The land upon which Glengarry homestead was built was first granted to John Burnett in 1830. William Sutherland, of Kiama, subsequently acquired the land. Sutherland had arrived in the colony a free man, and was at this time married. He built two slab huts and a larger timber house on the land in the late 1830s. By 1920 the first of the slab huts constructed was being used as a stable. Its location was immediately west of the dairy, on land now occupied by the Materials Recycling Facility.
In 1841 the property was advertised for sale, with a relatively elaborate house which the auctioneer described as "a commodious cottage overlooks the property, and has two sitting rooms, two bedrooms, a large loft with dormant window, lobby, and two wing store rooms". The house at this time was purchased by William Way of Sydney, who subsequently divided the property between his two sons. The sons are described as "farmers, graziers and dairymen", and leased the property to a number of tenants until selling it in 1855.
In June 1863, Thomas Alexander Reddall purchased the property for 4,000 pounds. Thomas was the grandson of D'Arcy Wentworth who owned more than 4,000 acres in the Shellharbour region. Glengarry was sold again a number of times before being purchased by the Waples family in 1903 for 1,500 pounds. From 1903 until the death of Francis Waples in 1940, the property was operated as a dairy farm. During this time the Waples family transformed the previously desolate and barren grounds into a beautiful, lush and attractive garden which featured a fern house, as well as coral trees, figs, hedge plants and agapanthus, with roses featured in the front garden.
In 1975 the property was sold to West Dapto Industrial Development Pty Ltd, and later to Wollongong City Council. The property was neglected for over 25 years and allowed to deteriorate.
The homestead was relocated a short distance from its original site in 2001, and was restored and transformed into an education centre at the Wollongong Waste Education and Visitors Centre, Reddalls Road, Kembla Grange. The total cost of relocating and restoration was $500,000.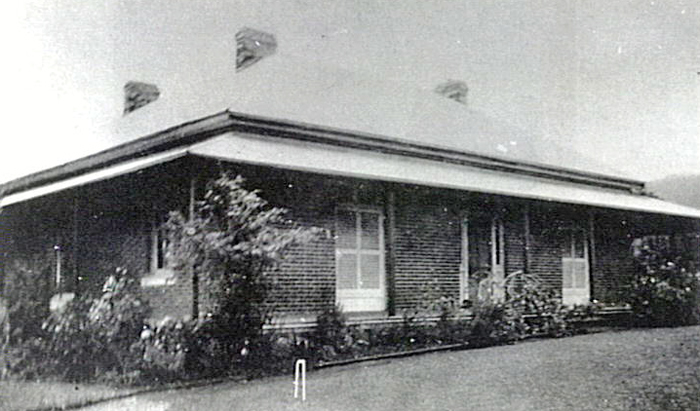 Image: Glengarry Homestead, 1910, image number P13379.
Newton Park
Location: Newton Park is next to the Kembla Grange Race course, on the southern side.
The house is listed on the State Inventory Statement of Significance as: "Substantially intact Victorian colonial homestead. Rare example of an asymmetrical house of this type".
The City of Wollongong Heritage Study, 1999, describes Newton Park as a "stuccoed brick house, hipped slate roof. Bullnose veranda, corrugated metal roof. Large attic. Modifications - addition to side." The home features interior woodwork of cedar, a slate roof and cantilevered cedar stairs (Illawarra Historical Society Bulletin, April 1967).
The house was built in 1845 for David Williamson Irving at a cost of $2,400. Mr. Williamson was the youngest son of John Irving of Scotland. John Irving, David's older brother, had arrived in Australia some time earlier and David had followed his brother, and initially gained work as an Agent to William Howe esq. of 'Glenlee', Campbelltown. Within 12 months, David had married Jane Howe. After the marriage, David and Jane moved to the Shoalhaven, where David rented and stocked land at Terrara. In 1845 the couple moved to Sutton Forest, but only for a very short time. They subsequently bought land in the Illawarra, which David named 'Newton' after his uncle, Lord Newton, who held the seat of Lanarkshire in Scotland. Not long after acquiring the land, David built the house from money sent by his father. The Irving family lived in the house until 1863. At this time David was appointed Police Magistrate at Forbes and he sold the property.
In 1947, the house was bought by Dr and Mrs J Maude. Dr Maude was a Macquarie Street eye specialist. He and his wife restored the house, while at the same time modernising the kitchen and bathroom, keeping the home true to its original character (Illawarra Historical Society Bulletin, April 1967; Illawarra Mercury, 3 April 1968; Young, 1989).
In an article printed by the Illawarra Mercury on 3 April 1968, the house is said to be visited by a ghost. In the article, The National Trust of Australia is reported to have offered a theory of the ghost as being that of John, David Irving's older brother, who had died on an "ill fated north-west passage expedition which perished within the Arctic Circle" (National Trust of Australia). In 1845, John accompanied Sir John Franklin in the expedition on which he died (Illawarra Mercury, 3 April 1968).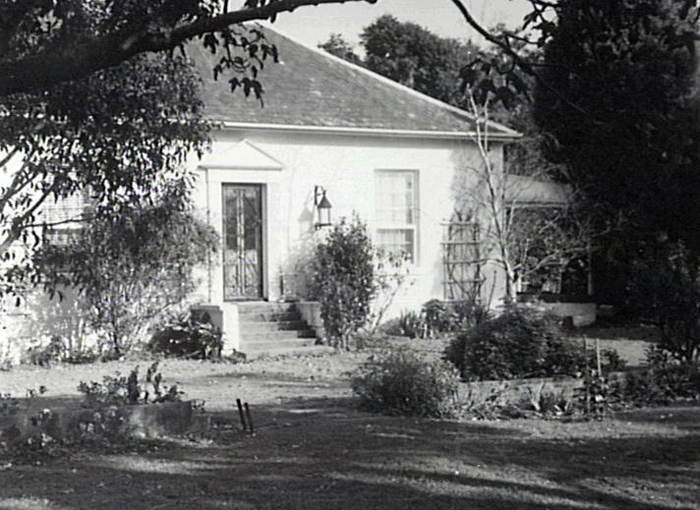 Image: Newton Park, image number P13518.
The land of Kembla Grange forms part of the Sydney Basin, in an area of volcanic sandstone on the lower slopes of the Illawarra Escarpment on predominantly Mount Kembla Sandstone, with underlying sedimentary rocks of the Permian age, as well as Quaternary talus on the higher slopes (Maunsell Pty Ltd, 1992).
Most of the land in Kembla Grange was cleared for farming and grazing, and is dominated by small holdings such as pig farms, dairies, horse studs and hobby farms. The area has a long history of dairy farming and this is reflected in the predominantly pasture land pattern. Since the late 1960s the area's dairy industry had declined for a variety of reasons.
Before clearing, the area was mostly Eucalyptus tereticornis woodland, as well as that of typical rainforest. A small area (approximately 1.5 hectares) still remains on a rocky outcrop on the eastern gully at Whyte's Gully. The area has two major creeks running through it; Dapto Creek runs almost through the centre, with Mullet Creek found on its southern most edges. It has largely been zoned for industrial usage, with an innovative environmental green waste depot at Whyte's Gully. To the west, the land is still largely untouched and the vegetation forms scattered sclerophyll forest (Maunsell Pty Ltd, 1992; Wollongong City Council, 1989).
Most of the local wildlife in the area has been driven away by the widespread land clearing, and weeds such as lantana, blackberries and Crofton weed have become a nuisance in some areas. With the siting of the Waste and Recycling Depot, nuisance animals such as seagulls, ravens and feral cats have come into the area, severely impacting native wildlife. The forested areas are inhabited by brush tail and ringtail possums, lizards and snakes and long necked tortoises (Maunsell Pty Ltd, 1992).
| Date | Event |
| --- | --- |
| 1829 | First land grant promised to John Dunlop Vale who names it 'Dunlop Vale' |
| 1829 | Governor Darling instructs Surveyor Knapp to survey 10 lots of 100 acres for War Veterans |
| 1834 | Illawarra Turf Club established |
| 1840 | 'Dunlop Vale' taken up by Andrew Lang and Dr Gerard Gerard |
| 1840 | Gerard Gerard names his parcel of 1,000 acres 'Kembla Grange' |
| 1840s | Kembla Grange is a leading dairy farm area |
| 1844 | Illawarra District Council is established with Gerard Gerard a founding member |
| 1880 | Government railway line built in the Illawarra |
| 1882 | West Dapto public school established (Kembla Grange); first teacher is Mr Campbell |
| 1890 | Kembla Grange railway platform first mentioned in train timetables |
| 1912 | Private rail loop and loading bank for horses built and opened at Kembla Grange railway station |
| 1927 | Construction of Unanderra - Moss Vale railway line commences |
| 1930 | 'Old Grandstand' Kembla Grange racecourse moved to site (built in 1887 at Wollongong showground) |
| 1932 | Unanderra - Moss Vale line opens; marks northern boundary of Kembla Grange |
| 1942 | Loading bank for horses at Kembla Grange railway station removed |
| 1948 | Kembla Grange Race Club formed |
| 1960s | Diesel trains replace steam engines on Illawarra line |
| 1967 | Wollongong Hot Rod Club formed and commences racing at track at Kembla Grange Speedway |
| 1973 | Kembla Grange Race Club ceases to exist |
| 1973 | Wollongong Racing & Trotting Club forms but is short lived |
| 1973 | Wollongong City Council announces plans to establish a 13 acre lawn cemetery at Kembla Grange |
| 1975 | South Coast Speedway Club formed |
| 1976 | Dept. Sport & Recreation purchases Kembla Grange Racecourse |
| 1976 | A group of local sportsmen, headed by Keith Nolan, form Illawarra Turf Club to run the racecourse |
| 1976 | Racecourse name changed to Wollongong Race Course |
| 1979 | Kembla Grange Speedway renamed Wollongong City Speedway |
| 1980s | Reconstruction of main track at Kembla Grange racecourse |
| 1984 | Kembla Grange Speedway closes and moves operations to Albion Park |
| 1986 | Trains on the Illawarra line electrified |
| 1987 | NSW Government grants $5 million to build new grandstand |
| 1990 | New Grandstand at Kembla Grange Racecourse opens (cost of $6.5 million) |
| 1992 | Illawarra Motoring Museum opens |
| 1992 | Mausoleum at Kembla Grange Lawn Cemetery constructed and blessed |
| 1997 | A.J. 'Bert' Lillye Lounge at Kembla Grange Racecourse opens |
| 2001 | Wollongong Waste Education & Visitor Centre opens, Glengarry Cottage education centre |
| 2003 | Illawarra Turf Club changes name to Kembla Grange Racecourse, but trades as 'Illawarra Turf Club' |
| 2005 | Illawarra Motoring Museum is granted a 21 year license for its new home at Integral Energy Recreation Park (Illawarra Mercury, 2/2/2005) |
| 2008 | The Australian Motorlife Museum (formerly the Illawarra Motoring Museum) officially opens at the Integral Energy Recreation Park (Illawarra Mercury, 18/8/2008) |
Ali, Anne C., Illawarra Region: Historic Buildings and Sites, [Wollongong, NSW]: A.C. Ali, c1981.
Barwick, Kathleen H., Berkeley and surrounding districts: glimpses into the past and present Illawarra, Paddington, NSW: Kathleen H. Barwick-Hooke, c1988 .
Bayley, William A., The Children's Illawarra, Wollongong, NSW: Illawarra Historical Society, 1973.
City of Wollongong Heritage Study. Provisional Inventory. Volume 3. Built Items. Wollongong City Council, 1991.
City of Wollongong Heritage Study. Provisional Inventory. Volume 5. Data Sheets. Wollongong City Council, 1991.
Cousins, Arthur. The Garden of New South Wales: a history of the Illawarra and Shoalhaven districts 1770-1900, [New ed.], Wollongong, NSW: Illawarra Historical Society, 1994.
DAPTO Bicentennial programme of events, Friday 11th to 19th March, 1988; the History of Dapto and the people who have made Dapto a great place to live, [compiled by] the Dapto Chamber of Commerce and the Dapto Bicentennial Community Committee, Woollahra, NSW: City and Civic Public Relations, 1988.
Doyle, Peter and Organ, Michael, Index to references to Illawarra names pre 1856, Woonona, NSW: Illawarra Historical Publications, 1992.
Henderson, Krimhilde & Henderson, Terry, Early Illawarra: people, houses, life, Canberra, ACT: Australian National University, 1983.
Illawarra Historical Society Bulletin, Wollongong, NSW: Illawarra Historical Society, 1945-
Illawarra Mercury, Wollongong, NSW: Illawarra Newspapers Holdings, 1856-
Jacobson, O.F. Illawarra Mountain Railway: New South Wales, Wollongong, NSW: Illawarra Historical Society, 1977.
Jervis, James. Illawarra: A century of history 1788-1888, Sydney: Royal Australian Historical Society, 1942.
Lindsay, Benjamin, A story of early land settlement in Illawarra: with illustrative map. The author, 1934.
Lindsay, Benjamin, Organ, Michael & Doyle, Peter, Early Land Settlement in Illawarra: 1804 - 1861, Woonona, NSW: Illawarra Historical Publications, 1994.
Maunsell Pty. Ltd., Whytes Gully Landfill extension: environmental impact statement, Wollongong: Maunsell, 1992.
McCaffrey, Frank, The history of Illawarra and its pioneers, Haberfield, NSW: The author, 1922.
McDonald, William Graham, Nineteenth Century Dapto: notes on the history of Dapto and its neighbourhood, Wollongong, NSW: Illawarra Historical Society, 1976.
Singleton, Cyril Corbet, Railway History in Illawarra New South Wales, 4th ed., Wollongong, NSW: Illawarra Historical Society, 1984.
Southern, J.L.N., A Railway history of the Illawarra: the history of rail transportation at Australian Iron and Steel Pty Ltd, Port Kembla, New South Wales together with an account of the development of railways and shipping ports in the Illawarra region, Melbourne: Broken Hill Proprietary Co. Ltd, 1978 .
Wollongong City Council. Strategic Planning Section, Local environmental study: West Dapto Stage one release Bong Bong Road. Wollongong: Wollongong City Council, 1989.
Wollongong City Council. Water Testing Laboratory, Port Kembla and Kembla Grange Golf Courses water quality monitoring, Wollongong: Wollongong City Council, 1992.
Young, Frank et. al., Old Pioneer's Reminiscences of Illawarra: (1830s-1920s), Wollongong, NSW: Illawarra Historical Publications, 1989.