Parish: Calderwood
County: Camden
Avondale is a suburb in the south-west of the Wollongong Local Government Area.
Local communities of Aboriginal people were the original inhabitants and Traditional Custodians of Illawarra Land. Their dialect is a variant of the Dharawal language.
Before European settlement, the Aboriginal people of the region lived in small family groups with complicated social structures and close associations with specific areas.
Suburb boundaries do not reflect the cultural boundaries of the local Aboriginal community.
Traditional Custodians today are descendants of the original inhabitants and have ongoing spiritual and cultural ties to the Land and waterways where their ancestors lived.
Alfred Elyard
On 4 October 1834 a grant of 600 acres was issued to Alfred Elyard, whose family had large holdings on the Shoalhaven. His connection with 'Avondale' however was neither long nor close (McDonald, 1976).
In the 1840s Elyard's 'Avondale' grant was acquired by Henry Osborne of Marshall Mount, along with Charles Throsby Smith's 'Calderwood' grant. Osborne also acquired a considerable area on the mountain slopes adjacent to these grants (Lindsay, 1994).
For more information on Henry Osborne and his large Illawarra estate of 4,400 acres, see our Yallah page.
Charles Throsby Smith and 'Calderwood'
Charles Throsby Smith was Wollongong's first pioneer. He was born on 1 March 1798 in Cambridge England. In 1816 he arrived at Sydney Cove and stayed with his uncle at 'Glenfield' near Liverpool. He assisted Throsby, his uncle, around his properties. "In 1820 Charles assisted his uncle to move stock from the Illawarra to Bong Bong near Mossvale. It was at this time that he resolved to stay in the colony. As settlers needed sponsorship, his uncle formally requested Macquarie to allow Charles to stay in the colony, receive a grant of land and become a settler." (Monks 1997, p.6).
In 1835 Charles Throsby Smith was granted 300 acres by Governor Bourke. He had occupied this land for many years before the grant under a promise to him by Governor Macquarie. He called the grant 'Bustle Hill' and the town of Wollongong eventually extended over the whole of his property (Lindsay, 1994). This is the site of the present day Central Wollongong District.
Charles Throsby Smith was the first recorded person to have taken the conscious choice to establish his home in Wollongong. He selected 'Bustle Hill' because of the boat harbour and he envisaged a bustling port. For the remainder of his life he championed the cause of a township called 'Bustletown' (Monks, 1997).
Charles became the Crown Land Agent for the Illawarra and a member of the Illawarra Steam Packet Company, which secured the first steamship service to Wollongong in 1839. His barn became the first school and was also used for Church of England services (Illawarra Pioneers, 1988).
In 1840 a grant of 1,280 acres was given to Charles Throsby Smith. The property was named 'Calderwood' and was granted in virtue of a promise made by Governor Darling in 1829.
"The 'Calderwood' grant is a long narrow strip of land, about half a mile wide and about 4 miles long, squeezed in between the Marshall Mount grant and the less attractive land of the mountain range." (Lindsay 1994, p.23). It was an awkward shape and would have been very expensive to work as a separate holding, hence its subsequent purchase by Henry Osborne (Lindsay, 1994).
In terms of Avondale's history he was an instigator in developing local roads, one of which was the road that lead from Dapto to Bong Bong on the highlands, known as 'Bong Bong Pass'.
From 1862 to 1869 Charles was an Alderman on the Wollongong Municipal Council and he later became the Mayor. In 1867 he died unexpectedly as a result of a gangrenous toe.
More information on early residents and grants in this area can be found on the Dapto and Yallah pages.
In the early days Avondale had some fine cedar trees. A creek flowing through the land grant 'Avondale' became known as 'American Creek' after the American cedar cutters who cleared the land along it.
In 1857 some traces of kerosene were found in the creek and shale was found on the mountain. In 1863 Edward and William Graham rented part of the Avondale estate and their brother had shale from their farm tested by the Government Analyst. "This test proved so satisfactory that he decided to open a shale mine and manufacture kerosene" (Cousins 1994, p. 182). See the Mount Kembla page for details on the Kerosene Works at American Creek.
In 1866 one of the Osbornes purchased 14 alpacas. They travelled from Wingello in the highlands down the Bong Bong Road and seven weeks later were "now depasturing at Avondale, and apparently doing very well." (McDonald 1976, p.41). Gradually the flock depleted due to the need for attention and lack of acclimatisation. By 1880 all traces of the imported alpacas had gone.
Avondale was part of Henry Osborne's large estate and dairying was its primary industry. See the Yallah page for more information on early dairying in Avondale and Yallah.
In 1893, Henry Hill Osborne's executors put up the 'Avondale' farms for sale and most were sold at a price of 14 pounds per acre. Some of the purchasers included Thomas Armstrong, C. Heininger, George Thomas, James Dawes and E.R. Evans (McDonald 1976).
In 1911 Avondale mine was opened by the Illawarra Steam and Coal Company Limited. Four and a half miles of railway was to be built to the colliery (Illawarra Mercury, 1911). This colliery mined the Tongarra and Wongawilli coal seams. It closed in 1920 only to be reopened in 1939. It closed again in 1982 due to a loss of contract to supply coal to the Port Kembla Steelworks.
Huntley Colliery was a new colliery developed by the Joint Coal Board in 1952. It was purchased in 1951 by the Board and the Federal Government to meet the requirements of the new Tallawarra Power Station under construction (South Coast Times, 1952). Prior to its closure in 1989 about 2,300 tons of coal was mined a day at Huntley, which worked the Wongawilli and Tongarra coal seams.
One of the major roads in the early days of Dapto's history was the road that led to the Tablelands via Bong Bong Pass. In 1820 Charles Throsby had written to Governor Macquarie "I have fully established the practicability of a short communication between the coast, at the District of Illawarra, and the new country, in the county of Camden, by a pass in the mountain, several miles to the southward of the original road behind Bulli…" (McDonald 1976, p. 38).
The construction of a road from Dapto to Bong Bong was proposed by George Underwood Alley in 1842 at a cost of 150 pounds for a bridle road to be made to the top of the mountain. A meeting in September 1842 resolved that Alley's line was capable of being made into a good dray road.
In 1843 Surveyor Burke reported that Alley's line was the best 'natural road' for a horse track but the gradient was too steep for the passage of wheeled vehicles. Eight years later in 1851 Surveyor Shone reported negatively on Alley's line as "being exceedingly difficult and abrupt…I cannot ..see the utility of laying out a few hundred pounds on this line of road, when some thousands would be required to render it safe, and practicable even for limited traffic." (McDonald 1976, p. 39).
In 1860 the pass was said to be in a dangerous state because of the increased traffic over it. As late as 1897 efforts were still being made to make the pass usable again. However in 1897-1898 the establishment of Macquarie Pass as a respectable road up the mountain caused Bong Bong Pass to be finally written off as a main road.
Former Avondale Public School
Cleveland Road, West Dapto
This school house was built in 1897 and opened in January 1898. It is a single storey brick building with a corrugated metal roof which has a fibro skillion added to the west elevation. This is a good example of a turn of the century school house and it was a significant public building within a small town setting (City of Wollongong Heritage Study, 1991).
"The school house is a brick structure, 17 x 29 feet well lighted on the south side, and having a chimney in the north wall. The dwelling is also of brick and very commodious." (Illawarra Mercury, 20 January 1898).
The new school building opened with much fanfare in January 1898. The event attracted over 200 people not only from Avondale and Dapto but also from long distances. The teacher was Miss M. Kenzie and the attendance was between 40 and 50 pupils in 1898 (Illawarra Mercury 1898).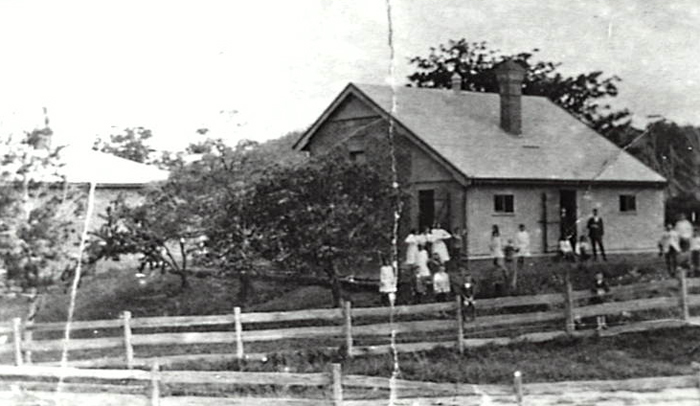 Image: Avondale Public School ca. 1917, image number P01235.
Avondale Homestead
Avondale Road, South Dapto
Built c 1850 by Henry Hill Osborne, this is a fine example of architectural element in a rural setting. It is representative of the early agricultural development in Avondale. The house combines classical sophisticated Georgian Colonial elements with a vernacular Victorian homestead. It is constructed from brick and has a stucco and ashlar finish with verandahs on three sides. There was a slab store built in 1920 (City of Wollongong Heritage Study, 1991).
The National Trust of Australia (NSW) describes Avondale Homestead as "a well detailed and virtually intact mid nineteenth century homestead built by a famous pioneering Illawarra family. The building is a notable landmark in the area and is well sited on the crest of a small hill, approached by a drive flanked by fine hedges of Tacoma and Plumbago leading to a typical Victorian garden around a carriage loop with shrubs and trees. The classical Georgian elements in what is a vernacular Victorian homestead make this a building and setting of particular worth and interest." (Cuttings File, Wollongong Local Studies Library).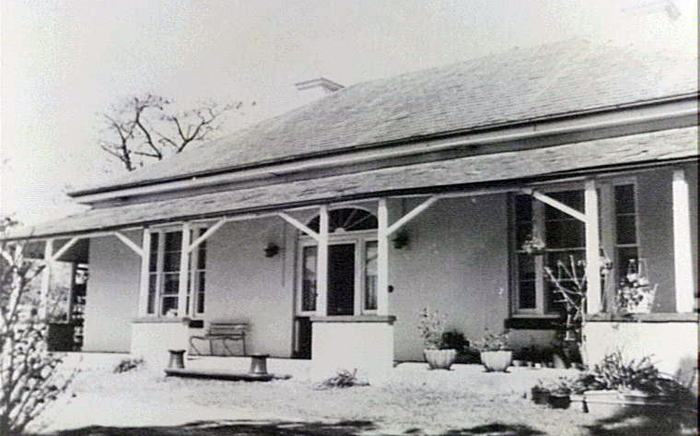 Image: Avondale Homestead, image number P12180.
Lindbrook
South Avondale Road, Avondale
This house is of special interest as it is a slab hut which was constructed in 1886, approximately 50 years after slab huts were commonly constructed. It is a rare late Victorian slab hut with post and rail and a corrugated metal roof. It has timber and pressed metal ceilings and walls and vertical boards. It has been extensively added to since its construction and is in good condition (City of Wollongong Heritage Study, 1991).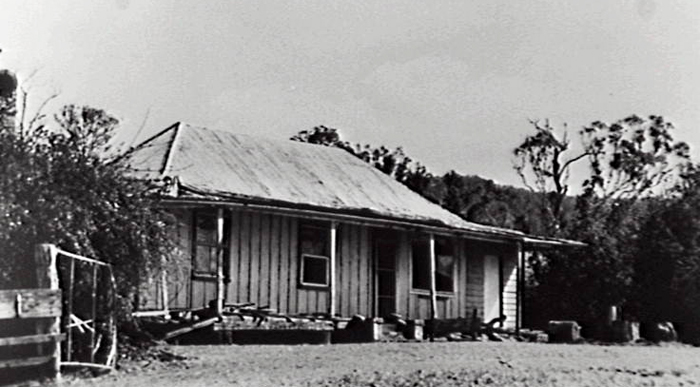 Image: Lindbrook, image number P01015.
Avondale's environment is dominated by Mullet Creek which runs through the centre of the suburb, and the Illawarra escarpment which is on its western boundary.
The Mullet Creek catchment has an area of 73 square kilometres and rises from sea level on the shores of Lake Illawarra to over 570 metres on the Illawarra Range. The upper reaches of the catchment are subject to very intense rainfall and the resulting runoff can cause serious flooding in the flat lower reaches (Webb, McKeown & associates, 1987).
Avondale's escarpment vegetation primarily consists of the Blackbutt - Bluegum Forest - tall open forest. Dominant tree species include Blackbutt (E. pililaris), Bluegum (E. botryoides/saligna), Ironbark (E. paniculate) and Turpentine (S. glomulifera) (NSW Parks & Wildlife Service, 1988, p.7).
Other tree and shrub species found on the escarpment at Avondale are: Eucalyptus tereticornis, Melaluca, Acacia, Lantana camara, Ficus, Notalaea, Diospynes sp, Cleodendron, Melaluca stypheliodes, Brachychiton popueneum, E. quadrangulata, Dendrocnide and Pittosporum (NSW Parks & Wildlife Service, 1988).
The following types of fauna were found at Avondale by the 1998 Vertebrate Fauna Study.
Birds:
White-browed Scrubwren
Eastern Whipbird
Brown Gerygone
White-throated Tree Creeper
Lewins Honeyeater
Reptiles:
Lampropholis delicata
Hemiergis decresiensis
Saproscincus musteline
Saiphos equalis
Physignathus leseurii
Mammals:
Sugar gliders, Petaurus breviceps
Common Ringtail Possums, Pseudocheirus peregrinus
Common Brushtail Possums, Trichosurus vulpecular
A. Stuartii
Swamp wallabies, wallabia bicolour (NSW National Parks & Wildlife Service, 1998).
| Date | Event |
| --- | --- |
| 1820 | Bong Bong pass was discovered by Charles Throsby |
| 1834 | 600 acres known as 'Avondale' was granted to Alfred Elyard, Chief Clerk of the Supreme Court |
| 1840 | A grant of 1,280 acres known as 'Calderwood' was given to Charles Throsby Smith on 29 February |
| 1840s | Both 'Avondale' and 'Calderwood' became part of Henry Osborne's large holdings in the Illawarra. The total area of this estate was 4,440 acres. |
| 1842 | There was a proposed road construction from Dapto to Bong Bong known as Alley's line |
| 1843 | Alley's line was used as access to Bong Bong Pass and the highlands |
| 1850 | Avondale homestead was built by Henry Hill Osborne, Henry Osborne's son. This property was part of the early agricultural development of Avondale. |
| 1860 - 1890 | Avondale was primarily a dairying region, part of Henry Osborne's large estate |
| 1861 | Avondale National School was first opened |
| 1866 | Alpacas travelled down Bong Bong Pass and were pastured at Avondale |
| 1893 | Henry Hill Osborne's executors put up the Avondale farms for sale. Most were sold at a price of 14 pounds per acre. |
| 1898 | The Avondale School house was built and officially opened in January |
| 1898 | Bong Bong Pass was no longer used as a main road |
| 1910 | Avondale Colliery was opened. It mined the Tongarra and Wongawilli coal seams. |
| 1920 | Avondale Colliery closed |
| 1939 | Avondale Colliery reopened as a privately owned mine and supplied coal to the Port Kembla Steel Works |
| 1952 | Huntley Colliery was a new colliery developed by the joint coal board to meet the requirements of the Tallawarra Coal Station. |
| 1982 | Avondale Colliery ceased operation |
| 1989 | Huntley Colliery ceased operation |
| 1990s | Avondale remains primarily a rural area of Dapto despite a proposal for a residential subdivision in the 1970s |
| 1997 | Illawarra's first private rural residential estate 'The Cedars' is being developed (Proquest) |
| 1998 | 'The Cedars' 37 lot subdivision available for sale (Proquest) |
| 2006 | New owners of Avondale Colliery plan to reopen the mine 20 years after its closure (Proquest) |
| 2006 | Gujarat NRE starts producing coal at Avondale No. 1 Colliery (Proquest) |
| 2010 | Upgrade to Avondale Road level crossing begins (Proquest) |
| 2015 | The Geographical Names Board of NSW approved the renaming of Penrose and it incorporated it into Avondale, to eliminate confusion with another suburb called Penrose in the NSW Southern Highlands |
City of Wollongong Heritage Study, Wollongong City Council and McDonald McPhee Pty. Ltd., [Wollongong, NSW: Wollongong City Council], 1991
Cousins, Arthur, The Garden of New South Wales: a history of the Illawarra & Shoalhaven Districts 1770-1900, Wollongong, NSW: Illawarra Historical Society, 1994
Lindsay, Benjamin, Organ, Michael & Doyle, Peter, Early Land Settlement in Illawarra: 1804 - 1861, Woonona, NSW: Illawarra Historical Publications, 1994
Illawarra Mercury
Local Studies Cuttings File
McDonald William Graham, Nineteenth Century Dapto: notes on the history of Dapto and its neighbourhood, Wollongong, NSW: Illawarra Historical Society, 1976
NSW National Parks and Wildlife Service, Vertebrate Fauna Survey of the Northern Illawarra Escarpment, Wollongong, NSW: National Parks and Wildlife Service, 1998
South Coast Times
Webb, McKeown & Associates and Wollongong City Council, Mullet Creek Floodplain Management Study: phase 1, Wollongong, NSW: Wollongong City Council, 1987