Moving forward on Otford Causeway
Wednesday 31 May 2023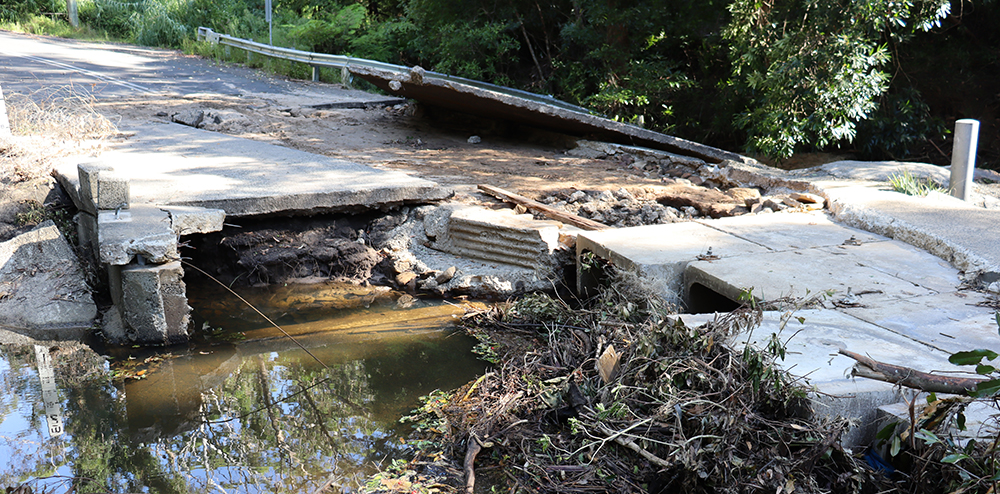 It has been about three-and-a-half months since the flooding of Otford Causeway on 9 February which caused such significant damage, that Wollongong City Council had little choice but to close what was left of the road.
Read more: Rebuilding the causeway on Otford Road.
On Monday 29 May, at the Council meeting, Council voted to not invite formal tenders but to move forward on a targeted procurement process that would allow for a request for quotations from contractors with the experience and ability to undertake the repair works.
By taking this step, we're able to fast-track the works with the intention of replacing the broken causeway ahead of the start of summer.
"We know the community of Otford and surrounds are very concerned about accessibility with the unfortunate closure of this important road link,'' Wollongong City Council's Director Infrastructure and Works Joanne Page said.
"The flooding caused significant damage to the existing causeway structure and adjacent roadway. There was not really any option but to demolish and remove the remaining pieces of the culvert and roadway and replace it.
"Our teams have been working hard to come up with a plan that will allow this work to happen in a timely way. By moving forward with a targeted procurement process we're able to go out and directly engage with contractors who are able to carry out this work in a timely manner. It's the same process that we undertook last year that allowed for repair works on Harry Graham Drive, which was also damaged in a weather event.''
Wollongong City Lord Mayor Councillor Gordon Bradbery AM said he expected the community would be heartened to hear that Council was working to reopen the road as soon as possible.
"We know there are concerns in the community because this is an area that is at greater risk during the bushfire season,'' he said.
"I can assure this community we're doing everything we can to get the road reopened. For example, while pre-cast materials are often the preferred method for work like this, there is a significant lead time on these items at the moment. So, the team are focussed on alternative methods to construct the causeway and ultimately reduce the time this road is closed to traffic.
"The design should be finalised shortly and is a like-for-like replacement with the previous causeway. There are some small tweaks that will improve road safety, reduce the blockage of the culverts during times of heavy rain, and allow for the movement of fish which are important to the biodiversity of the Hacking River.''
Read the full report considered by Council.
As the plans for the works are finalised, Council will be in contact with local residents to notify them of the works schedule.