Plants and Poems! Students' creative roots help grow Urban Forest
Wednesday 3 August 2022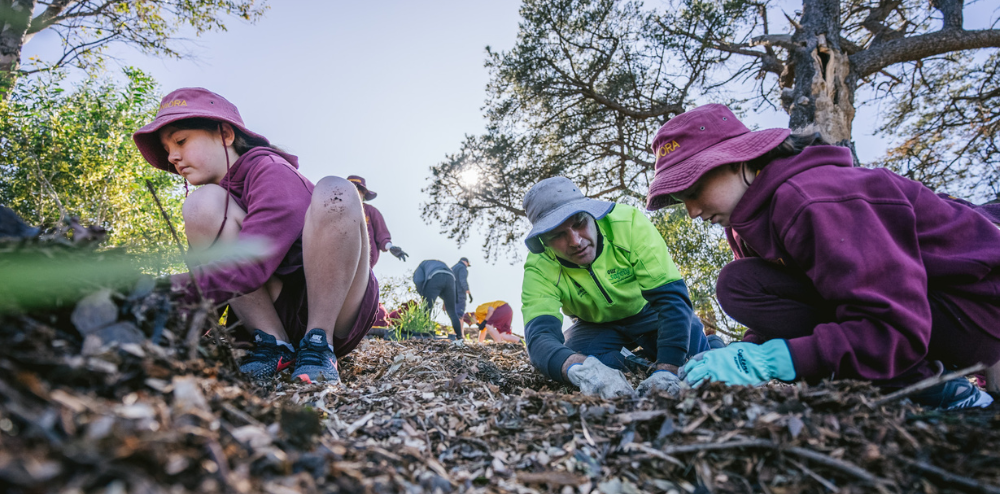 The power of many hands – and many words – made light work in one of Bulli's parks last Friday, with local students helping to plant a greener tomorrow.
On Friday 29 July, students from Waniora Public School and St Joseph's Primary school joined in a nature filled morning and brought new life to Arthur Osborne Grove in Bulli.
Around 60 students worked with Council staff to plant a selection of native shrubs and grasses around the Grove's pump track. They spent time with award-winning writer and NSW Aboriginal Woman of the Year 2020 Kirli Saunders OAM, who led a nature-based Caring for Country poetry workshop.
The two activities were delivered in partnership by Wollongong City Council and Red Room Poetry as part of growing POEM FOREST in Wollongong.
"It's important for us to increase the number of trees and plants across our outdoor spaces as well as caring for them. Our planting days with local schools are always a highlight for Council staff, who play an important role in educating our younger generation on how they can support a greener future," Wollongong City Lord Mayor Councillor Gordon Bradbery AM said.
"The planting day was unique in that we had Red Room Poetry and proud Gunai woman, Kirli Saunders, join us as part of POEM FOREST, a free competition that builds on positive words to increase tree plantings across our city."
POEM FOREST invites students and teachers to submit a nature poem. For every submission received across Australia, a tree gets planted in Mount Annan Botanic Garden. Last year, more than 5,000 trees were planted in Mount Annan Botanic Garden.
Thanks to the partnership between Red Room Poetry and Wollongong City Council, this is the first year a Wollongong-specific prize has been offered which includes $500 cash, a $50 voucher to spend at Wollongong Botanic Garden's Greenplan Nursery, free plants and a school excursion – in addition to the national prizes.
"POEM FOREST is about deepening our connections with plants and place. We want young people to know that their voices matter and that their actions can make a difference when it comes to caring for country. We know students are so passionate about the environment and every tree we can plant helps to make a greener future for everyone. Plus there's lots of fantastic prizes!" said Red Room Poetry Artistic Director Dr Tamryn Bennett.
The workshop led by Kirli invited students to take a moment to reflect on their morning planting and put pen to paper the gratitude they have for Country and nature. Their poems will also be entered into the competition.
Kirli Saunders believes that people are more inclined to care for Country that they're connected to.
"This event provided valuable and important moments for students as they listened to Elders, wrote stories, and shared yarns while planting native plants," she said.
"The morning began with Aunty Sharralyn Robinson, who gave a warm welcome and explained the cultural significance of the Lomandra, that the students planted around the bike track.
"I felt really lucky to contribute to regenerating the land I live on, and supporting cultural connections between schools and community, while also facilitating literacy development."
Read more about the POEM FOREST in our media release: What's in a poem? That which we call a tree...
"We've also invited local students to submit drawings that share how they feel about trees and why our outdoor spaces are important to them. We're keen to display these pictures alongside poems in the park in the future," Cr Bradbery said.
"Friday's event is a positive outcome for our community, and all of their creations will promote the benefits of community greening in and around Bulli Park."
There's still plenty of time to enter the POEM FOREST Prize competition. Open to all students living or attending school on Dharawal Country within the Wollongong LGA, send your nature poem in before Friday 23 September.
Looking for inspiration? Here are a few entries we've received so far.
Rosalind G. excerpt from My Singing Tree
Year 6, Illawarra Christian School:
My tree shot up a real long time ago, soon brushing the surface of the sun, she stays, rooted to her spot, watching time slip by,
To me she looks majestic, standing tall, sun shining through her leaves, kookaburras comfortably nestled in her branches.
Daniel L. excerpt from The Rainforest
Year 6, Illawarra Christian School:
The Mother of Nature spoke to the forest,
The forest whispered "We can't survive"
The animals and plants of the forest fight for survival,
But one by one they fall,
The disasters in the rainforest is like the sun hurling fire,
The rainforest will fall beneath waves and heat,
Unless humans lend a hand,
People and nature fighting together for survival
Alysha L. from Illawarra
Year 7, Lake Illawarra High School:
Green, blue and red
Squares and long rectangles in water
I feel very small
Near the trees taller than the school
Salty air and fresh air from the trees
The trees who are whooshing around
Cold and cloudy
Millions of years
The trees and lake are so old
The trees are dancing around
The is flying around
It's probably going to rain
Feeling relaxed
The trees and the smell of a salty lake
As tall as a tree
As soft as grass
As old as a lake
Swoosh
Drip
Crash
Kaleb R. from Illawarra
Year 7, Lake Illawarra High School:
Green, blue and gray
Circles and squares all around
Smaller than the trees around the lake
The smell of ocean air
Hanging around
Birds chirping
Ocean waves
The wailing wind loudly screams
Always rainy, sometimes sunny
The tree's age is unknown
The trees like to dance
While thinking of long grass
When in nature I feel great
The tall eucalyptus trees
Soft brown dusty dirt
Ocean breeze never gets old
Wheeve wash wail
---
Photos by Tad Souden