We're working on many projects to support the growing community of West Dapto.
Most of our work so far has focused on the West Dapto Access Strategy, which is a plan to create better roads and transport. We're also working to reduce flood risks in the area.
In the future, our work will expand to include things like sports and community centres, parks and playgrounds and other public facilities.
Council's current projects in West Dapto are shown below.
Ongoing works in West Dapto
Students from Dapto High School recently took a tour of our Fowlers Road to Fairwater Drive work site. Here's what they had to say.
We've been working hard to ensure the Fowlers Road to Fairwater Drive Link is on track to open this year. It will provide a flood reliable east-west connection for the growing suburbs of West Dapto to Dapto Town Centre, the Princes Highway and M1 Motorway. This is one of the largest infrastructure projects ever undertaken by Council. It includes a four-lane road, shared path, two bridges, flood mitigation construction, a significant landscape package, the deviation of Marshall Street under the main bridge and road widening at Princes Highway and Fowlers Road. This new link road is about 1.3km in length. It will provide a flood reliable access route, reduce congestion and improve connection to the wider road network around West Dapto.
Last year we opened the Marshall Street deviation under the new bridge in response to community feedback about maintaining this continuous north-south link in Dapto. We also asked the community for suggestions to name the main bridge. We received many suggestions and Council endorsed the name Karrara Bridge on 9 December 2019. Karrara is the traditional Aboriginal name for Upper Mullet Creek. We've also been working with the community to come up with ideas for a large mural to be painted underneath Karrara Bridge at the Marshall Street deviation.
We're into the final stage of work with the Princes Highway / Fowlers Road intersection being widened to allow for additional turning lanes and improved pedestrian crossings. You can view the plan for this intersection PDF, 4546.22 KB.
Throughout this stage you'll see:
tree removals
service relocations
drainage works
road widening and construction
footpath and driveway construction
kerb and guttering
new traffic light installation
remediation works for identified properties
landscaping.
During construction both the Princes Highway and Fowlers Road (east of Princes Highway) will remain open. Traffic controls will be in place at times. There'll also be some changes at the intersections of MacCabe Street and the Princes Highway, Elizabeth Street and the Princes Highway, and Yorkshire and Fowlers Roads.
These Frequently Asked Questions will help with some of your enquiries.
In addition to funds provided by Council, initial funding for this project has been secured from the Australian Government; the NSW Government - Infrastructure NSW's Restart NSW Illawarra Infrastructure Fund; the NSW Government - Office of Local Government's Local Infrastructure Renewal Scheme; and a Design Grant from NSW Government - Department of Planning and Infrastructure.
Take a look at Karrara Bridge in our latest drone footage below.
.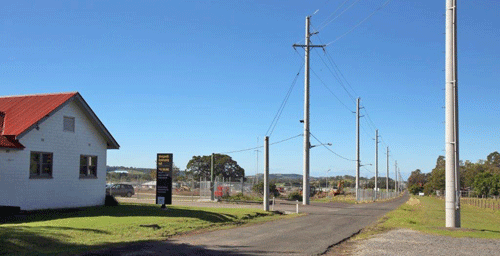 Wongawilli Road, pictured in 2017, will be upgraded from Wongawilli Community Hall to Shone Avenue.
The upgrade will provide safer access for pedestrians, bicyclists, residents and visitors. We anticipate that there will be an increase in residents with the development in the area. This upgrade will help with access and reliability during times of flood and heavy rain.
Funding for this project has come from developer contributions under the West Dapto (Section 7.11) Development Contributions Plan, a Federal Government grant, through the Building Better Regional Cities, and the NSW Restart Resources for Regions program.
Completed works in West Dapto

In 2014 we completed work to replace a single lane bridge on Shone Avenue. it was replaced with a wider bridge allowing two-way traffic. The bridge was raised 2.7 metres, making Shone Avenue more accessible during periods of heavy rain. The alignment of the road was changed improving lines of sight and increased safety. We now have shared paths on both sides of the road, providing pedestrians and cyclists with improved safety.
As part of stage two, we replaced an old culvert with a new four-lane bridge on Shone Avenue. The bridge is higher, removing the dip in the road. This new bridge allows better access during periods of heavy rain and flooding. The works also included kerb and guttering and extension of the shared path.
Both projects were funded by the Australian Government's Building Better Regional Cities Programme (BBRCP).

We extended Fairwater Drive from Highcroft Boulevard to Bong Bong Road and from Sierra Drive to Cleveland Road. The new section of road is called Daisy Bank Drive and provides an alternative link from Horsley to the Princes Highway. You can now cycle or walk on the shared pathways along side the new road.
The project also included the construction of a through road in front of Dapto Primary School. This is for student pick up and drop off. Residents can also access Sierra Drive and surrounds.
The project was funded by the State Government's Local Infrastructure Fund (LIF). Works were completed in 2011.

To improve safety we put in traffic lights at the intersection of Cleveland Road and Marshall Streets, established a 'No Right Turn' into Marshall Street from Cleveland Road, and built a median strip from Mullet Creek bridge to Western Avenue.
New and wider footpaths and a pedestrian safety fence were constructured from the rail bridge to the Princes Highway to provide better access for students and pedestrians.
The single lane bridge over Mullet Creek was replaced with a higher two lane bridge. This now provides reliable access during heavy rain. A roundabout, a 'kiss and drop zone' (car park) and new school bus zone were also constructed.
The project was funded by the State Government's Local Infrastructure Fund (LIF). Works were completed in 2014.

With the increase in housing in the area, West Dapto Road will become a more important transport link. With issues of flooding, rail crossing, blind corners and narrow carriageway the road needs significant work to upgrade. We completed research in design and a flood study for the area.
The upgrade of the intersection of West Dapto Road and the Princes Highway was completed in 2014. Including access to the Illawarra Turf Club meant the intersection is now four-way. Traffic lights, a left turn lane from West Dapto Road and a new shared path were included in the upgrade.
The project was funded by the State Government's Local Infrastructure Fund (LIF).