It's been a tough few years for Wollongong's local businesses.
Now is the time to think local first, and shop the 'Gong. There are so many ways to support your community. Celebrate locally or see local shows. Hire local tradies, buy local art, or discover unique shops and products.
By spending locally, you'll not only help businesses to thrive, you'll also help to keep jobs here in Wollongong, and that benefits our entire community.
From Helensburgh to Yallah.... We Shop the Gong!
Why spend locally?
Small business is the heartbeat of our community. When you spend $1 in a local business, 67 cents stays right here in Wollongong*.
Where your dollars go, new jobs follow. With around half of all Australians employed by small businesses*, spending in a local business helps your friends, family, or even yourself stay employed.
In the past 12 months alone, Wollongong residents have spent over $1 billion outside of our city**. Think local first, to keep much-needed funds in our community.
*Go Local First data, 2021.
**Spendmapp data, 2022.
If you're looking for unique or specialised products, go local first. Our passionate local businesses are innovating for the future, offering you more choice in world-class products and services.
You can trust your local to offer genuine expert service, and staff who are dedicated to their field.
Wollongong has it all! With so many great local businesses, you can eat, drink, play and shop in one easy to get around location.
If you're shopping online, don't risk delivery delays. Click-and-collect with a local business and enjoy convenience and reliability.
Real people, real stories
Every local business has a real story to tell. Here's just a few shared recently.
To read more, visit our Stories page or head to Instagram.
Share the love
Tag us on Instagram and Facebook when you shop local: @weshopthegong or use #weshopthegong.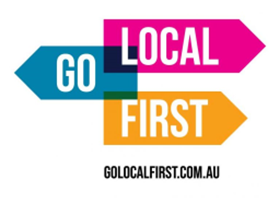 Stay up to date
Subscribe here to get campaign news straight to your inbox.