The area we know today as Wollongong was originally inhabited by the Dharawal people (also spelled Tarawal or Thuruwal). The Traditional Custodians live and care for Country here in the Illawarra, as they have done for thousands of years. See our Aboriginal Culture and Communities pages for more information.
The name Wollongong is said to originate from the Aboriginal word woolyungah, meaning five islands.
In 1815 some of the Illawarra's Traditional Custodians led the first European settlers and their cattle down the escarpment. This marked a new chapter in the story of our area.
Our current local government area was established on 12 September 1947. It was originally called The City of Greater Wollongong, formed by the joining of the smaller councils of Wollongong, Central Illawarra, Bulli and Northern Illawarra. The first Mayor of our current local government area was Alderman Harry Graham.
In 1970, Queen Elizabeth II granted the title of Lord Mayor to the city, and our current name 'City of Wollongong' was adopted.
The knowledge and dreaming stories of our Traditional Custodians has been layered with a more recent history of timber-getting, farming, mining, industry, tourism and building. All this has occurred in the setting of our beautiful beaches and the magnificent escarpment.
Wollongong City Libraries
Our libraries are a great resource if you want to learn more about local history:
Thematic History of Wollongong
Our Thematic History of the City of Wollongong PDF, 6493.3 KB report was prepared in 2010 as part of the Wollongong Heritage Study review. It gives a general overview of the history of our city.
Heritage Trails
Virtual Museum
Illawarra Remembers
Aerial Maps
Our aerial maps let you compare aerial photos of Wollongong from the 1940s to recent times.
The NSW Office of Environment & Heritage has a searchable list of heritage items. This includes item on local and state heritage registers, declared Aboriginal places and interim heritage orders.
Visit the Office of Environment & Heritage website to search for an item.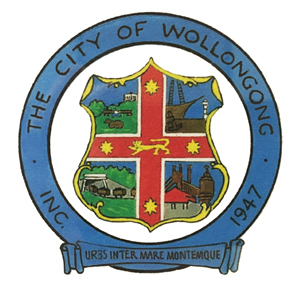 Our city's crest was designed in 1948. Its motto 'Urbs inter mare montemque' is Latin for 'City between the mountains and the sea'.
The four quarters of the crest represent our traditional industries: farming, the port, coal mining and the steel industry.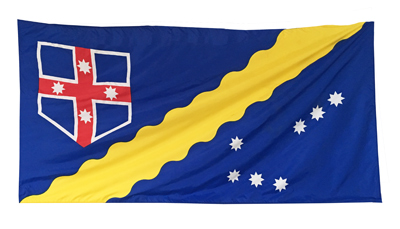 A public competition to design a flag for our city was held in 1981. The winning design by John Mulhall of Cringila was adapted to create our flag.
The elements of our flag include:
An adaption of our crest and the Coat of Arms of the State of New South Wales in the top left corner
A dividing strip representing our golden coastline, which separates the blue of the sky and the ocean.
Stars representing the constellation of Orion in the lower right segment.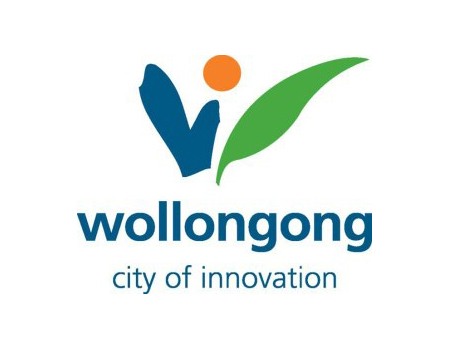 Our logo is a stylised 'W', with colours chosen to represent our natural environment – the sun, sky, sea and mountain range.
Council works to preserve and celebrate our city's heritage. Read more on our Heritage Work page.