Andy Ophee
Andy Ophee is a Wollongong-based musician who started painting large fluoro banners to decorate gigs 15 years ago, and is emerging as one of Wollongong's most exciting visual artists.
He is inspired by the great screen printers of the 70s and 80s like Redback Graphix, Tin Sheds, Toby Zoates, and their use of bright block colour framed in black. Also of inspiration is a deep love of First Nation and Tribal Art from around the world, from Cook Island Tivivies, Fijian Tapas, Vanuatu Masks, Sepic River Shields, African Fabrics, Amazonian stitch work and of course our own First Nations' many styles of art.
Blue Light Boogie is a fluorescent art display created by Andy Ophee, during the second year of COVID lockdowns. The 10-banner installation celebrates the music community, who were hard-hit by COVID restrictions. Each banner can be viewed as individual pieces, although the designs are intended to be inclusive and representative of community. Together, this work shows the power of artists coming together to play as one and evokes a sense of wonder and joy.
"Blue Light Boogie is a song written by Jessie May Robinson some 80 years ago and popularised by Louis Jordan. Coincidentally this was around the same time that the Switzer Brothers invented the first fluorescent pigments. I like to think that we have been dancing under the blue light for 80 years".
"The intention of this exhibition is to celebrate music, art and the coming together of community. Art and music are not to be isolated and confined to concert halls and galleries because they play a vital role in our ceremonial and cultural health, from weddings and funerals, political protests, and larger events where we come together to celebrate our unity and diversity".
Andy Ophee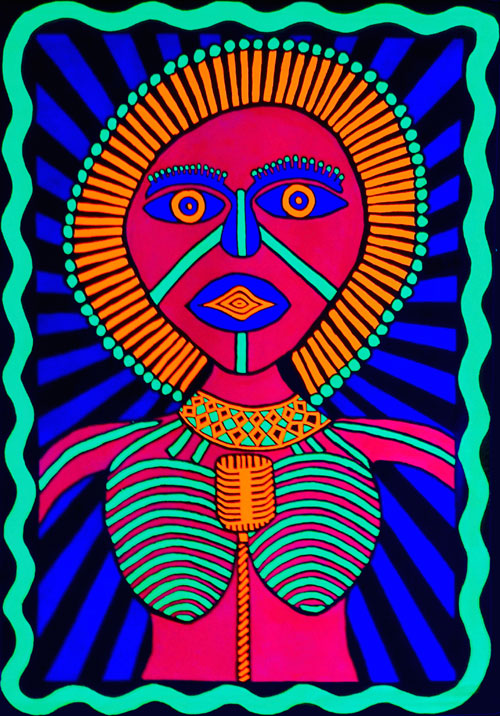 Above: Andy Ophee, Black Matriarchy, 2022, silk screen ink on canvas