Britta de Laat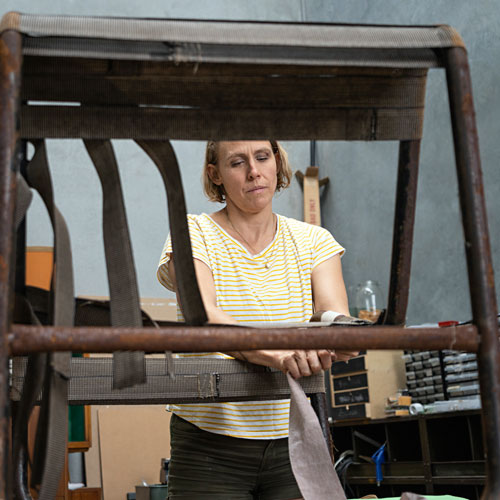 Britta de Laat started a lifelong passion of salvaging old furniture while she studied Fine Art at the renowned Central St Martins College of Art in London.
In the days before gentrification hit East London, she roamed the streets of Shoreditch in search of the perfect photoset: Grimy Street corners, uncanny viaducts and evacuated warehouses filled with weird and wonderful stuff left behind. Traces and memories of the past were quintessential to her artwork, installations and sculptures with integrated video and photographic images. From these urban ventures, many items, lost and found, such like a Chesterfield sofa, made it back into her warehouse.
Only years later, while living in Amsterdam with a young family, Britta learned the trade of upholstery and founded her successful restoration business, dumped & ditched. She blissfully sources old, unsought pieces of furniture and turns them into unique, truly beautiful statement objects.
In UPSURGE, Britta picks up her Fine Art practice where she left it years ago, and integrates her skills as craftswoman to create contemporary sculptures that explore the interconnection between materialistic creation, the earth and humanity. The contraposition of creative conception and the inevitable decay of materials shine a sombre picture on the sustainability of consumerism the earth so urgently needs.
Britta was recently cast as the furniture restorer and upholsterer on the Australian version of The Repair Shop, due for streaming in May 2022. She will also be hosting a series of workshop in collaboration with the Sydney Living Museum at the Anne Seidler House this winter.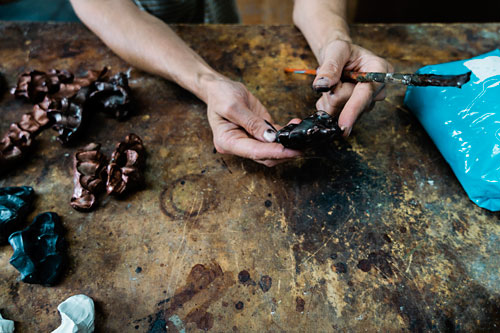 Above: Britta de Laat, work in progress, 2022