Virginia Settre
UPSURGE exhibition curator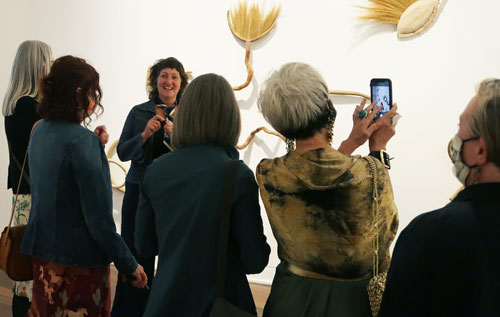 "My career has revolved around developing arts projects, exhibitions, and events, with a focus on fostering talents of emerging artists, or creatives from culturally and linguistically diverse community. I broker partnerships with diverse stakeholders to enable meaningful creative dialogue and engagement with the wider community. I bring diverse experience in coordination and delivery of arts projects and have moved towards creative placemaking and unique art exhibitions. My most recent curatorial project was LORE, at Wollongong Art Gallery in 2021, on behalf of the Illawarra Association of Visual Arts IAVA.
I attained an Honours degree in Fine Art through Curtin University in 2017, after completing a double major including a Visual Culture degree. Here I was completely absorbed in inspiring subjects such as Australian Indigenous Art, Perspective on Beauty and Art and the Environment. Prior to completing my BFA (Hons) I had attained an Advanced Diploma of Visual Art at West Wollongong TAFE, were I majored in Painting and Photography.
I am also a theatre costume maker and event decoration designer. I have created elaborate headwear and corsets for films such as Moulin Rouge and Star Wars, as well as worked for Opera Australia amongst other production contracts. Also, I am a founding director of a social enterprise project that began in 2014, where I work with community to design and create culturally specific textile art installation at festivals and events.
I am delighted to present UPSURGE: Art Emerge to the art-loving public in Wollongong. This is a pilot event that I, along with the supporting officers in Wollongong City Council's Cultural Development team, are very excited about. We can't wait to see how this event unfolds over the next few years.
One thing I am sure of is that the high calibre of artists in this inaugural exhibition will ensure a future of unearthing interesting artists and artisans who live and practice right here in Wollongong.
Wollongong has this moment to acknowledge and embrace the talent of our creative community, as they emerge and flourish."