Rock fishing has been labelled as one of the most dangerous sports in Australia, claiming the life of about 13 people each year.
Regardless of your fishing abilities, the ocean can be extremely dangerous and unpredictable.
Wearing a lifejacket while rock fishing is mandatory in the Wollongong Local Government Area (LGA).
Rock Fishing Safety Act 2016
On 12 September 2022, Wollongong City Council resolved to opt-in to the Rock Fishing Safety Act 2016, to make life jackets mandatory for rock fishing at high-risk locations.
A high-risk rock fishing location is defined in the legislation as 'naturally occurring rock platforms or other rock formations exposed to ocean swell within a declared area'. See our map PDF, 3551.54 KB to explore identified high-risk rock fishing locations across Wollongong.
On 23 November 2022, the Wollongong LGA was gazetted in legislation as declared area where high-risk rock fishing takes place
From 23 November 2023 after an initial 12-month moratorium on infringements, enforcement will be pursued by NSW Police through the issuing of Penalty Infringement Notices, paid into the Recreational Fisheries (Saltwater) Trust.
You can also click the image below to open a larger view of our rock fishing safety signage.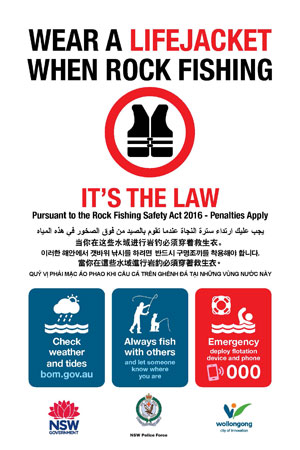 Common questions about the Rock Fishing Safety Act 2016 in Wollongong
Rock fishing continues to be one of Australia's highest-risk sports and recreational pastimes. Since January 2021, six rock fishers have lost their lives at the rock platform known as Honeycomb Rocks at Port Kembla, Wollongong.
Since these tragic events, Council has actively engaged with key stakeholders to put strategies in place to reduce the likelihood of rock fishing tragedies occurring within the LGA.
The Rock Fishing Safety Act 2016 continues to remain the only available legislative means in New South Wales to have rock fishers mandated to wear an appropriate lifejacket when fishing at high-risk locations.
By opting into the Rock Fishing Safety Act 2016, the Wollongong Council Local Government Area (LGA) has become an area declared as high risk for rock fishing.
Under the Act, a high risk rock fishing location is a "naturally occurring rock platform or other rock formation exposed to ocean swell".
This means that all naturally occurring rock platforms and rock formations exposed to ocean swell within Wollongong LGA are declared high risk areas and subject to enforcement. While man-made structures such as break walls or concrete structures often pose the same dangers, they are not included in the definition. However, you should always take the same precautions in these areas for your own safety.
View the maps PDF, 3551.54 KB to see which locations are declared High Risk Rock Fishing Areas.
The standard approach used by Local Governments across coastal NSW is to include all rock platforms as high risk rock fishing locations.
This is due to there being a range of variables that can impact coastal areas at any given time, such as swell and weather conditions.
There is no public access to Five Islands Nature Reserve.
Rock fishers must wear a lifejacket in the declared high risk areas at all times from 23 November 2023.
We encourage rock fishers to wear a lifejacket at all times, even in areas not covered by this legislation, due to the risks and hazards of rock fishing.
The NSW Police are responsible for enforcing the Rock Fishing Safety Act 2016.
Yes. We are aware that community education is critical in raising awareness and creating attitude and behaviour change, and we know that our community needs to be supported through these changes.
Council will continue to work with other organisations and government agencies (such as the Department of Primary Industries, NSW Police and Surf Life Saving NSW) to help educate our community on rock fishing safety and the new legal requirements.
The NSW Government is responsible for lifejacket safety standards. They advise that there are a range of lifejackets suitable for use when rock fishing.
An appropriate lifejacket:
For an adult, must meet Australian Standard AS 4758 level 50S or greater
For a child (under 12 years of age), must be level 100 Australian Standard AS 4758 or greater
Must be the correct size for the wearer
If it is inflatable, it cannot rely only on oral inflation (blowing into a mouthpiece) for buoyancy. It must be checked and repaired by a professional every 12 months. Note: a longer service period might apply only if specified by the manufacturer.
Must be in good condition
Some lifejackets approved under other standards may also meet the requirements.
More information on the approved types of lifejackets can be found on the NSW Government's website.
As of June 2022, it was mandatory to wear a lifejacket while rock fishing in the following NSW local government areas:
Ballina Shire
Central Coast Council
Lake Macquarie City Council
Northern Beaches Council
Port Stephens Council
Randwick City Council
Richmond Valley Council
Sutherland Shire Council.
Please note, this list may not be complete, and will not be actively updated. You should always check the rules for any area where you're planning to rock fish.
There have been proposals made to change the Rock Fishing Safety Act 2016 so it's possible the legal requirements could change in the future.
Council remains in close contact with the Office of Local Government about this matter, and if any changes are made, we will act accordingly.
Safety tips
You must wear a lifejacket
If you are swept into the ocean, a lifejacket will help keep you afloat until assistance arrives. Most rock fishing fatalities occur when people are not wearing a lifejacket. See the Surf Life Saving NSW page for help finding the right lifejacket for you.
Regularly check weather and tide conditions
Check before you leave home and continue to monitor conditions while you're fishing. See the Bureau of Meteorology for the latest updates on weather conditions.
Identify the safest location to fish
Consider weather conditions, tidal changes, wind and wave action and marine warnings. You should also consider a possible escape route in case you're swept into the water.

See the Bureau of Meteorology website for more information on marine forecasts and warnings.
Wear appropriate clothing and footwear
Rock platforms are often very slippery, so it is important to wear shoes with non-slip soles or cleats. Always wear lightweight clothing, so you are not weighed down if you're swept into the water.

See the Surf Life Saving NSW page for more information on what you should wear when rock fishing.
Always fish with others
Rock fishing can be unpredictable. Never fish alone, and make sure you let others know where you will be going.
Carry a mobile phone, EPIRB or radio
In the case of an emergency, it is important to have a readily available communication device to dial 000 or call for help.
If someone is swept into the water:
DO NOT jump in after them.
In the case of an emergency, call 000 immediately.
If there is a lifebuoy, angel ring or flotation device nearby, throw it to the person to help them keep afloat until assistance arrives.
Community Safety
As part of our ongoing campaign to raise awareness about the dangers of rock fishing, Council has installed two new multi-lingual danger signs at Hill 60 in Port Kembla. See our media release for details.
This is in addition to rock fishing safety workshops at key locations including Port Kembla, which have been delivered in collaboration with other stakeholders, including Surf Life Saving NSW and NSW Police, to build awareness of the risks associated with rock fishing.
Rock fishing safety tips fact sheet
The Surf Life Saving NSW rock fishing safety infographic is available in a range of community languages below.
Surf Life Saving NSW also has rock fishing safety information available in a range of community languages.
Videos
Rock fishing safety
Fish safe off the rocks
Greg Finney's story