Producing, touring and exhibiting your content. Ensuring your practice reaches the right audience.
All artists want to create work that has meaning and value but what's the point if nobody gets to see it?
Leaders from theatre, performance and the visual arts (gallery-based and public exhibition) discuss the joys, challenges and logistics of producing, touring and exhibiting their own creative projects in this two-part podcast.
This episode is hosted by Tom Hogan and features:
Madeleine Preston, a visual artist, curator and educator
Simon Grant, Co-founder of Verb Syndicate
Tamara Campbell, Director of Laughter House Entertainment
Antonia Seymour, Executive Director, Arts on Tour.
Part One: Performing Arts
Part Two: Visual Arts
Madeleine Preston is a visual artist, curator and educator. Her work uses materials often viewed as the province of women, specifically ceramics and textiles, to comment on how value is determined through gender.
A ceramic residency with Lynda Draper in 2014 altered the focus of her practice from 2D to 3D and opened up opportunities and audiences for her work.
In 2017 she was awarded the Woollahra Small Sculpture special commendation prize and an Australia Council Development Grant, A Copyright Ignite Grant and a NAVA Artists Grant.
Madeleine has exhibited nationally in institutional and commercial galleries, including at Melbourne's Gertrude Contemporary and Sydney's Pom Pom Galerie, and most recently at Sydney Contemporary with Blackartprojects. She has undertaken residencies at the Cité Internationale des Arts in Paris, the Slade in London, and was awarded a Full Sculpture Fellowship at the Vermont Studio Center in the USA.
Madeleine has lectured on Professional Practice at the National Art School and is the co-director of Home@735 Gallery in Surry Hills.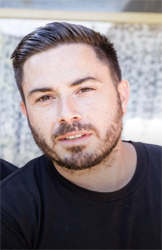 Simon Grant is the founder of Verb Syndicate, a studio of 'creative engineers' — unique minds who design live events, websites, branding, video, multimedia and graphic arts on a project-by-project basis. They are the trusted partner of an international group of brands, festivals and governments looking to solve business problems with creativity and craft. In that sense, a spirit of collaboration and a maker attitude defines their work.
Simon also founded Australia's premier street art festival — Wonderwalls — now a world-class urban arts program credited with revitalising entire city precincts.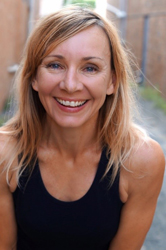 Tamara is an hilarious humanitarian and Chief Humanising Officer at Laughter House, a unique Entertainment Agency delivering creative and hilarious performances for a range of festivals, corporate events and celebrations. She's been making people laugh for 21 years in over 4,200 performances on 780 stages in 450 cities across 27 countries; she has entertained people in six different languages and has spent more than 2100 hours on the stage.
Tamara has spoken to, entertained and created laughter with over 1.2 million humans (and a few dogs), with an age range of less than 1 to over 100 (that is human years, not dog years).
As Kiki Bittovabitsch the Hilarious Humanitarian, she challenges people to look at things differently by creating shared experiences of laughter and interactive play. She encourages playful, cheeky, inappropriate and irreverent behaviour that sets humans free and connects them to each other, breaking down barriers.
As Tamara Campbell she is a Change Maker helping people to de-mask from the person they feel they have to be. And she encourages audiences to find the joy and purpose in the person they really are, to find their own true voice and to allow themselves to be seen.
As Director of Laughter House Entertainment, Tamara creates artistic products that are designed to provide interactive comedy experiences for multi-generations, bringing families and communities together to play and laugh in person; creating community away from technology at festivals and events.
I want people to feel that they can thrive outside the status quo that has been thrust upon them, that they can be open accepting and subversive all at once. I aim everyday to help bring humans closer to each other for more understanding and a better world.
Tamara has worked as a physical comedian and an entrepreneur for her whole adult life, even before she knew what adulating was. She holds a Bachelor of Arts Communications in Theatre and Media, a Dip Dell Arte from The Dell Arte International School of Physical Theatre, Blue Lake California and an Ecole Philipe Gaulier, Paris (2002).
Visit Laughterhouse Entertainment's website for more information.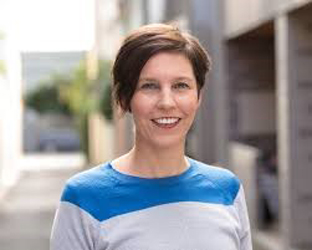 Antonia Seymour is the Executive Director at Arts on Tour. She has a rich knowledge of the performing arts sector and touring, having worked at producing companies large and small, from Sydney Dance Company to Urban Theatre Projects, as well as London's Lyric Hammersmith and Performing Lines.
Over her 20-year career in the sector she has held senior roles in producing, marketing and development.
An alumna of Social Leadership Australia's Sydney Leadership program and Australia Council's Emerging Leadership Program, Antonia has a deep interest in the social impact of arts experiences and working collaboratively to affect change.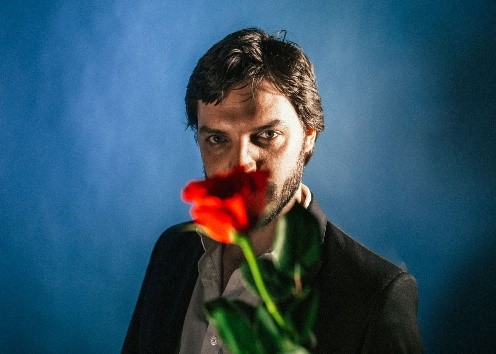 Tom Hogan works in music composition and radio art, as well as written and performance work.
He has designed over 100 plays, performances, and dance works presented all over Australia. His solo work has been presented in galleries in Finland, Norway, Sweden, Benin, Spain, and Lithuania.
He produced the podcasts Missing Richard Mercer, Polish Club's Sophomore Slump, and the ongoing Obscure Music History project.
He founded the company Ten Tonne Sparrow, creating five theatre works, including Love Song Dedications (without Richard Mercer) which was nominated for two Green Room Awards, and will tour nationally in 2021. He is currently creating Mount Hopeless: A Burke & Wills Musical with musician Elana Stone to be presented in 2021.