Greer Harris
Greer Harris grew up in the small coastal town of Austinmer and graduated from Wollongong University with a Bachelor of Visual Art and a Masters of Teaching- Primary Education.
Artistically, Greer is highly charged by a love of textiles and inspired by the collection of locally sourced natural materials.
The silks, the dye and the stitches are carriers of the natural and social context of her art. Fabric colours are created from natural dyes of eucalyptus tress and other flora, along with rusty metals and collected found objects.
From large-scale, wall hung textiles to small works of crewel embroidery, her work floats between abstract, biomorphic imagery, through to figurative depictions that encompass the intellectual, emotional and primal relationship between humans and their surrounds.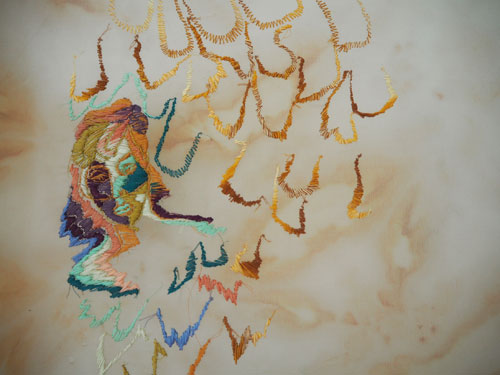 Above: (detail) Greer Harris, Untiled #1, 2020, thread and natural dye on silk