Owners of vehicles are responsible for making sure they are not left abandoned on public land. You must not leave a vehicle in one place on public land for more than 28 days.
The rules for abandoned and unattended vehicles are explained in the Public Spaces (Unattended Property) Act 2021. Visit the NSW Government website or click the infographic below to learn more.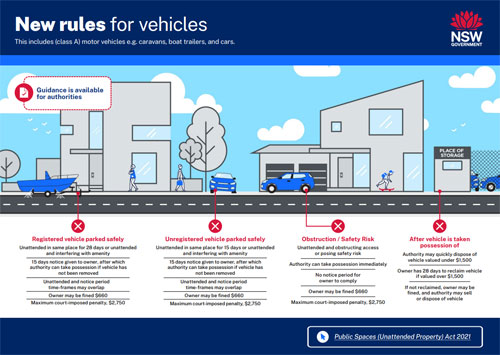 Council's enforcement officers work in line with the state rules and can issue fines where people aren't following the law.
We generally focus on cases where vehicles are:
Unsafe
Unregistered
Interfering with people using public spaces,
Being stored on public land, or
Not driveable because of their physical condition.
Our aim is to get these types of vehicles removed from public places.
Registered caravans, boats and trailers
Under NSW law, registered vehicles, including caravans, boat trailers and other trailers, must not be left unattended on public land in the same place for longer than 28 days. They must also not cause an obstruction, safety issue, or interfere with other people using a public space.
Council may notify the owners of these vehicles to remove them from public land. If the owner doesn't comply, Council can take further action.
Fines of $660 may apply for leaving a vehicle unattended in a public place.
Rules for oversize and overweight vehicles also apply - see our Caravans, Boats and Trailers page for more information.
Unregistered vehicles
It is an offence to leave an unregistered vehicle on a road or road-related area. Council can issue on the spot fines to the last registered owner of the vehicle, and start regulatory action to have the unregistered vehicle removed from the public space.
Fines of more than $280 apply.
Report an abandoned or unattended vehicle
To report an abandoned or unattended vehicle, use the button below or call us on (02) 4227 7111.
Please make sure you answer all questions and provide enough information when reporting an abandoned vehicle. If we don't have enough detail, we may not be able to investigate your report.