Rise & Shine is our longest-running environmental clean-up program. It was established in 1986.
Rise & Shine aims to increase pride in our city. It encourages the community to take part in a range of activities to improve our local environment, which helps to increase residents' quality of life, both now and for future generations.
Key parts of the Rise & Shine campaign include:
Each spring, volunteer community groups and individuals pitch in to remove rubbish from public areas like parks, creeks and beachfront reserves. Rubbish collected by the volunteers is removed by Council staff or waste contractors who support the program by providing bins.
Our next Spring Clean Up will be held at:
Lake Illawarra on Sunday 1 November, 2020 (pre-registration essential)
Register to take part (unless you are attending as part of an existing registered group).
Please note: Due to COVID-19, things will be a little different this year. Group sizes are limited to 20. If you are an individual wishing to take part, contact us to be connected with a registered group. Make sure you read our clean up guide, which includes important safety information and more COVID-19 guidelines.
Can't make the above date/s? Email us or call (02) 4227 7111 if you'd like to organise your own group clean up.
You can also join our Picitup Program (mentioned below) to collect litter at a time that suits you.
The Rise & Shine Schools Environmental Competition encourages local students to develop environmental management plans, and use innovative strategies to improve the environment.
Cash prizes are available, thanks to competition sponsors BlueScopeWIN Community Partners.
Visit our Rise & Shine Schools Competition page for details and to enter.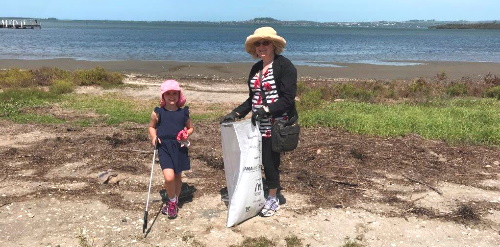 Make an active contribution to reducing litter in our beautiful beaches, waterways and parks.
Through the Picitup Program, individuals or groups volunteer in their own time to remove litter from public areas, and record what they collect.
Recording valuable information about the amounts and types of rubbish found in different locations helps us understand where the litter might come from, so we can continue to work together to find ways to reduce litter happening in the first place.
How it works
Request and arrange collection of your free Picitup Kit via email. The kit includes a bag, gloves, hand sanitiser and a pad of data collection sheets.
Get collecting! Take your kit out and start picking up any litter you find – especially the small items and fragments of plastics like bottle lids, bread tags etc. A good idea is to keep the kit in your car.
Record what you collect – either after your clean up (or during if it is easier). You will need to enter the data online or you can download the AMDI Data Collection app. Note: You will need to register the first time you use the system.
Stay clean. Be sure to clean your hands thoroughly after handling rubbish. If your bag gets dirty hose it off with water between each use.
The Picitup Program supports the Australian Marine Debris Initiative which is coordinated by Tangaroa Blue Foundation, and is designed to encourage and support individuals and community groups who do litter clean-ups.
If all we do is clean up, then that's all we'll ever do.
For more information on the Picitup Program, email or call us on 4227 7111.
Information for Rise and Shine Groups
Read our Rise & Shine Clean Up Guide for tips on how to stay safe while you're volunteering.
If you're part of a Rise and Shine group, here are some handy links:
When you report a clean up you'll be asked to attach a list of participants. Use the template below, attach it to your clean up report. Each person listed will be entered in our lucky draw for a chance to win prizes donated by local businesses.
Rise & Shine participant list template DOCX, 597.84 KB
For more information on Rise & Shine, email or call us on (02) 4227 7111.
Upcoming Rise and Shine Events
No upcoming events.