We are committed to reducing community greenhouse gas emissions in Wollongong to net zero by 2050 (Climate Change Mitigation Plan 2023-30).
Electrification through renewable energy is an important step to help us all get there. It means switching from natural gas appliances and petrol vehicles to efficient all-electric appliances and vehicles, powered by renewable energy.
What are the benefits to electrification?
Cleaner and healthier homes and streets by reducing the pollutants associated with burning fossil fuels.
Cost savings of up to $5,000 per year (Rewiring Australia).
Reduced greenhouse gas emissions to reduce the effects of climate change.
Five ways to electrify your home
Click to learn why, how and what support is available.
How we get there
You don't have to do it all in one go! Download the template and make a plan to choose, prioritise and upgrade to electric appliances and vehicles when your current ones are due for replacement. Going electric at your home or business will help the community toward a safe and clean energy future.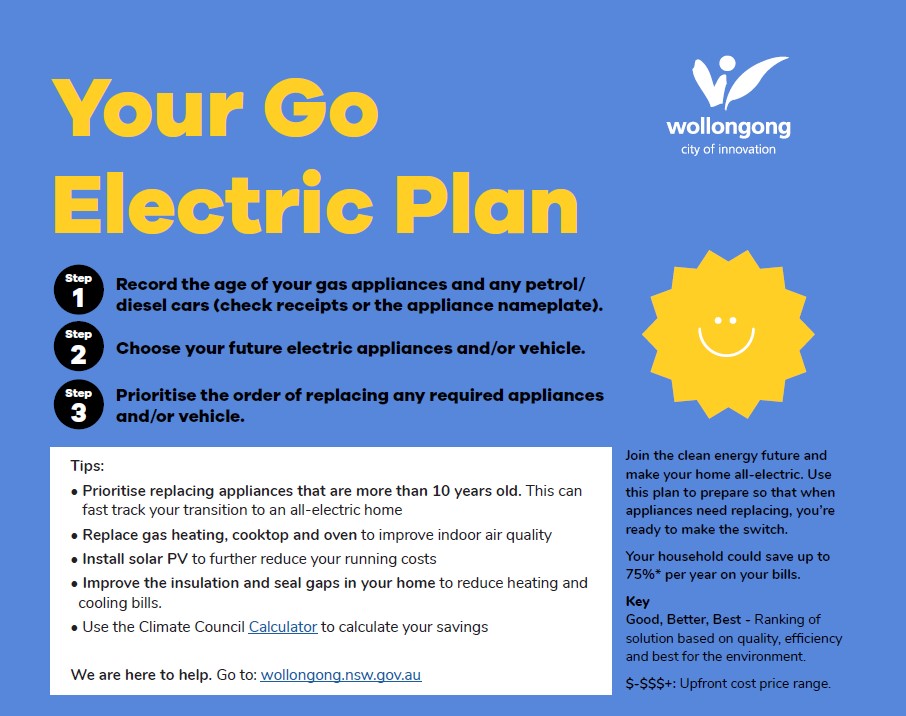 Translated Go Electric plans
Climate Change Mitigation Plan
Our Climate Change Mitigation Plan explains how we'll work to minimise the current and future impacts of climate change. You can download the full plan or summary version below:
For more information, please visit our Climate Change pages.